A Guide To Amboseli National Park Kenya
Amboseli National Park Kenya lies North West of  Mt. Kilimanjaro, on the border with Tanzania, It is Kenya's second most popular Wildlife Park after Maasai Mara.Amboseli National Park Kenya is 260km (160 miles) from Nairobi, on the border with the neighboring country of Tanzania. Its magnificent situation at the foot of Mount Kilimanjaro, combined with its excellent opportunities to view Kenya's animals, make it one of the most-visited safari parks in Kenya.
Amboseli park was established as a reserve in 1968 and Gazetted as a National Park in 1974.
Amboseli National Park covers 390.26sq km, and forms part of the much larger 3,000sq Km of  Amboseli's ecosystem.
Large concentrations of wildlife occur here in the dry season, making Amboseli a popular tourist destination. It is surrounded by 6 communally owned group ranches namely olgulului, Kimana, lmbirikani, Kuku, Selengei and Rombo.
Amboseli National Park Kenya embodies 5 main wildlife habitats (open plains, acacia woodland, rocky thorn bush country, swamps and marshland) and covers part of a pleistocene lake basin, now dry.
Within this basin is a temporary lake, Lake Amboseli, that floods during years of heavy rainfall. Amboseli Kenya is famous for its big game and its great scenic beauty – the landscape is dominated by Mt. Kilimanjaro and floating elephants within the swamps.
Facts about Amboseli National Park Kenya

Altitude: 1150 meters sea level
Area: 390.26km1
Location: Loitoktok District, Rift valley Province
Distance from Nairobi: 250 km
Gazette: October 1974
Climate: The climate is mainly hot and dry. Amboseli is in the rain shadow of Mt. Kilimanjaro. The maximum average temperature of the warmest month is 33°C during the day, while that of the coldest is 27-28°C.An annual rainfall of 300mm perannum is distributed in two seasons: April/May and November/December. Recurrent droughts and potential evaporation of 2200mm per annum typifies the region (KWS, 1991).
Vegetation: Swamps are dominated by Papyrus and Cyperus lmmenses, the dominant plant species are Sporobolus, in the grassland, Acacia in woodland, and Suaeda Monica in the bush land, Elephants estimated at approximately 1500, buffaloes estimated at approximately 472, Lions estimated at approximately 40.

Wildlife: Monitor Lizards, Chameleons, Egyptian Cobra, Python, Puff Adder, Black Mamba. more 400 recorded species
Features: Arid wildlife species, ice capped Mt. Kilimanjaro, salty dust with mirages, permanent swamps, observation point.
Roads: Viewing roads network covers the park adequately. Many of the park viewing roads are not usable during the rains and because of the loose ashy nature of volcanic soil, the roads become very dusty during the dry season.
Amboseli National Park Kenya Video
What to see at Amboseli National Park Kenya

Mt. Kilimanjaro    
Visit Amboseli National Park for fantastic views of Kilimanjaro the highest free standing mountain in Africa rising at 5,896m above the sea level. lts snow capped summit dominates the landscape and on clear day is easily visible during early morning and afternoon. It is a superb backdrop for wildlife photographs
Herds of Elephants against the backdrop of Mt. Kilimanjaro
Amboseli National Park Kenya provides a unique habitat for approximately one thousand elephants. View visitors will go home without superb elephant images beneath  Mt.Kilimanjaro.
The Swamps
The enkongo Narok swamps and other permanent swamps, which divide the grey landscape into broad swatches, are favored resort for buffalo, hippo and elephant. Close by graze groups of zebra, wildebeest and impala while numerous birds feed, breed and nest in the lush vegetation. Look out for graceful crowned Cranes, the long-necked Africa's Darter, and kingfishers. Egyptians geese are almost certain to be with a variety of ducts and plovers.
Observation Hill-Nomatior
From the observation Hill there is a panoramic view of most of Amboseli Park and climbing is worth the effort. It was inhabited many years ago by the hunters and gatherers people – the Ndorobo. Signs and traces of their property and implements have been found here giving rise to the Maasai name nomatior; the place of pottery.
OI Tukai
The heart of Amboseli woodland of 'yellow fever trees' and the doum palm known as 0l Tukai by the Maasai and Makindu in Swahili. A cool oasis of trees, Ol Tukai is a retreat for wildlife and greatly favored by elephants.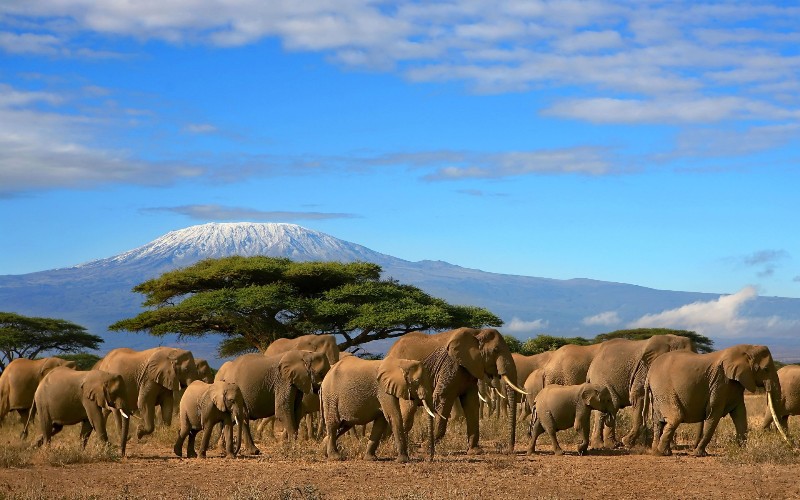 What to do at Amboseli National Park Kenya

Public campsite
Olkelunyiet public campsite is near the parks headquarters with running water, wash rooms, showers and kitchen shade.
Picnic site
A picnic site (observation point) with view points, shade, nature trail, latrine.
Accommodation and Hotels at Amboseli National Park Kenya

 KWS Self Catering
Kilimanjaro Guest House
Simba Cottages
Chui Cottages
Campsites in Amboseli National Park

Amboseli Campsite
Elerai Satao camp
Kilima Safari Camp
Lodges in Amboseli National Park
Amboseli Serena Lodge
Tortilis Tented Lodge
Kibo lodge
Tawi lodge

Sentrim lodge
Sopa lodge
lnside the Park,
There is a selection of 5 economically priced KWS self-catering 'bandas' (offered inclusive of bedding, towels, cooking equipment, bathrooms, showers and communal eating area). The self-catering 'bandas'are Kilimanjaro, Kibo, Simba, Nyati and Chui. Power is supplied by generator from 6.30pm to 11pm.
When to visit Amboseli National Park Kenya

The Park is Accessible on 2WD between April – Oct. It is Accessible on 4WD between Oct-March on all roads.
How to get to Amboseli National Park

Roads
The main road into the park is from Nairobi via Emali(228km) on the Nairobi-Mombasa road and another 78 km to lremito gate through Loitokitok road .The road is tarmac upto Loitokitok Town.
The other road from Nairobi is via Namanga (240 km) on the Nairobi-Arusha road, via Meshanani gate.The road is tarmac upto Namanga but badly corrugated and potholed in places from Namanga to Meshanani gate(75km). Access from Mombasa is also through lremito gate via Emali or Kimana gate via Tsavo West.
The park has five gates: lremito, Kimana, Meshanani, Airstrip and Kitirua gate.
By air
Airstrip the park has a single airstrip for light aircraft at Airstrip gate.
Other airstrips exist at Kilimanjaro Buffalo lodge and Namanga town.
Open: Daily 6.00am-6.00pm including public holidays. Note: no entry is allowed on foot and visitors will not be allowed entry after 6.15pm.
What to take with you to Amboseli National Park

Drinking water, picnic items and camping equipment if you intend to stay overnight. Also useful are: binoculars, camera, hat, sunscreen and guidebooks.
Amboseli National Park Kenya – Kilimanjaro's Kingdom
Kilimanjaro, though technically in Tanzania, rules the tiny kingdom of Amboseli National Park. When Kilimanjaro is wrapped in its cloak of clouds, Amboseli shrinks into a pancake-flat land where crooked fingers of dead trees stab the sky. When the mountain emerges, sugar-snowdusted, Amboseli returns to the realm of magic.
Encased in the bubble of its own mountain-controlled microclimate, Amboseli deceives. Flat but streaked by swamp and forest, it warps your perspective. What seems distant telescopes close; what seems large shrinks when set against the vast bulk of the mountain.
Slung like a belt across the waist of the park is a swamp, the remains of a once vast prehistoric lake. Surreally, half-submerged, some fifty elephants wallow amid its luridly green reeds. They're truncated, legs out of sight. And they all carry a passenger – a white cattle egret.
Small, hunched of posture, and long of leg, egrets are usually found in the company of cows, off whose parasites they dine.
In Kilimanjaro's kingdom, however, they ride elephants. A young elephant glides by, trunk aloft. On its back is an egret jockey, eyes directed straight ahead. He's going places.
It's a place of drama. One minute devoid of life, the next heaving with it. A clump of dull-gold doum palms reorganizes itself to reveal an old bull elephant with only one tusk: minutes earlier he had been invisible.
Loping across the plains comes a lone hyena. He's furtive, casting the odd glance over his shoulder as if in expectation of pursuit. Ahead is the carcass of a buffalo, so sun-bleached as to be a mere rib-shack upturned to dry. He circles it, then sets to work pulling and tugging at the ribs. Finally giving up the ghost, the buffalo's skull falls off.
And the great black boss of horns rocks briefly in the dust. Suddenly, as is Amboseli's way, the rain streaks diagonally across the landscape and the mood of the wildlife changes. Great chains of wildebeest, hitherto patiently grazing, are now galvanized to caper across the plains, tails swishing, horns lowered. It's a mini-migration orchestrated by the great showman, Kilimanjaro.
In a small hollow, perhaps of his own making, stands a lone bull elephant, his rump turned into the driving rain. Once pale grey he is now black-streaked with rain and his face, half-pale, half-dark, presents an elephantine Phantom of the Opera mask to the world. Trailing his trunk across the ground he steadily kicks dry dust into its open end. Then he lifts it, caterpillar-curled, and blows the dust all over himself: Pouff!
In the centre of the park erupts a conical hill encircled by a lake. On its wind-lashed waters rides a flotilla of pinkish-white pelicans, feathers fluffed like galleons in full sail. On the shoreline, rising slowly from the water, is a large hippo, enticed by the rain to contemplate a stroll. But his exit is blocked by a line of sleeping pelicans. He stares accusingly at them.
Can they not see that HE wishes to emerge? At first the pelicans preen their feathers, seemingly unimpressed by the glowering presence of several tons of irritated brawn. But, one by one, they waddle away until only one remains: and it's fast asleep.
Out comes the hippo, his stubby legs slithering up the bank, his little hooves scrabbling for purchase on the slime, until he stands, affronted, over the sleeping pelican. Which remains, steadfastly, asleep.
Incredulous, the hippo lowers his great head until his raspberry-pink snout is inches from the pelican. Stand off. Then, as mercurial as his ecosystem, the hippo slithers slowly backwards down the bank and disappears beneath the water. Defeated by a pelican. The pelican opens one eye, surveys the empty lake, and returns to sleep.
As swiftly as it arrived, the rain ceases and a herd of elephants emerges from the swamp and marches off across the plains. Overhead, the sky has turned lilac-pink. Beneath it, sunshine gilded, the zebras frolic.
It's just another day in Kilimanjaro's Kingdom.
Amboseli National Park Contacts
Attraction Type: Wildlife, Culture
Category: National Park, Community Tourism
Region: Eastern
City / Town: Loitokitok
Road / Street: Loitoktok Road
Telephone: 254 20 802 9705, 254 722 733165
Email: amboselinp@kws.go.ke
Website:
Entrance Fee: Yes
Safari card required?
Entry to Amboseli National Park is by safaricard or Visa card. Safaricard may be obtained and loaded at either Nairobi National Park main gate or lremito gate in Amboseli National Park.
Watch a Video Of Adventure In The Amboseli National Park
---
We endeavor to keep our content True, Accurate, Correct, Original and Up to Date.
If you believe that any information in this article is Incorrect, Incomplete, Plagiarised, violates your Copyright right or you want to propose an update, please send us an email to informationcradle@gmail.com indicating the proposed changes and the content URL. Provide as much information as you can and we promise to take corrective measures to the best of our abilities.
---