A Guide To Arabuko Sokoke National Park
Arabuko Sokoke National Park is a 6sq km reserve near Malindi and Watamu reserve and park. It is the largest surviving coastal dry forest in East Africa, It is 110km north of Mombasa. Arabuko Sokoke Forest Reserve provides important habitat to unique and  endangered birds, insects and animals. The major attractions are about 600 bird species, butterflies and coastal forest.
Facts About Arabuko Sokoke National Park
Altitude: 0-210 meters above sea level.
Area: 420 sq km.
Location: Malindi/Kilifi District, Coast Province.
Gazetted: Proclaimed a Crown Forest Reserve in 1932 and gazetted in 1943. The Kararacha extension to the south-east was added in 1968.
Climate: Humid with a mean annual temperature ranging from 22-34 degree Celcius. Rainfall is around 500 mm per year.
Vegetation: Forest vegetation comprises mixed forest, Brachystegia woodland and Cynometra forest.
Forest animals: include the endangered Aders' duiker, the golden-rumped elephant shrew, coastal races of the bushbaby and a remnant herd of elephants.
Forest birds: In excess of 230 species have been recorded.
When to go: The Forest Reserve is open all year round; the best time for nature walks is during the cool of the day, early morning or late afternoon.
Roads: The Forest Reserve is accessible all year.
It is a great reserve for bird watching and among the bird species includes Sokoke pitpit Amani sunbird, Fischer's turaco, Clarke's weaver and golden woodpecker, among others. Golden-rumped elephant-shrew, Sokoke bushy-tailed mongoose, Ader's duiker, water and bushbucks, African civet, blotched genet and Sykes monkeys are some of the wildlife in the park.
The ecosystem comprises three forest types: Mixed, Brachystegia and Cynometra, each containing rare species of birds, butterflies, amphibians and plants. The Clarke's weaver is endemic to the forest, while the sokoke scops owl, Amani sunbird and spotted ground thrush can only be found in the park.
Access by roads is through Mombasa, 75km on tarmac road. Visitors who want to fly can use Malindi and Mombasa airports. At present, the park does not operate on smart card system and entry is by cash only.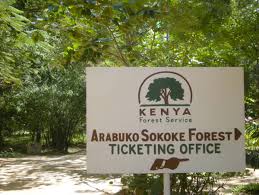 With a size of 420 km2 Arabuko-Sokoke Forest is the largest remaining section of dry coastal forest found in Eastern and Southern Africa. It is a unique habitat characterized by an enormous array of flora and fauna.
It is a key site for the global survival of six bird species and three mammal species including the elehant shrew.
The Arabuko Sokoke Forest Guides Association has several expert guides who can accompany you on your forest walks. They are expert ornithologists and can help visitors find and see some of the rare and unique birds of the forest.
Over 260 species of birds have been recorded in the forest including the six globally threatened ones:
Sokoke Scops Owl,
Sokoke Pipit,
East Coast Akalat,
Spotted Ground Thrush,
Amani Sunbird and
Clarke's Weaver.
Many of these are found and observed regularly by visitors.
For those less keen on "twitching" and ornithology the forest is also lovely for a walk, and exciting too, considering there is a resident herd of elephant and buffalo! If you are generally interested in nature or like hiking, biking and camping, Arabuko Sokoke is a good destination for you. On the 4 km long Nature Trail which is close to the Forest Visitor Centre you can learn more about the unique features of Arabuko-Sokoke
If you wish to go on a longer tour it is advisable to explore the forest with one of the well trained guides from the Arabuko Sokoke Forest Guide Association because they know where to find and can point out rare animals and plants for you.
Good spots to visit on longer tours would be the Whistling Duck Pools, the Kararacha Pools, or the fascinating Nyari Cliff and viewpoint where the ground suddenly plunges about 50-80m in depth and offers unmatched views of the forest, Mida Creek and beyond to the Indian Ocean.
The Visitor Centre at the Forest Station is open from 6am to 4pm daily. The best times to discover Arabuko Sokoke Forest are the early morning hours around dawn or the early evening hours around dusk when wildlife and birds of the forest are most active. These times are also more comfortable for you because you avoid the hot part of the day. Please be aware that the entrance ticket you buy at the Forest Station is valid for only 24 hours.
The Nyari Cliff is the perfect place to go if you decide to go on a longer tour in Arabuko-Sokoke Forest. It is also possible to camp at the sight so you'll be able to watch a beautiful sunrise over the forest.
What To See At Arabuko Sokoke National Park
An oasis of cool tranquility, the Reserve boasts some fine forest trails, nature trails, walking and driving tracks. The best place to start is the Visitor Reception Centre, which lies 1.5 km south of the Gedi and Watamu junction on the Malindi-Mombasa road. Here you can obtain forest trail maps, and engage the services (for a small fee) of an official guide, who will not only guide you faultlessly through the forest's meandering forest park trails but will also have an encyclopaedic knowledge of forest wildlife, such as birds, mammals, insects and reptiles. Arabuko Sokoke Forest Reserve superb wildlife safari destination with forest trails.
What To Do At Arabuko Sokoke National Park
The forest's two main walking trails start out from a small clearing about 1 km south of the Visitor Reception centre and meander through 1 km and 1.5 km of forest respectively. A driving trail (which also makes a fine walking or biking trail) enters the forest from the tarmac road almost 6 km south of Gedi Forest Station and runs for nearly 30 km before rejoining the tarmac 15 km further south at Kararacha. Halfway along this forest trail lies the Nyari viewpoint, which is set on one of the few steep cliffs in the forest and commands stunning views over the forest canopy, Mida Creek and the Indian Ocean. Arabuko Sokoke Forest Reserve superb wildlife safari destination with forest trails.
Arabuko Sokoke Forest Reserve is an excellent forest safari destination presenting a diversity of forest flora and wildlife . With adveture forest trails , visitors to the reserve enjoy the serenity of nature and see lots of forest wildlife which include numerous reptile species , insects as well as forest mammals .
Arabuko Sokoke National Park Contacts
Arabuko-Sokoke Forest Guide Association
Email: jonoiseau@yahoo.com; johnsonkafulo@yahoo.com
Web:
Tel +254 (0)723-098-884; (0)721-145-236
A trip to Arabuko Sokoke National Park
You have to get up early to spot the famous Sokoke Scops-owl. It's nocturnal, on the IUCN red-list of endangered species, and traceable only by its whistle. And it's only six inches high.
'How early?' we ask Jonathan, our guide, 'around 4am,' he says, 'but if you want to see it I'll send someone into the forest overnight. They'll sit under its tree until you arrive.' Owl-sitting? Well why not.
Arabuko-Sokoke solutions are colourful. Take the solution to the potential problem of encountering the forest elephants. The evidence as to their existence is everywhere. Their droppings litter the track, their tunnels dive off left and right into the dense undergrowth; and from time to time there's an overturned tree across the track; and its roots have been wrenched off.
Elephants at Arabuko Sokoke National Park
So what happens if we meet an elephant on a track only broad enough for humans to walk two-abreast? The solution is scholarly. 'Take a handful of sand and run it through your fingers', says Jonathan.
'Why?' we ask. 'To determine the wind direction', he replies. We're still mystified. 'Elephants are very shortsighted,' he explains, 'so if you run in the opposite direction to the wind they won't get your scent.'
We remain unconvinced. Is there not a more rapid response mechanism to a two-ton elephant on a tight track? Jonathan pushes his glasses up his nose. 'Well,' he says at last, 'you could take off your shirt.'
Really? Now, why would we do that? 'To throw at the elephant and so confuse its sense of smell,' says Jonathan, ever the academic. There's doubt amongst the female members of the party as to the wisdom of plunging bra-clad into the bush while elephant pursued, but we keep it to ourselves. And we're rewarded by the assurance that the likelihood of our encountering elephants is zero: they have a marked aversion to human company. 'You've got a much better chance of seeing a goldenrumped elephant shrew,' says Jonathan. We're keen. But we're destined for disappointment because the forest delivers up her treasures slowly, and the shrew isn't one of them. 'You have to look for the little things,' says Jonathan.
Matabele ants at Arabuko Sokoke National Park
And so it is that we find ourselves engrossed in the do-or-die drama of a train of Matabele ants and a nest of termites. It's epic. The ant-scouts scurry ahead; the soldier ants bring up the rear. They're moving fast; and they mean business. In their mound, the fat white termites lie supine, blithely unaware of their approaching doom. The climax is superb: the nest is breached; the termites are carried off squirming between the shiny black pincers of the ants. What a denouement. And not only for the termites.
Looking down at our feet, we realize we've been ravished ourselves. Our shoes and socks are covered with tiny Chinese dragons with red, furry, crested tufts: they're only caterpillars, but all the same… Then, looking up, we find we're walking amid clouds of dancing butterflies, some as tiny as sugar cubes, others the size of coffee cups. Arabuko-Sokoke is getting into her stride.
We follow the track through three distinct forest zones: in the first the branches arch over our heads and the air is heavy with the sultry camphor scent of mahogany. In the second, huge ferns edge the track. They're cycads, the last surviving members of a species that flourished when the dinosaurs walked the earth. In the third, the air is filled with birdsong. A fish eagle screams overhead; a pair of tropical boubou sing an endless bubbling duet that ripples through the air like the gurgling of babies.
Suddenly Jonathan raises a hand for silence. He's caught the distinctive call of a yellow-bellied greenbul singing deep in the bush. He mimics its three-note call to perfection. Fooled into thinking there's a willing female on the track, the greenbul ventures evercloser until he's in the branches above Jonathan's head. The man and bird exchange soft endearments. They're mutually entranced. It's a rare skill that Jonathan has perfected over many years of guiding. He's good: very good. He's a bird whisperer.
About Arabuko Sokoke National Park
The visitor centre of the Arabuko-Sokoke Forest Reserve lies 1.5 km south of the Gedi/Watamu junction on the MalindiMombasa road. Here you can engage the services (for a small fee) of an official guide. Alternatively you can meander the tracks alone. The forest hosts 230 species of birds, 263 species of butterflies and such rarities as the Sokoke Scopsowl, Sokoke bushy-tailed mongoose, the Ader's duiker, the blotched genet cat and the caracal. There are also bushbabies, Sykes' monkeys, yellow baboons and vervet monkeys.
Watch a tour video of Arabuko Sokoke National Park
---
We endeavor to keep our content True, Accurate, Correct, Original and Up to Date.
If you believe that any information in this article is Incorrect, Incomplete, Plagiarised, violates your Copyright right or you want to propose an update, please send us an email to informationcradle@gmail.com indicating the proposed changes and the content URL. Provide as much information as you can and we promise to take corrective measures to the best of our abilities.
---