Bahati Town Guide
Bahati Town is a town located in Bahati constituency, Nakuru county, Bahati town is one of the urban centers in the county. Bahati Kenya lies at an altitude of about 1912 meters above the sea level and is estimated to have a population of about 3833 residents.
Bahati Town Kenya Geography and Climate
Bahati town lies at an altitude of about 1912 meters (6272 ft.) above the sea level. The town is estimated to have a population of about 3833 people according to the country's census data carried out in 2009.
The climate in Bahati town is basically  warm and temperate. Rain in Bahati town mostly falls in the winter with relatively a little rain in the summer. The town's average annual temperature is 17.6 °C with the average annual rainfall being 971 mm.
March, with an annual average temperature of  18.5 °C is the warmest month, whereas, July is the coldest month with an annual average of 16.6 °C .
January is said to be the driest month in the town with an average of 28 mm of rain, whereas, April is said to be the wettest with an average of 145 mm.
Economic Activities in Bahati Town
With agriculture being the backbone of the economy in Nakuru County, Bahati town has also followed suit because most of the residents in this town depend on the sale of the various farm produce to meet their financial needs.
There are also numerous manufacturing industries that have being set up in the town that process the food products for both local and international markets. This includes milk processing plants, wheat processing industries, and flour making industries.
Education Institutions in Bahati Kenya
Bahati town is well established in terms of education as it has various learning institutions with some of them being among the top performing schools in the country. Some of the primary and high schools in Bahati town include:
Banana Primary School
Bahati Menegai View Secondary
Bahati Highway Secondary
Bahati Victoious Secondary School
Blmas Academy Primary School
Bahati PCEA Primary
Transport in Bahati Kenya
Being an urban center, Bahati town is served with a good network of well maintained tarmacked roads. Due to the good road network, the most common means of commuting within the town is through matatus as it is cheaper compared to other means such as private vehicles and motorbikes.
People living in Bahati Town
With a total population of about 2225 people according to the country's census data carried out in 2009, Bahati town homes people from different ethnic background. The different groups of people include the Kikuyu, Embu, Kamba, the Borana, Somali, Asian and a few Caucasian whites who have also made the town home.
Most of these people are engaged in business or employed in the various sub-sectors in the region.
Bahati Town – Photo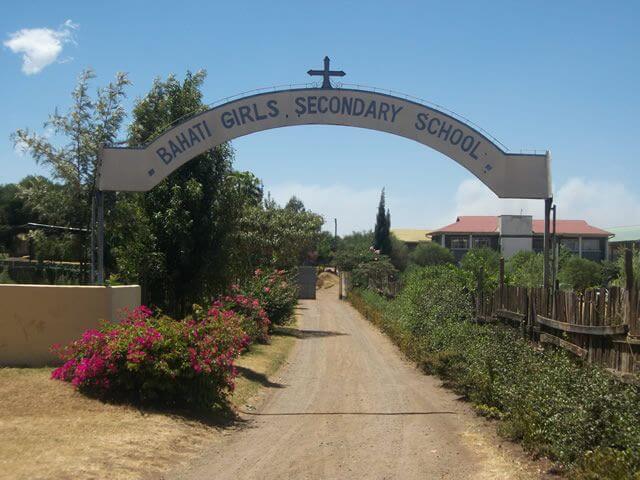 More About Kenya
Kenya is a world unto itself. Kenya is Africa's original safari destination, attracting explorers, adventurers, and travelers for centuries. A safari to Kenya is a trip of a lifetime.
Other Towns in Kenya
Apart from Nairobi , Mombasa, Kisumu, Nakuru, and Bahati town, Kenya has other major towns each a unique representation of the country's striking abundance in flora and fauna. Most of these towns are headquarters in their respective counties or major economic bases in their regions. Luxury hotels and lodges located here provide good accommodation and conferencing facilities for guests who dare to try out a taste different from the capital or the coast.
For more information visit: Towns in Kenya
Hotels and Accommodation in Kenya
Hotels in Kenya vary enormously in price and facilities. Luxury hotels in Kenya offer excellent standards of service and are comparable to the best hotels anywhere in the world. Kenya's abundance of natural produce, combined with the rich variety of cultures and traditions, has created a great culinary nation.
The fertile volcanic soil of the Rift Valley produces a bounty of fresh vegetables, while the coast is a great source of tropical fruit and fresh seafood. The Kenyan coast is also the home of the world-renowned Swahili cuisine, a blend of Middle Eastern and African cooking with a particular coastal twist.
For more information visit: Hotels in Kenya
Tourist Attractions in Kenya:
Kenya has one of the world's greatest tourist attractions sites, known for its diversity of landscape, wildlife, and cultures. From sweeping savannahs to tropical beaches and coral reef, dense equatorial forests to mighty snow-capped mountains, and more.
For more information visit: Tourists Attractions in Kenya
Kenya Safari
Kenya is the ultimate safari destination, providing travelers with a window into the heart of Africa. But this is not all that Kenya has to offer. Located near the equator, Kenya´s magic lies in the fact that the country encompasses an astounding variety of landscapes and climates, flora and fauna, as well as communities and cultures, home to water sports, a swim with dolphins and adventure.
For more information visit: Kenya Safari
The Kenyan People Culture and Tradition
Kenya's culture blends together diverse tribes, traditions, and religions into one beautiful, well-woven tapestry.  These traditions complement each other while incorporating the modern influences of globalization – resulting in a vibrant cultural spirit that is uniquely Kenyan. Kenya has over 42 different tribes with different languages and several dialects. Kenyan tourism has made the Maasai and Samburu tribes the most famous because of their long preserved culture.
For more information visit: Kenya People and Tribes
Bahati Town Video
---
We endeavor to keep our content True, Accurate, Correct, Original and Up to Date.
If you believe that any information in this article is Incorrect, Incomplete, Plagiarised, violates your Copyright right or you want to propose an update, please send us an email to informationcradle@gmail.com indicating the proposed changes and the content URL. Provide as much information as you can and we promise to take corrective measures to the best of our abilities.
---