Baringo Town Guide
Baringo Town- Photo
Baringo Town is located in Baringo County, one of the county's in Rift Valley Province. It borders Turkana County to the North, Samburu and Laikipia County's to the East, Koibatek to the South, Keiyo Marakwet and West Pokot to the West County. The county covers an area of 8,655 square kms, of which about 140.5 is covered by water surface.
The county has a population of 555,561 (2009 census)
Baringo Town Climate
The major topographical features in the county are river valleys and plains, the Tugen Hills, the floor of the Rift Valley and the northern plateau. One of the prominent river valleys is the Kerio valley. It is situated in the Western part of the county and is a fair flat plain. In the eastern part of the county near lakes Baringo and Bogoria is the Loboi plain covered mainly by the lacustrine salt-impregnated silt deposits. Baringo County lies between Latitudes 00 degrees 13″ South and 1 degree 40″ north and Longitudes 35 degrees 36″ and 36″ degrees 30″ east.
The Tugen Hills in the southwestern part of the county form a conspicuous topographical feature in the county. The altitude varies from 1000m to 2600m above sea level.
The hills occur in a north-south direction and mainly consist of volcanic rocks. The hills have steep slopes dissected by gullies. On the eastern and western parts of the hills there are escarpments and rivers flowing down these hills pass through very deep gorges.
The floor of the Rift Valley owes its origin to the tectonic disturbances, which have led to the formation of separate ridges. The troughs of the Rift that have a north-south alignment are occupied by Lakes Baringo and lake Bogoria. There are several extinct volcanoes, especially in the North Tiati, Paka Kamugo and Korossi area. Forty six per cent of the county is either too steep (Tugen hills) or too plain (eastern parts around Lake Baringo and the northeastern parts Nginyang and Kolloa).
The lowlands or plains are very dry. This means that 46.3% of the land in Baringo cannot support any meaningful crop production. However, in the valleys with alluvial soils, the use of ground water and run-off catchments for irrigation can be profitably practiced.
The county has different agro-ecological zones necessitating different agricultural activities. Baringo County is one of the arid and semi-arid countys in the country with much of the county receiving low to average annual rainfall. However, within the county there are some high potential areas neighbouring the hills and the highlands that receive high rainfall.
Baringo County experiences two seasons of rainfall. The long rains start from the end of March to the beginning of July, and the short rains from the end of September to November. The rainfall is about 50% reliable. It varies from 1000 to 1500mm in the highlands to 600mm in the lowlands in the northeastern part of the county.
The rainfall distribution pattern means that major cropping activities are concentrated in the highland areas, which have adequate rainfall. These areas are found in Kabartonjo, Tenges, Sacho, Kabarnet and Muchongoi divisions.
For more information click here
Baringo Town History
Baringo County is located in the former Rift Valley Province of Kenya, Baringo County, Kenya about 270km north-west of Nairobi. It covers an area of 11,015.32 sq km.
It borders seven counties; Samburu and Laikipia to the east, Turkana to the north and north east, Nakuru to the south, Elgeyo Marakwet to the west, West Pokot to to the north west, Kericho and Uasin Gishu to the south west.
The name Baringo is derived from the word mparingo which means 'lake' in the language of Njemps who live in the areas' south and south-east of the lake.
Religion and Traditional Culture of Baringo
Most people are Christians, although there are a small number of residents who still adhere to traditional beliefs. The people of Baringo speak the Kalenjin language, specifically Tugen. Most speak Kiswahili and English too. Traditionally, the people of Baringo believed in a god Asis, who is represented in the form of the sun. But today, most Kalenjins have abandoned their traditional beliefs for Christianity. Popular Christian denominations in Baringo include the African Inland Church (AIC), Roman Catholic and the Anglican Church of Kenya (ACK).
Livestock, especially cattle, is an important feature of the Baringo culture. It a major source of wealth and serves as a form of traditional currency used to negotiate for wives and dowry payment. As such, it is common for Pokots and other ethnic groups to raid their their neighbouring communities – especially the the Turkana – to enlarge their herds.
Among the Kalenjins, men are traditionally responsible for looking after livestock and protecting their family from external aggressors. Women are tasked with taking care of children, working in the farm and performing domestic duties such as cooking and fetching water. Children usually look after goats and sheep, but in the modern lifestyle, most of them attend school and have attain formal education.
Baringo County Government
Baringo County constitutes five constituencies: Tiaty, Baringo North, Baringo Central, Baringo South, Mogotio and Eldama Ravine.
The county's top leaders are Benjamin Cheboi (Governor), Benard Leparamarai (County Commissioner), Gideon Moi (Senator) and Grace Kiptui (Women Representative).
Other top leaders in the county include Kamama Asman (MP-Tiaty), William Cheptumo (MP-Baringo North), Sammy Mwaita (MP-Baringo Central), Grace Kipchoim (MP-Baringo South), Hellen Sambili (MP-Mogotio) and Moses Lessonet (MP-Eldama Ravine).
Places to Visit While in Baringo Town
Lake Bogoria
Lake Bogoria
Its a popular tourist attraction site due to its active geyser.  The geysers produce stream reach in sulphur compounds, which are believed to be medicinal.  In the same area are not – which have been harnessed by the local noted industry.
Lake Baringo
Lake Baringo
Is, after Lake Turkana, the most northern of the Great Rift Valley lakes of Kenya, with a surface area of about 130 sq km. The lake is fed by two rivers, El Molo and Ol Arabel and has no obvious outlet, despite this it being one of the two freshwater lakes in the Rift Valley in Kenya, the other being Lake Naivasha. It lies off the beaten track in a hot and dusty setting and over 470 species of birds have been recorded there, occasionally including migrating flamingos.
The area is little affected by tourism and is situated at the southern end of a region of Kenya inhabited largely by pastoralist ethnic groups including   Chamus, Rendille, Turkana and Kalenjin.
Fish stocks in the lake are now low and water levels have been reduced by droughts and over-irrigation. The lake has several small islands, by far the largest being Ol Kokwe Island. The main town on its shore is Loruk, while smaller settlements include Kampi ya Samaki.
Kabarnet Museum
Kabarnet Museum
Kabarnet museum opened its doors to the public in 1996 in the former District Commissioner Residence. It has four main public galleries featuring the Rift Valley people, their culture, its environment, indigenous knowledge and science for education.
The main attraction include, the exhibits especially on the culture of the Keiyo / Marakwet, Samburu, Pokot, Nandi and Kipsigis. In addition an overview of the history of the district, from pre-colonial, colonial and post-independence era are on display. While the playground, homesteads and park provides visitors with attractive outdoor scenes.
Kabarnet's location is in close proximity to various attractive scenes, which include Lake Bogoria, Baringo and the Tugen hills.
Kabarnet
Other attractions include Paleontological, archaeological and ethnographic sites in the district,
such as the Chesowanja, Tabarin, Kipsaraman and Sirikwa holes near Moiben. Kerio Game Reserve Park and Flourspar Mining Company, which are not far from Kabarnet, are some of the beautiful sceneries one would not wish to miss while in Kabarnet.
Ruko conservancy
Ruko conservancy
Ruko Conservancy is a 19,000 hectare area to the North and East of Lake Baringo, consisting of bushland and about 10 kms of shoreline. It includes the former Il Chamus village of Longicharo at the north eastern corner of the Lake, which has now been abandoned. The Conservancy was started in 2004 with the aim of bringing peace between the neighbouring communities of the Pokot and Il Chamus (Masai) who often clashed over grazing rights. The Il Chamus have been removed to neighboring areas while the Pokot are still resident within the Conservancy. The Pokot village of Komolion is just outside the western boundary of the Conservancy and is the administrative headquarters of the Conservancy. The Il Chamus village of Rugus is on the East side of the Conservancy and houses the rangers. The name Ruko is taken from the two names of Rugus and Komolion.
Things to do while in Baringo Town
Parks and Gardens in Baringo Kenya
The following are some of the parks and gardens as listed under the Baringo County Local Association of Tourist Operators
The Tamarind Garden Lodgings and Restaurant
Lake Baringo Boats & Excursions
Labgas Bird Guides
West Bay Campsite
Kudu Campsite
Lake Bogoria
Lake Baringo
Ruko Conservancy
Tamarind garden
The tamarind garden opened in June 2009. It is a charming and tranquil courtyard garden with 12 rooms fully unsuited and a relaxing bar and restaurant
Tourism and wildlife in Baringo Kenya

The region abounds with tourism potential as enumerated below
The region has picturesque landscapes that include among others;
1.     Waterfalls: – Torok and Kessup in Keiyo county, Arror and Embobut in Marakwet county.
2.     Cliffs: – Rondinin (Simut) and Kipngochoch in Baringo county and Kamriny in Keiyo county.
3.     Valleys: – The great rift valley (Kerio valley and Suguta valley)
4.     Hills/Escapement: – Cherangany hills in Marakwet and West Pokot county, Elgeyo Escapement in Keiyo county, Seker hills in Westpokot county, Tugen hills in Baringo county and Mogila hills in Turkana county.
5.     Gorges: – Turkwel gorge in West Pokot county and Chebloch in Baringo and Keiyo countys border.
Wildlife in Baringo Kenya
The region is home to wide rage of wildlife which is a major tourism attraction. The main reserves and sanctuaries are lakes Bogoria, Baringo, Kapnarok, Nasolot, Saiwa swamp, Rimon and lake Turkana. The main type of wildlife includes Elephants, Buffaloes, Crocodile, Hippos and various birds. These are fond in national parks and reserves.
The game reserves and other attraction are popular both to local people and foreigners. Average numbers of annual visitors to game reserves in atypical year are averagely appreciating annually.
Economic activities in Baringo Town
The major farming activities include dairy farming and growing of maize, groundnuts, cotton and coffee. The remainder of the town is mainly rangelands with the rearing of goats, sheep, cattle and camels and bee keeping forming the major livestock activities.
The mean annual maximum temperature in Baringo Town ranges between 250 and 300 Celsius in the southern part. In the northern part, the temperature is about 300 and occasionally rises to over 350 Celsius. The hottest months are from January to March. The mean annual minimum temperature varies from 160 to 180 Celsius but can drop to as low as 100 Celsius in the Tugen Hills.
The main factor influencing the variations in temperature is the altitude. In the highlands of the Tugen Hills with an altitude of 2600mm, the temperatures are much lower than in the lowlands of Marigat, Kerio Valley and Nginyang where the altitude ranges between 762 and 1000m above sea level.
Hotels in Baringo Town
Sandai Resort
Sandai Resort
You can relax and feel at home in our beautiful African themed cottages.
You can relax and feel at home as all our single rooms are fitted with a spacious semi double bed.
You can relax and feel at home as all our double rooms are fitted with a spacious double bed.
For Reservations click here
Island Camp Resort
Island Camp Resort
Welcome to Island Camp Resort, Lake Baringo. We hope your "getaway" stay with us will exceed your expectations and that you will join us again in the future. During your visit we will do our best to provide you with a memorable experience and provide you with excursions for some unique photographic opportunities.
We are pleased to offer you this information which we hope will give you a better background of us and our community makes your stay more comfortable in every way.
The Management. Perrie Hennessy, Bonnie Dunbar and Michael Beamish
KARIBU ("Welcome" in Swahili)
0724874661; 0728478638
admin@islandcamp.co.ke
www.islandcamp.co.ke
Now affiliated with Karen Blixen Coffee
Garden Cottages Ltd.
Karen (Nairobi) Kenya
0722848043;
info@blixencoffeegarden.co.ke
www.karenblixencoffeegarden.com
ABOUT ISLAND CAMP RESORT
The Island Camp resort, founded from an archeological dig site of the famous Leakey family, is the second oldest tented camp in Kenya (Governor's Camp being the oldest) and is situated on the southern end of Ol Kokwe Island. This famous island is in the middle of Lake Baringo, which is one of the major lakes in the Great Rift Valley of Kenya. The camp was further developed by Jonathan Leakey, Alan Douglas-Dufresne and Willie Roberts in 1972. In 1994, the Lonrho Hotel group assisted the Island Group Ranch in obtaining the land title to the property and they further developed the hotel. When this group gave up its hotel business in Kenya in 1996, Mr. Perrie Hennessy took over ownership and management the camp. In 2012 he was joined by Mr. Michael Beamish and Dr. Bonnie Dunbar (owner and developer of the Karen Blixen Coffee Garden & Cottages in Karen, Nairobi) and this group completely renovated the camp in 2013, including construction of new large lake view thatched cottages with verandahs with private pools. Because of its long history, the camp has been the location for holidays for many local Kenyans (who learned to swim, water ski and fish in the lake) as well as an escape for many international tourists and celebrities.
The lake is at the threshold of Northern Kenya and is an oasis in the arid plains. It is located at the narrowest part of the Great Rift Valley and is surrounded by the Tugen Hills volcanic range (El Gaylo) on the west and the Lakipia Escarpment. The lake was around 50 square miles in area until the early 2000's until the dramatic increase in water sinc 2011; so much so, it is now estimated to be over 100 sq. miles. The lake is now well stocked with fish (with restocking by Omega Farms Ltd.), and attracts many Cormorants and Fish Eagles as well as other water birds. The Lake is also well populated with Crocodiles and Hippos.
The lake is fed by several rivers, the two major ones being El Molo and Ol Arabel although it has no obvious outlet. Despite this, it is one of only two freshwater lakes in the Great Rift Valley in Kenya. Strictly speaking, it is in fact slightly saline, but not enough to bother the crocs, hippos nor indeed the people who swim in it.
Baringo is an ideal stopover on a safari to Northern Kenya. Main road access to Baringo is directly from Nakuru by bus or private transport. The nearest town to the lake is Kampi ya Samaki.
For bookings click here
Taidys Suits- Eldama Ravine
Taidys Suits- Eldama Ravine
Located along Nakuru – Eldama Ravine Road | Near National Oil Corporation, Eldama Ravine 20103, Kenya
Kibelion Hotel
Kibelion Hotel
Kibelion Hotel is a family business that was started in January 2014, becoming the first three star luxury hotel in Baringo County with 46 guest rooms and has become the gracious host of prominent local leaders and international tourists.
A year on, Kibelion Hotel has depicted the dawn of a new era immediately distinguishing itself as a beacon of luxury and unrivaled hospitality in the region.
Kibelion Hotel is strategically located 30km drive to Lake Bogoria, 36km to Lake Baringo and 20km to the Equator in Mogotio town.
With each enchanting suite, dining, conference facility and friendly personnel, Kibelion Hotel offers services beyond customer expectations and this leaves clients who are overwhelmed with the warm hospitality they receive.
Guests are entitled to enjoy luxurious services offered and all other amenities at one place.Then booking an accommodation here lets you achieve all this.
For bookings click here
Peoples Paradise Sportsline Hotel
Peoples Paradise Sportsline Hotel
Located along Hospital Road, Kabarnet 30400, Kenya
Valley Inn Hotel
Valley Inn Hotel
Located In front of Memorial Hospital, Kabarnet, Kenya
4 DSem Acacia Accommodation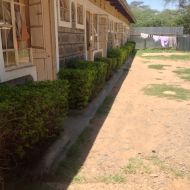 4DSem Acacia Accommodation is conveniently located in the heart of Marigat Town which is next to other business centers. The guest house is situated on Posta Lane, Baringo.
Each room in the hotel is fitted with an en-suite. Each room also has a bed draped with mosquito nets.
The guesthouse has no restaurant but guests can order meals from a sister hotel nearby. Guests can also eat from other food courts which are in close proximity.
Education Institutions in Baringo Town
Baringo town has 349 Primary Schools, 34 Secondary Schools and 6 Tertiary training institutions (colleges, Polytechnics etc).
Enrolment  of  girls  in  Primary  Schools  is higher  than  that  of  boys while  in secondary schools  is  lower  than  that  of  boys.  The primary school going age population is growing fairly rapidly. The population of this age group was 80,230 in year 2009. The county will
therefore  need  to  invest  in  the  provision  of  education  facilities  to  cater  for  the increasing demand bearing in mind that the gross enrollment rate is 90%.
For  the  secondary  school  going  age  group,  the  population  was  estimated  at 34,140 by 2009.  However the gross  enrollment  rate  is  low  at  25%  which  means  that  the  facilities  are  underutilized either due to high drop out rates or the fact that most students opt to join secondary  schools  outside  the  county.  Both the primary and secondary school going age constitute 35.9% of the total population.
Health Facilities in Baringo Town
Baringo town has 89 health facilities distributed all over the county.  Most of them are under-utilized due to lack of staff and equipment.  The average distance to the nearest health centre is 15km.
The  most  prevalent  diseases  in  the town are  Malaria,  upper  respiratory  tract  infection  (URTI)  and  Pneumonia.  Thus programmes of Primary Health Care (PHC); and STI/STD including HIV/AIDS should be put in place.
The causes of infant deaths are due to respiratory diseases, pneumonia, malaria, worms and diarrhoea.  In the Valley deaths are mainly due to malaria, while in the Highlands deaths are due to pneumonia and respiratory diseases. Another cause  of mortality is the effect of HIV/AIDS leading to orphan-hood; single parents; child  headed family, child labour and street children.
HIV/AIDs pandemic is not only a health problem but also a development issue as it encompasses  socio-economic  and  cultural  dimensions.  As in the rest  of  the country, prevalence is higher in the Urban than in the rural areas with 90% of the infections being among the people aged between 15-49 years and 5-10% of the infections occurring  in  children  under  five  years.
Most AIDs deaths are occur between  the  ages  of  25-35  fro  men  and  20-30  for  women  which  are  the  most productive age.  HIV prevalence varies markedly between regions within the county but all regions are affected and over 40% of hospital beds are occupied by HIV/AIDs patients.
Culture/beliefs  is  promoting  in-faction  in  salient  way  in  the  name  of  preserving culture. Female Genital Mutilation (FGM) is also contributing to HIV spread.
Baringo County Map
Baringo County Map
More About Kenya
Kenya is a world unto itself. Kenya is Africa's original safari destination, attracting explorers, adventurers, and travelers for centuries. A safari to Kenya is a trip of a lifetime.
Other Towns in Kenya
Apart from Nairobi , Mombasa, Kisumu, Nakuru, and Baringo town, Kenya has other major towns each a unique representation of the country's striking abundance in flora and fauna. Most of these towns are headquarters in their respective counties or major economic bases in their regions. Luxury hotels and lodges located here provide good accommodation and conferencing facilities for guests who dare to try out a taste different from the capital or the coast.
For more information visit: Towns in Kenya
Hotels and Accommodation in Kenya
Hotels in Kenya vary enormously in price and facilities. Luxury hotels in Kenya offer excellent standards of service and are comparable to the best hotels anywhere in the world. Kenya's abundance of natural produce, combined with the rich variety of cultures and traditions, has created a great culinary nation.
The fertile volcanic soil of the Rift Valley produces a bounty of fresh vegetables, while the coast is a great source of tropical fruit and fresh seafood. The Kenyan coast is also the home of the world-renowned Swahili cuisine, a blend of Middle Eastern and African cooking with a particular coastal twist.
For more information visit: Hotels in Kenya
Tourist Attractions in Kenya:
Kenya has one of the world's greatest tourist attractions sites, known for its diversity of landscape, wildlife, and cultures. From sweeping savannahs to tropical beaches and coral reef, dense equatorial forests to mighty snow-capped mountains, and more.
For more information visit: Tourists Attractions in Kenya
Kenya Safari
Kenya is the ultimate safari destination, providing travelers with a window into the heart of Africa. But this is not all that Kenya has to offer. Located near the equator, Kenya´s magic lies in the fact that the country encompasses an astounding variety of landscapes and climates, flora and fauna, as well as communities and cultures, home to water sports, a swim with dolphins and adventure.
For more information visit: Kenya Safari
The Kenyan People Culture and Tradition
Kenya's culture blends together diverse tribes, traditions, and religions into one beautiful, well-woven tapestry.  These traditions complement each other while incorporating the modern influences of globalization – resulting in a vibrant cultural spirit that is uniquely Kenyan. Kenya has over 42 different tribes with different languages and several dialects. Kenyan tourism has made the Maasai and Samburu tribes the most famous because of their long preserved culture.
For more information visit: Kenya People and Tribes
---
We endeavor to keep our content True, Accurate, Correct, Original and Up to Date.
If you believe that any information in this article is Incorrect, Incomplete, Plagiarised, violates your Copyright right or you want to propose an update, please send us an email to informationcradle@gmail.com indicating the proposed changes and the content URL. Provide as much information as you can and we promise to take corrective measures to the best of our abilities.
---