Bungoma County Description
Bungoma County is located in Western Kenya and runs along the Kenya-Uganda border with a population of 1,375,063. It borders Busia County, Kakamega County, and Trans-Nzoia County. The climate favors agriculture as temperature ranges between a minimum of 15 degrees with an upper maximum of 30 degrees centigrade with an average rainfall of 1500 mm.
Bungoma County Map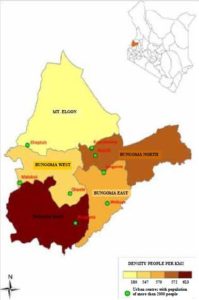 Due to this favorable climate, it is touted as a highly agricultural County capable of producing a substantial amount of the Nation's food stock. Two main roads traverse the county; Webuye-Bungoma-Malaba highway and the Webuye-Kitale road. Both provide a passage to the neighboring countries of Uganda, Rwanda, Burundi and the Democratic Republic of Congo.
Bungoma is inviting donors and other partners to collaborate on the development and operation of investment within the County focusing on the following key areas: Agriculture – including Livestock with emphasis on Value Addition; Trade – paying particular attention to Cottage industry; Tourism- focusing on Ecotourism; Infrastructure as the means of supporting all the other Sectors.
As a County, we have developed sector specific regulation in line with the Ministry of Foreign Affairs regulation in a setting that is relevant for foreign investors even those not yet captured by The Kenya Investment Authority.
Underpinning its strength is agriculture: sugarcane, tobacco, onions, vegetables, and dairy cattle. Maize in Tongaren and Naitiri make the county a vital part of the country's bread basket. Two main roads, the Webuye-Bungoma-Malaba Highway and the Webuye-Kitale thoroughfare give the country a lifeline, with long distant trucks ferrying produce to Uganda, Rwanda, Burundi and the Democratic Republic of Congo.
Tourists Attractions in Bungoma County
Chetambe's Fort
Category: Tourist Attractions in Bungoma County
This was the site, in 1895, of a last – ditch stand by the Bukusu Group of the Luhya tribe against the British colonialists who wanted to conquer them. The fort was built on the hill to the Chetambe Ifile, a Tachoni warrior, from where he mobilized troops to resist colonial rule, leading to the 1895 massacre which more than 450 people were killed by the British. Mr. Nelson Kakai a great-grandson of Ifile has preserved the fort, built behind a protective 12-foot defensive ditch.
Nabuyole Falls
Category: Tourist Attractions in Bungoma County
One kilometer away from Chetambe's Fort, along River Nzoia, you will find Nabuloye Falls. Tourists troop here to watch the water cascade from a height of 7 meters to the rocks below.
For more information visit: Tourists Attractions in Bungoma County
Bungoma County Jobs
Bungoma County Jobs opportunities for all qualified personnel and those who would wish to work with Bungoma County government. Jobs in Bungoma County are posted on the county website.
Jobs in Bungoma County are awarded in a free, fair and transparency manner in the need to fight corruption in the country.
To access these Bungoma county jobs advertisement click the link http://www.bungoma.go.ke/ for the latest job opportunities in the county.
Bungoma County Tenders
Bungoma county tenders are awarded in a free, fair and transparency manner in the need to fight corruption in the country.
To access tenders in Bungoma county click the link: www.bungoma.go.ke for the latest job opportunities in the county.
Bungoma County Governor and Deputy Governor
The current governor of Bungoma County is Hon. Kenneth Lusaka and the deputy governor is Hon. Hillary Moywo Chongwony.
Constituencies in Bungoma County
Bokoli Constituency
Bungoma County Wards
Mt Elgon Constituency
Cheptais Ward
Chesikaki Ward
Chepyuk Ward
Kapkateny Ward
Kaptama Ward
Elgon Ward
Sirisia Constituency
Namwela Ward
Malakisi/South Kulisiru Ward
Lwandanyi Ward
Kabuchai Constituency
Kabuchai/Chwele Ward
West Nalondo Ward
Bwake/Luuya Ward
Mukuyuni Ward
Bumula Constituency
South Bukusu Ward
Bumula Ward
Khasoko Ward
Kabula Ward
Kimaeti Ward
West Bukusu Ward
Siboti Ward
Kanduyi Constituency
Bukembe West Ward
Bukembe East Ward
Township Ward
Khalaba Ward
Musikoma Ward
East Sangalo Ward
Tuuti Ward
Marakaru Ward
West Sangalo Ward
Webuye East Constituency
Mihuu Ward
Ndivisi Ward
Maraka Ward
Kimilili Constituency
Kibingei Ward
Kimilili Ward
Maeni Ward
Kamukuywa Ward
Tongaren Constituency
Mbakalo Ward
Naitiri/Kabuyefwe Ward
Milima Ward
Ndalu Ward
Tongaren Ward
Soysambu/Mitua Ward
Facts About Bungoma County
Bungoma County is located in Western Kenya along the border with Uganda and borders Busia, Kakamega and Trans Nzoia Counties.
 Area (Km 2): 3,032.2 Km 2
 Climate/Weather: Temperatures range from minimum of between 15 – 20 0C to a maximum of between 22 – 30 0C.  It has two rainy seasons with average rainfall from 1200mm to 1800mm per annum.
 Road Network:
Bitumen Surface 131.5 Km
Gravel Surface 359.2 Km
Earth Surface 299.1 Km
Excludes Kimilili, Mt. Elgon and Sirisia.
The population of Bungoma County
Population: 1,375,063
Male 48 %
Female 52 %
 Population Density: 453.5 people per Km 2
 National Percentage: 3.6 %
 Growth Rate: 4.3%
 Age Distribution:
0-14 years 45.9 %
15-64 years 51.4 %
over 65 years 2.3%
Bungoma County Government
County Capital: Bungoma Town
 Number of Constituencies (2010): 6 (Bumula, Kanduyi, Kimilili, Sirisia, Webuye and Mt. Elgon)
 Registered Voters: 387,841
National percentage: 3.1 %
 Number of Local Authorities (2010): 7 (Municipal Councils of Bungoma, Webuye and Kimilili, County Councils of Bungoma and Mt Elgon, and Town Councils of Sirisia and Malakisi)
The economy of Bungoma County
 Poverty Level: 53 % of the population live below the poverty line
 Age Dependency Ratio: 93.8
 Resources: Natural (Mt. Elgon, Hills, Forests, Rivers Nzoia, and Malakisi among others, Hot Springs), Historical sites – Chetambe Fort Ruins
 Tourist Attractions: Mt. Elgon National Park, Mt. Elgon Forest Reserve, and the Chepkitale Forest, Nabuyole and Malakisi Falls, Sang'alo, Musikoma, and Kabuchai Hills, caves at Kitum, Mackingeny, Ngwarisha, Chepnyali, and Kiptoro
Financial Services: 13 Commercial banks, 16 Micro-Finance Institutions
 Main Economic Activities/industries: Webuye Pan Paper Mills, Nzoia Sugar Factory, BAT Malakisi and Mastermind, commercial businesses, Sugarcane Farming, Livestock Farming
 Agricultural products: Sugar, Coffee, Maize, milk, Tobacco, Bananas, Sweet Potatoes
Education in Bungoma County
Number of institutions (2007): Primary (804), Secondary (207), Tertiary (40)
 Primary: Total Enrolment (400,407)
 Teacher to Pupil Ratio: 1: 50 (Public Schools)
 Secondary: Total Enrolment (41,310)
 Teacher to Pupil Ratio: 1: 29 (Public Schools)
 Tertiary: Masinde Muliro University, Kibabii TTC, Sang'alo Institute, Kisiwa Institute, Moi University Satellite Campus
Economy, Business And Investment Opportunities in Bungoma County
The economy of Bungoma County
Agriculture is the main economic activity in the county with Sugar cane and maize farming being major crops grown and accounting to a part of the county's income. The region also has good livestock breeds that have seen the growth of beef and dairy industries. The county enjoys relatively good weather and high amounts of rainfall. Furthermore, small scale irrigation is practiced from the large rivers that traverse the county.
The Kenya-Uganda railway which passes through the region has also contributed significantly in supporting businesses in the county. This has seen the development of urban centers with a dense population that has attracted financial institutions and retail businesses.
Industrial centers exist in Nzoia and Webuye (Sugar Milling and Paper Production). These industries provide employment and support agricultural production particularly sugar cane growing. Potential to expand these industries and develop new ones exist.
Bungoma County Contacts
County Government of Bungoma
County Headquarters, Moi Avenue Street
Former Municipal Buildings
P.O Box 437-50200, Tel. 055-30343
Bungoma – Western Kenya
Email:info@bungoma.go.ke
Website: www.bungoma.go.ke
Bungoma County Website
Website: www.bungoma.go.ke
Bungoma County Video
---
We endeavor to keep our content True, Accurate, Correct, Original and Up to Date.
If you believe that any information in this article is Incorrect, Incomplete, Plagiarised, violates your Copyright right or you want to propose an update, please send us an email to informationcradle@gmail.com indicating the proposed changes and the content URL. Provide as much information as you can and we promise to take corrective measures to the best of our abilities.
---
List of 47 Counties in Kenya
---