If you'd like to meet a baby elephant, or even adopt one (in name only), you'll need to visit one of Nairobi's most popular attractions, the David Sheldrick Wildlife Trust, which is located within the boundaries of Nairobi National Park.
Established to pioneer research into how orphaned black rhinos and elephants can be reared and reintroduced into the wild, this enchanting experience includes your introduction to around a dozen baby elephants. Bottle-fed by their carers whilst you watch, the elephants take a mud-bath, gambol about like enormous puppies and take every opportunity to show off to their audience.
Visiting times: 1 1 a.m. – noon, Mon – Fri.
More About David Sheldrick Wildlife Trust
Born from one family's passion for Kenya and its wilderness, the David Sheldrick Wildlife Trust is today the most successful orphan-elephant rescue and rehabilitation program in the world and one of the pioneering conservation organisations for wildlife and habitat protection in East Africa
Founded in 1977 by Dr. Dame Daphne Sheldrick D.B.E, in honour of the memory of her late husband, famous naturalist and founding Warden of Tsavo East National Park, David Leslie William Sheldrick MBE, the DSWT claims a rich and deeply rooted family history in wildlife and conservation.
Mission statement
The David Sheldrick Wildlife Trust embraces all measures that compliment the conservation, preservation and protection of wildlife. These include anti-poaching, safe guarding the natural environment, enhancing community awareness, addressing animal welfare issues, providing veterinary assistance to animals in need, rescuing and hand rearing elephant and rhino orphans, along with other species that can ultimately enjoy a quality of life in wild terms when grown.
At the heart of the DSWT's conservation activities is the Orphans' Project, which has achieved world-wide acclaim through its hugely successful elephant and rhino rescue and rehabilitation program. The Orphans' Project exists to offer hope for the future of Kenya's threatened elephant and rhino populations as they struggle against the threat of poaching for their ivory and horn, and the loss of habitat due to human population pressures and conflict, deforestation and drought.
To date the David Sheldrick Wildlife Trust has successfully hand-raised over 150 infant elephants and has accomplished its long-term conservation priority by effectively reintegrating orphans back into the wild herds of Tsavo, claiming many healthy wild-born calves from former-orphaned elephants raised in our care.
The DSWT has remained true to its principles and ideals, remaining a sustainable and flexible organization. Guided by experienced and dedicated Trustees and assisted by an Advisory Committee of proactive naturalists with a lifetime of wildlife and environmental experience, the Trust takes effective action and achieves long-lasting results.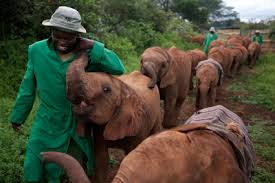 Chaired by Daphne Sheldrick, the DSWT is run by Angela Sheldrick, the daughter of David and Daphne, who has been managing all of the Trust's activities for over a decade. Growing up in Tsavo and later in the Nairobi National Park, Angela has been part of the Trust's vision from the start, supported by her husband Robert Carr-Hartley and their two boys Taru and Roan, who are passionate about Kenya's wildlife and eager to ensure that David and Daphne's legacy continues.
In 2004 the DSWT was incorporated as a Charitable Company in the U.K. and granted charitable status by the Charities Commission, whilst during the same year the Trust has also attained US Charitable status enhancing its corporate funding capability under the guidance of the U.S. Friends of the David Sheldrick Wildlife Trust.
Why I Love Kenya – Dr. Dame Daphne Sheldrick
In this interview, our Editor, asks Dr. Dame Daphne Sheldrick, the world-famous wildlife conservationist and founder of Nairobi's famous elephant orphanage David Sheldrick Wildlife Trust , why she loves Kenya.
Interviewer: When and how did you fall in love with Kenya?
Dr. Dame Daphne Sheldrick: I fell in love with the Kenyan wilderness in my childhood. Then I married into it. My brother was the first Assistant Warden of Nairobi National Park and I married his best friend Bill Woodley, which took me to Tsavo. And there I met and married my second husband, David Sheldrick, who was my lifelong soul mate, and about whom I still dream every night.
Interviewer: What are your most poignant images of Kenya?
Dr. Dame Daphne Sheldrick: They stem from the safaris of my childhood. It was then that we discovered the 'wild places'. I also remember my family home in Gilgil. It had the most beautiful garden overflowing with roses. We had a host of domestic animals, all of which I loved, but one day I was brought an orphaned bushbuck that had been abandoned in the wild. My parents allowed me to rear it – but only on the condition that when it was ready to live in the wild – I would let it go. I did so then, and I have done so ever since with the wildlife that has come into my care.
Interviewer: And how has Kenya shaped your life?
Dr. Dame Daphne Sheldrick: Kenya's wild places and wild creatures have shaped my life. I love all animals and all life because they help us to understand that each and everyone is important to the whole; and that all are crucial to the wellbeing of Mother Earth.
Interviewer: What about the Kenyan people?
Dr. Dame Daphne Sheldrick: I love the Kenyan people because they are respectful of others; because they are blessed with a unique sense of humour; and because they are always so warm and welcoming to visitors.
Interviewer: Apart from the scenery, what typifies Kenya for you?
Dr. Dame Daphne Sheldrick: The smell of the land after the rain; the sunsets, the nocturnal bird song and the sounds of the bush. And, of course, the images of elephants against the backdrop of the savannah…
Interviewer: Do you have a favourite place in Kenya?
Dr. Dame Daphne Sheldrick: Tsavo, undoubtedly: Tsavo makes my heart sing.
Interviewer: If you had to choose a particular plant or tree – that you particularly love – what would it be?
Dr. Dame Daphne Sheldrick: A baobab, because it typifies Tsavo.
Interviewer: Are there any particular sounds in Kenya that, no matter where you were in the world, would remind you of Kenya?
Dr. Dame Daphne Sheldrick: The roar of a lion and the call of the hyenas and jackals.
Interviewer: What, in your opinion, gives Kenya her special place upon the world's stage?
Dr. Dame Daphne Sheldrick: Her wildlife, her wild places, her perfect climate and the superb athleticism of her runners
Interviewer: How would you sum up 'why you love Kenya'?
Dr. Dame Daphne Sheldrick: Kenya is my home, and I love everything about it. But I especially love its still-pristine 'wild corners,' and I retreat to them whenever possible.
About Daphne Sheldrick
Born in Kenya in 1934, Daphne Sheldrick has devoted her life to wildlife conservation. Working for 25 years alongside her husband, David, since his death she and her family have lived and worked in the Nairobi National Park, where they have established the David Sheldrick Wildlife Trust and its pioneering Orphans Project. This is now a global force for wildlife conservation.
The author of an autobiography, four books and numerous articles, Daphne has also promoted wildlife conservation worldwide by means of lectures and television appearances, such as the BBC Documentary, Elephant Diaries, and the film, Born to be Wild, which featured her work with orphaned elephants and the orang-utans of Burma. In 1989 Daphne was made a Member of the British Empire by Queen Elizabeth II. In 1992 she joined the elite 'Global 500 Roll of Honour' of the United Nations Environmental Programme.
Later, she was made a 'Moran of the Burning Spear' by the Kenyan Government and received the BBC's Lifetime Achievement Award.
The Smithsonian Magazine has named Daphne as, 'one of 35 people worldwide who have made a difference in terms of animal husbandry and wildlife conservation'. In 2006 Queen Elizabeth II appointed Dr Daphne Sheldrick as Dame Commander of the Most Excellent Order of the British Empire, the first Knighthood to be awarded in Kenya since the country received Independence in 1963.
David Sheldrick Wildlife Trust Contacts
If you would like to contact the Trust to find out more about a specific issue, to make a donation or for any other reason, please first check our FAQs page, where you'll find comprehensive answers to many questions.
If you would still like to contact us, please use the details below, contacting the office most appropriate to your location or enquiry.
KENYA
THE DAVID SHELDRICK WILDLIFE TRUST
P.O. Box 15555
Mbagathi, 00503
NAIROBI
KENYA Email: info@sheldrickwildlifetrust.org
Telephone:  +254 (0) 202 301 396
+254 (0) 733 891 996
UK
THE DAVID SHELDRICK WILDLIFE TRUST
2nd Floor
3 Bridge Street
Leatherhead
KT22 8BL
United Kingdom
Email: infouk@sheldrickwildlifetrust.org
Telephone: +44 (0)1372 378 321
USA
U.S. FRIENDS OF THE DAVID SHELDRICK
WILDLIFE TRUST
201 North Illinois Street
16th Floor – South Tower
Indianapolis, IN 46204
USA Email: infous@sheldrickwildlifetrust.org
Telephone: (317) 610-3245
More About Kenya
Kenya is a world unto itself. Kenya is Africa's original safari destination, attracting explorers, adventurers, and travelers for centuries. A safari to Kenya is a trip of a lifetime.
Tourist Attractions in Kenya:
Kenya has one of the world's greatest tourist attractions sites, known for its diversity of landscape, wildlife, and cultures. From sweeping savannahs to tropical beaches and coral reef, dense equatorial forests to mighty snow-capped mountains, and more.
For more information visit: Tourists Attractions in Kenya
Kenya Safari
Kenya is the ultimate safari destination, providing travelers with a window into the heart of Africa. But this is not all that Kenya has to offer. Located near the equator, Kenya´s magic lies in the fact that the country encompasses an astounding variety of landscapes and climates, flora and fauna, as well as communities and cultures, home to water sports, a swim with dolphins and adventure.
For more information visit: Kenya Safari
Hotels and Accommodation in Kenya
Hotels in Kenya vary enormously in price and facilities. Luxury hotels in Kenya offer excellent standards of service and are comparable to the best hotels anywhere in the world. Kenya's abundance of natural produce, combined with the rich variety of cultures and traditions, has created a great culinary nation.
The fertile volcanic soil of the Rift Valley produces a bounty of fresh vegetables, while the coast is a great source of tropical fruit and fresh seafood. The Kenyan coast is also the home of the world-renowned Swahili cuisine, a blend of Middle Eastern and African cooking with a particular coastal twist.
For more information visit: Hotels in Kenya
Towns in Kenya
Apart from the towns of Nairobi , Mombasa, Kisumu and Nakuru, Kenya has other major towns each a unique representation of the country's striking abundance in flora and fauna. Most of these towns are headquarters in their respective counties or major economic bases in their regions. Luxury hotels and lodges located here provide good accommodation and conferencing facilities for guests who dare to try out a taste different from the capital or the coast.
For more information visit: Towns in Kenya
The Kenyan People Culture and Tradition
Kenya's culture blends together diverse tribes, traditions, and religions into one beautiful, well-woven tapestry.  These traditions complement each other while incorporating the modern influences of globalization – resulting in a vibrant cultural spirit that is uniquely Kenyan. Kenya has over 42 different tribes with different languages and several dialects. Kenyan tourism has made the Maasai and Samburu tribes the most famous because of their long preserved culture.
For more information visit: Kenya People and Tribes
---
We endeavor to keep our content True, Accurate, Correct, Original and Up to Date.
If you believe that any information in this article is Incorrect, Incomplete, Plagiarised, violates your Copyright right or you want to propose an update, please send us an email to informationcradle@gmail.com indicating the proposed changes and the content URL. Provide as much information as you can and we promise to take corrective measures to the best of our abilities.
---