Ecobank Kenya Ltd
Ecobank Transnational Incorporated (ETI) acquired a major part of EABS Bank in June 2008, and the bank consequently changed its name to Ecobank Kenya Limited. ETI subsequently increased its shareholding to reach 100% towards the end of 2016. Ecobank Kenya (EKE) had an asset base of Kes 54.5 billion as of 31st December 2018. The bank currently has 18 branches and over 30 ATMs located in various parts of the country.
History
Ecobank Transnational Incorporated (ETI), a public limited liability company, was established as a bank holding company in 1985 under a private sector initiative spearheaded by the Federation of West African Chambers of Commerce and Industry with the support of the Economic Community of West African States (ECOWAS). In the early 1980's foreign and state-owned banks dominated the banking industry in West Africa. Commercial banks in West Africa owned and managed by the African private sector were a rarity. Its founders created ETI with the objective of filling this vacuum.
The Federation of West African Chambers of Commerce promoted and initiated a project to create a private, regional banking institution in West Africa. In 1984, Eco-promotions S.A. was incorporated. Its founding shareholders raised seed capital for feasibility studies and the promotional activities leading to the creation of ETI.
In October 1985, ETI was incorporated with an authorized capital of US$100 million. The initial paid-up capital of US$32 million was raised from over 1,500 individuals and institutions from West African countries. The largest shareholder was the ECOWAS Fund for Cooperation, Compensation, and Development (ECOWAS Fund), the development finance arm of ECOWAS.
Ecobank signed a Headquarters' Agreement with the Government of Togo in 1985, which granted it the status of an international organization. This status came with the rights and privileges necessary for ETI to operate as a regional institution, including the status of a non-resident financial institution. ETI commenced operations with its first subsidiary in Togo in March 1988.
Ecobank Kenya Ltd is a member of Ecobank Transnational, the leading independent pan-African bank, headquartered in Lomé, Togo with affiliates in West Africa, Central Africa, East Africa, and Southern Africa. Ecobank, which was established in 1985, has grown to a network of over 600 branches, employing over 10,000 people, with offices in 33 countries including Benin, Burkina Faso, Burundi, Cameroon, Cape Verde, Central African Republic, Chad, Republic of Congo, Democratic Republic of Congo, Equatorial Guinea, France, Gabon, Ghana, Guinea, Guinea Bissau, Ivory Coast, Kenya, Liberia, Malawi, Mali, Niger, Nigeria, Rwanda, Sao Tome, Senegal, Sierra Leone, South Sudan, Tanzania, The Gambia, Togo, Uganda, Zambia, and Zimbabwe. Ecobank Transnational also maintains representative offices in the following countries: 1. Angola 2. China 3. Ethiopia 4. South Africa and 5. The United Arab Emirates.
On 16 June 2008, Ecobank Transnational Incorporated (ETI) acquired 75% of EABS Bank, which had been licensed in 2005. The bank changed its name to Ecobank Kenya Limited, to reflect the new shareholding.
Later, ETI increased its shareholding in the bank, to 95.67% as of 3 July 2013. As of December 2013, Ecobank Kenya had total assets valued at approximately KES:36.9 billion (US$427.6 million), with shareholders' equity of about KES:3.39 billion (US$39.3 million).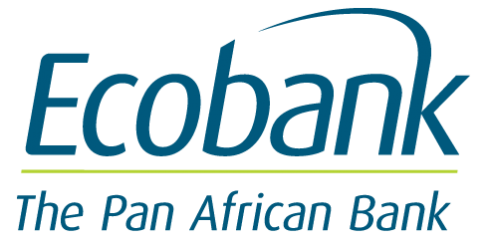 Business Segments
The Ecobank Group is a full-service bank focused on Middle Africa. It provides wholesale, retail, investment, and transactional banking services to governments, financial institutions, multinationals, local companies, small and medium-sized enterprises (SMEs) and individuals.
Ecobank delivers its services through three customer-focused business divisions: Consumer Banking, Commercial Banking, and Corporate and Investment Banking. An integrated information technology platform operated by eProcess, the group's Accra-based technology subsidiary, supports the three business divisions.
Corporate and Investment Banking
Corporate and Investment Banking is constantly aligned with market and growth opportunities. The focus is on transaction banking offering relevant financial solutions to global and regional corporations, public corporations, financial institutions, and international organizations. Corporate and Investment Banking also leverages technology to provide strong outcomes for customers. Its offer includes the following services: Transaction Banking; Fixed Income Currencies and Commodities (FICC); Investment Banking; Security, Wealth and Asset Management; Cards, Loans, and Liquidity. The bank's Treasury and Research department supports Corporate and Investment Banking.
Commercial banking serves local medium corporations and SMEs, the public sector sharing the products of Transaction Banking, Fixed Income Currencies, and Commodities, Loans and Liquidity.
Consumer Banking
The Consumer Banking division encompasses Personal Banking and Microfinance, providing convenient, accessible and reliable financial products and services to individual customers, leveraging an extensive branch and Automated Teller Machine (ATM) network and Points of Sale (POS), diaspora services as well as mobile, internet and remittances banking platforms.
Ecobank Brand
Three key pan-African elements underpin the Ecobank brand:
The largest banking platform in Africa
A diverse talent pool
Quality customer service
While Ecobank's 20,331 employees make the group the largest employer of labor in the financial sector in Middle Africa, the bank operates as "One Bank" with common branding, standards, policies, and processes. This makes for consistent and reliable service to over 10 million customers across this unique network of 1,265 branches, 2,690 ATMs, and 13,800 POS machines. The bank runs an integrated information technology platform, with all of its operations successfully migrated onto a single core banking application: Oracle FLEXCUBE.
Sustainability
Sustainability lies at the core of the bank's mission to build a world-class pan-African bank that contributes to the integration and socio-economic development of the continent. Ecobank's long-term success is intertwined with the sustainable development of the economies, societies, and the environment in which it operates.
In 2012, the group adopted an integrated and comprehensive approach to sustainability and created a common framework. This framework depicts sustainability in the context of the operational model of the organization ensuring effective, efficient and sustainable utilization of economic, social, human and natural capital. This framework reflects the bank's commitment to driving economic transformation in Africa while protecting the environment and being a socially responsible financial institution with a world-class professional perspective.
Ecobank Kenya Ltd Products and Services
Cards
For quick, easy and safe transactions, go cashless, go plastic
Debit Cards
Instant access to your account via ATMs, Cashless Payment (POS) machines, online, mobile, or in-branch
Prepaid Cards
Top up, transfer funds and transact safely locally and globally
Loans
Funds to fulfill your dreams
Personal Loan
The freedom to borrow and pay back slowly
Personal Loan is an all-purpose loan, offering you flexible repayment plans and the option to access additional funds after repayment over time. So whatever you're financing, it's easy to lean on us.
Auto Loan / Asset Acquisition
Help to buy a vehicle or generator
Auto Loan or Asset Acquisition can help you make your dreams of purchasing a new vehicle or generator a reality, by offering you up to 90% of the cost of the asset.
Advance Facility
Short-term help with cashflow
If you're suddenly faced with unexpected financial needs, we can help. Advance Facility allows you to get fast access to up to 50% of your net monthly salary.
Mortgage Loan
Help towards buying or renovating a new home
Whether you're buying a new home, or renovating or refinancing the home you live in now, Mortgage Loan is the ideal way to finance it.
Salary Advance
Help to get you to payday
Travel Loan offers you a simpler way to manage your vacation expenses and includes discounts on ticket prices and hotel accommodation.
Cash Backed Loan
Access funds without breaking into savings
Providing instant access to funds for emergencies, Salary Advance is a 30-day overdraft facility, offering employees of approved organizations access to up to 40% of their net monthly salary.
Payments & Transfers
Africa's widest range of transfer and payment services designed to make life easier.
rapid transfer
The fast, convenient and reliable way to transfer money across Africa
Remittance Partners
Send and receive funds, quickly, safely and easily with Western Union, MoneyGram and more
Foreign Exchange
When it comes to foreign currency transactions, we're market leaders and ideal partners
Bancassurance
Making provisions for you and your loved ones
Ecobank works closely with top African insurance partners to offer you the best insurance in your region. We add our pan-African reach to help you provide not only for yourself but also for those who depend on you.
Education policies
Investing in education is an investment for life
Our range of policies help you save and grow your money, so you can ensure that your children will have the best education possible
Life policies
Make sure your family is provided for, for life
A solid and reputable life insurance policy guarantees that you can keep providing for them after your passing.
Retirement and funeral policies
Dignity in retirement starts with a plan, early on
Financial planning and investment for your golden years, as well as the funeral cover.
Investment Solutions
Invest with greater confidence
Over the last decade, our continent's economic growth has unlocked new investment opportunities, as Africa has become more integrated with global capital markets. Ecobank offers you the opportunity to invest in funds that traditionally have been only available to large companies. We offer more resilient and stable investment fund solutions, because our footprint across more than 30 African countries, allows us to spread risk better than our competitors.
Ecobank Fixed Income Fund
This is an open-ended investment fund that provides you and your family with an above-average income stream over a medium to long-term period, by investing in a portfolio of high-quality bond securities and money market instruments.
Ecobank Money Market Fund
This is an open-ended investment fund that provides an above-average current income stream over a short period, by investing its assets in low risk, eligible, money market securities.
Ecobank e-Products
Enjoy the ease of modern banking
As an Ecobank account and cardholder, you can also sign-up to benefit from a range of e-products that keep you informed and make banking easier.
e-Statements
Sent via email, paper-saving e-Statements help you keep track of your account over periods of your choice.
SMS and e-Alerts
Sent by SMS and email, e-Alerts are a handy early warning of debits and credits on your account. They'll notify you of withdrawals and deposits, debit card transactions, funds transfers, and other transactions that may affect your balance. We will require your mobile phone number (for SMS alerts) and/or email address, as well as notification of your accounts that you would like to receive e-Alerts.
With our SMS banking service, you can access your account wherever you are. You can also request a balance or statement, and view your last three transactions. Signing up is simple with your mobile phone number and account number.
Current Accounts
A range of accounts designed to help you manage your finances, and make life easier.
Savings Accounts
Whatever your goals, choose a savings product that's right for you today and tomorrow.
Wealth, Securities and Asset Management
Ecobank Securities, Wealth & Asset Management delivers competitive, value-adding, and tailored portfolio management services for high net worth individuals and institutions. We also offer a one-stop-shop experience into African markets with a unique securities and investor services platform.
Investment Banking
A Unique "Middle Africa" Franchise
Ecobank has, in its 30+ years of operation, built a strong franchise in Middle Africa based on its local market knowledge and the financial strength of the Ecobank Group.
As a result of the Group's presence in 36 Africa countries, Ecobank Capital is able to identify the insightful transaction, advisory and deal-making opportunities that might not be visible to international/regional banks and advisory firms.
Focused on Partnerships
Ecobank is focusing on building substantive partnerships with banks and other financial institutions, aimed at diversifying its service offerings.
Rapid Growth
In the last five years, Ecobank has experienced rapid growth in deal volumes and value, each growing by over 50% per annum.
As a result, it is seeking to diversify its traditional debt and balance sheet focus by developing its advisory capabilities and a stronger capital markets presence.
Key Goals
To enhance advisory capabilities on complex, capital-intensive projects, such as oil and gas/power infrastructure.
To widen our distribution network to include international non-bank financial institutions looking for exposure to African assets.
To strengthen our relationships with private equity and debt investors by providing access to our local knowledge network
Ecobank Kenya Ltd Careers
Ecobank provides a dynamic environment where hard work, drive, and passion for the African continent is rewarded by training and professional development. Working with one of the leading organizations in Africa also offers a broader range of opportunities.
For Applications Visit Careers
Ecobank Foundation
Ecobank Foundation is dedicated to improving the quality of life for people across the continent. From educating students in Ghana to providing healthcare to communities in Kenya, we are agents of change. In whatever we do, we seek to unlock opportunities for all Africans. Ecobank Transnational Incorporated, the leading Pan-African bank, set up the Foundation to enable prosperity in the communities in which the bank operates.
The partnership with the Global Fund
The Ecobank Foundation partners with the Global Fund to Fight AIDS, Tuberculosis, and Malaria to deliver a program that alleviates financial bottlenecks by strengthening the skills of grant recipients in Nigeria, Senegal, and South Sudan.
The Global Fund mobilizes USD4 billion a year, 65% of which is dedicated to sub-Saharan Africa. Strong financial management is essential for non-governmental organizations and public organizations that receive these grants to support HIV, tuberculosis and malaria programs in the target countries.
Ecobank Kenya Ltd Contacts
Address: 49584-00100 NAIROBI
City/Town: Ecobank Tws Muindi Mbingu St, Nairobi
Telephone Number: +254-202249634
Email Address: elleke-contactcentre@ecobank.com
Website ecobank.com

Category: Banks
---
We endeavor to keep our content True, Accurate, Correct, Original and Up to Date.
If you believe that any information in this article is Incorrect, Incomplete, Plagiarised, violates your Copyright right or you want to propose an update, please send us an email to informationcradle@gmail.com indicating the proposed changes and the content URL. Provide as much information as you can and we promise to take corrective measures to the best of our abilities.
---