Elgeyo Marakwet County is located in Rift Valley region and it borders West Pokot county to the North, Baringo County to the East, South East and South, Uasin Gishu county to the South West and West, and Trans Nzoia County to the North West.
Elgeyo Marakwet County News
Elgeyo Marakwet County covers a total area of 3029.9 km2. It borders West Pokot County to the North, Baringo County to the East, Trans Nzoia County to the Northwest and Uasin Gishu County to the West.
The county is divided into three topographic zones namely: The Highlands, Kerio Valley, and The Escarpment: all of them separated by the conspicuous Elgeyo Escarpment.
The Highlands constitutes 49 percent of the county's area and is densely populated due to its endowment with fertile soils and reliable rainfall. The Escarpment and the Kerio Valley make up 11percent and 40 percent respectively. There is a marked variation in the amount of rainfall in the three zones; The Highlands receive between 1200mm and 1500mm per annum while The Escarpment and the Kerio Valley receives rainfall ranging between 1000mm to 1400mm per annum.
In altitude, the Highland plateau rises from an altitude of 2700 meters above sea level on the Metkei Ridges in the South to 3350 meters above sea level on the Cherangany Hills to the North.
Elgeyo Marakwet County Map
Elgeyo Marakwet County Government Structure
Administratively, the county is divided into four sub-counties, namely: Marakwet East, Marakwet West, Keiyo South and Keiyo North each with several Divisions, Locations, and Sub-locations.
Politically, the county is divided into four constituencies: Marakwet East, Marakwet West, Keiyo South, and Keiyo North and twenty Wards; six in both Marakwet West and Keiyo South and four in Marakwet East and Keiyo North.
Elgeyo Marakwet County Governor and Deputy Governor
The current governor of Elgeyo Marakwet County is Hon. Eng. Alex Tolgos and the deputy governor is Hon. Dr. Gabriel Lagat.
Constituencies in Elgeyo Marakwet County
Keiyo East Constituency
Elgeyo Marakwet County Wards
Details about Elgeyo Marakwet County Wards will be updated soon…
Elgeyo Marakwet County Court of Arms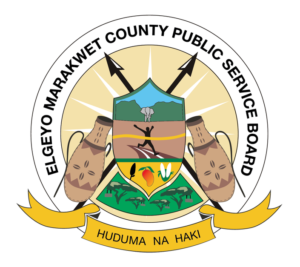 Elgeyo Marakwet County Assembly
For more information about the Elgeyo Marakwet County assembly visit this link…
Elgeyo Marakwet County Jobs opportunities for all qualified personnel and those who would wish to work with Elgeyo Marakwet County government. Jobs in Elgeyo Marakwet County are posted on the county website.
Jobs in Elgeyo Marakwet County are awarded in a free, fair and transparency manner in the need to fight corruption in the country.
To access these Elgeyo Marakwet county jobs advertisement click the link http://www.elgeyomarakwet.go.ke/index.php/jobs-vacancies  for the latest job opportunities in the county.
Elgeyo Marakwet County Tenders
Elgeyo Marakwet county tenders are awarded in a free, fair and transparency manner in the need to fight corruption in the country.
To access tenders in Elgeyo Marakwet county click the link: http://www.elgeyomarakwet.go.ke/index.php/tenders-adverts for the latest job opportunities in the county.
Elgeyo Marakwet County Population
The county's total population was 370,712 in 2009 (National Population and Housing Census). The 2012 population projection was 401,989. The inter-census population growth rate for the county is 2.7 percent per annum.
Keiyo North has the highest population density of 148 persons per km2 while Marakwet East has the lowest with 109 persons per km2. Keiyo South and Marakwet West have 132 km2 and 146 km2 respectively.
On poverty levels, human development indicators show that the county has 57 percent of residents live below the poverty line compared to the national poverty level of 46 percent.
The levels of poverty in the county are geographically distributed. At the Escarpment and The Kerio Valley, poverty levels are as high as 67 percent of the population while in the Highlands poverty levels average 47 percent.
 Education in Elgeyo Marakwet County
The literacy levels of the county stand at 48.5 percent for the age of three years and above with females having a literacy of 47.4 percent while that of males is 49.8 percent. On accessibility, the average distances to the nearest public primary and secondary schools are 1.1 km and 2.5 km respectively.
There are 434 ECD centers in the county with a total enrolment of 31,110 and a teacher population of 868.
There are 410 primary schools with 3,360 teachers with a pupil enrolment of 116,696. The challenges in primary schools are insufficient infrastructure, inadequate quality, teacher balancing, sub-optimal transition rates from primary to secondary and very low transition to vocational institutions.
There are 91 secondary schools with an enrolment of 25,162 students and a teacher population of 964. However, the low transition rates from secondary to universities and colleges have been very low thus leading to the under-utilization of post-secondary and vocational institutions which includes; 12 Youth Polytechnics, 1 TTC and 2 MTCs amongst others.
Tourist Attractions in Elgeyo Marakwet County
The scenic Escarpments and the beautiful Kerio Valley being viewed at the highest points across the county are the main tourist attractions.
The Rimoi Game Reserve located at the center of Kerio Valley is another huge tourism potential within the county. The ideal climatic condition and the altitude of the highlands within the county offer an opportunity for sports tourism especially given that local and international athletes train at Iten, Kapsait, and Kapcherop areas which are in close proximity to the tourism sites. Iten urban center also offers an ideal environment for paragliding sports.
The county is endowed with different wild animals like elephants, baboons, antelopes, birds, and snakes.
For more information visit: Tourists Attractions in Elgeyo Marakwet County
Accommodation and Hotels in Elgeyo Marakwet County
Tourism infrastructure in the county of Elgeyo Marakwet constitutes of four standard class tourist hotels situated in Iten, Chesongoch, Cheptebo, and Kaptagat with a combined bed capacity of 100.
Economic Activities in Elgeyo Marakwet County
Agriculture
Crop farming, livestock production, and fisheries are the sub-sectors under agriculture in Elgeyo Marakwet County.
The Highlands are ideal dairy farming and cash & food crop production. These crops include; tea, pyrethrum, potatoes, passion fruits, vegetables (cabbages, kales, carrots, and peas), temperate fruits, Maize, wheat and beans.
The Lowland is ideal for the production of Mangoes, Oranges, Avocadoes, Bananas, Tomatoes, Pawpaw, Groundnuts, Passion fruits, Watermelon, dryland cereals (millets, maize, pearl millets, and sorghum) and legumes (beans, pigeon peas, green grams, cowpeas, soya, and chickpeas).
Currently, the annual production of milk stands at 14.9 million liters. Other livestock species reared include goats and sheep mainly on a small-scale basis by subsistence farmers.
Dairy farming plays an important role in the livelihoods of the communities in the county as a source of milk for home consumption and as a source of income. The majority of sheep bred in the county are Red Maasai though there is an increasing demand for the Dorpers and Merino Wool sheep.
Goat breeds reared include; Galla, Kenya Alpine, Toggenburg Dairy, and the small East African types. The potential for bee-keeping especially along the Kerio Valley characterized by rich vegetation of various acacia tree species known for the production of high-quality honey.
Poultry keeping entails rearing chicken under the free-range system with minimum feed supplementation and moderate housing. However, some poultry farmers have adopted new technologies in rearing chicken using modern housing and feeding systems while others have acquired new breeds with superior production qualities such as the Kuchi chicken type.
Fish farming (aquaculture) through fish ponds is also practiced in our county with the most prominently reared fish being Tilapia. Currently, there are 440 fish ponds and 2 shallow water reservoirs in the county with yields of up to 260 tons of fish annually worth Kshs. 70 million.
Apart from promoting improved seed varieties, disease and pests' prevention and adoption of modern agricultural technologies strategies, we have put in place mechanisms that would enhance productivity and efficiency in agricultural production.
Other Economic Activities
Trade ventures have considerably grown over the years mainly because of the county's proximity to Eldoret town. However, traders have been limited in their aspirations to maximize this advantage because of their lack of substantial capital. Fresh produce markets and Jua kali shades have in the past been constructed to foster trade.
Increased electricity coverage is expected to create a favorable environment and spur business.
The county has a total of 130 cooperative societies with a total membership of 24,450. These societies mainly deal with dairy farming, coffee, pyrethrum, tea, real estate, and SACCOs.
Economy, Business And Investment Opportunities in Elgeyo Marakwet County
Economic activities in the county are characterized by mixed small scale farming and the keeping of cattle for both beef and dairy production. Crop production is mostly done in the highlands.
The county is most notable for its long-standing tradition of producing top athletes who have represented Kenya in many international athletics events.
It is ecologically diverse and is home to a number of forests that are part of the nation's water towers with seasonal streams that support the development of irrigation and livestock production.
With spectacular views and scenery (home to the Kerio Valley Escarpment, Rimoi Game Reserve and a major sports tourism destination (Iten High altitude training camps), The county has huge untapped tourism potential.
Investment Opportunities exist in tourism and development of tourist facilities (Sports tourism, eco-lodges, and resorts, Sky diving, hiking, etc ) exploitation of forest and mineral resources, Horticultural crops development, livestock farming, Education, wholesale and retail and building and construction.
Transport in Elgeyo Marakwet County
The county currently has a total road network of 1,579.4 km of which 152 km (9.6 percent) is Bitumen (tarmac), 996.2 km is gravel surface (63.1 percent) and 431.2 km is earth (27.3 percent). The county has 2 Airstrips; Tot and Chepsirei.
Facts About Elgeyo Marakwet County
 Area (Km 2): 3,029.8 Km 2
Climate/Weather: Temperatures range from a minimum of 14°C to a maximum of 24°C. The rainfall ranges between 400mm and 1,400mm per annum
 Road Network: Not available
 Key National Monument(s): Kerio Valley National Reserve
Elgeyo Marakwet County Population
Population: 369,998 (Male – 50 %, Female – 50 %)
Population Density: 122 people per Km 2
 National Percentage: 0.96%
Annual Growth Rate: 2.8%
 Age Distribution: 0-14 years (46.4 %), 15-64 years (49.6 %), 65+ years (4.0 %)
 Number of Households: 77,555
Elgeyo Marakwet County Government
 County Capital: Kapsowar Town (Proposed)
 Number of Constituencies (2010): 4 (Marakwet East, Marakwet West, Keiyo North, Keiyo South)
 Registered Voters: 130,111
 National percentage: 1.03 %
 Number of Districts (2009): 2 (Marakwet, Keiyo)
Number of Local Authorities (2010): 3 (County Councils of Marakwet and Keiyo, Town Council of Iten-Tambach)
The economy of Elgeyo Marakwet County
 Poverty Level: 66.5% (Marakwet), 45.3% (Keiyo)
 Age Dependency Ratio: 100:102
Resources: Kerio Valley National Reserve, Arable Land, Cherang'any Hills, River Kerio
 Tourist Attractions: Kerio Valley National Reserve, Sports Tourism, Cherang'any Hills
 Financial Services: 5 Commercial Banks, 1 Micro-finance Institution
 Main Economic Activities/industries: Livestock, Subsistence farming, Fluorspar mining, Small Business
 Agricultural products: Livestock Products, Agricultural Products, Bananas
Elgeyo Marakwet County
Education in Elgeyo Marakwet County
 Number of Institutions (2007): Primary (373), Secondary (75)
 Primary: Enrolment (110,399)
 Teacher to Pupil Ratio: 1: 36 (Public Schools)
 Secondary: Enrolment (20,887) Teacher to Pupil Ratio: 1:30 (Public Schools)
 Tertiary: 1 Teacher Training College, 3 Youth Polytechnics
 Adult Literacy Classes: Enrolment (Data Not available)
Health in Elgeyo Marakwet County
 Health Facilities: 113 – District Hospitals (2), Sub-District Hospitals (5), Dispensaries (89), Health Centres (15), Medical Clinics (1), Others (1)
 Doctor to Population Ratio: 1:50,000 (Marakwet), 1:156,471 (Keiyo)
Infant Mortality Rates: 57/1000 (Keiyo)
 Under Five Mortality Rates: 9.7/1000 (Keiyo)
Life expectancy: 62.8 and 69.6 for males and females respectively.
Prevalent Diseases: Malaria, Diarrhoea, Bronchopneumonia and respiratory tract infections, urinary tract infections
Notable Hospitals: Chebiemit and Iten District Hospitals
Elgeyo Marakwet County Contacts
Postal Address: P.O Box 220 – 30700 Iten, Kenya
Phone: +254(0)734 220220
Mobile:+254(0)734 220220
Elgeyo Marakwet County Website
Website: http://www.elgeyomarakwet.go.ke
Elgeyo Marakwet County Video
---
We endeavor to keep our content True, Accurate, Correct, Original and Up to Date.
If you believe that any information in this article is Incorrect, Incomplete, Plagiarised, violates your Copyright right or you want to propose an update, please send us an email to informationcradle@gmail.com indicating the proposed changes and the content URL. Provide as much information as you can and we promise to take corrective measures to the best of our abilities.
---
List of 47 Counties in Kenya
---