A Guide To Eliye Springs
Eliye Springs is also known as Ille Springs, this is a beautiful site with a unique beach located in a remote village on the Western side of Lake Turkana. It produces lush vegetation along its section of the otherwise barren lakeshore, and supports a community of about 5000 people with fresh drinking water.

Eliye Springs is an oasis located on the sandy western shores of the Turkana lake in northern Kenya, 65KMs from Lodwar town,Northern part of Kenya. Eliye springs is named after the local springs that produce fresh drinking water.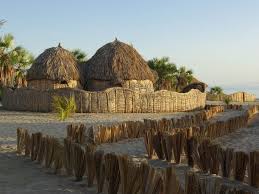 Eliye Springs Resort
Eliye Springs Resort is a luxurious affordable resort with an amazing view of Lake Turkana. The resort is located on the Western shores of Lake Turkana 70 km northeast of Lodwar.
The accommodation in Eliye Springs Lodge are 6 tallest ever built traditional Turkana huts called Boma, of which one is an executive Boma with 2 Bedrooms.They are luxurious spacious sleeping rooms each with a double bed, furniture, tiled bathroom, solar lights, veranda with sun chairs facing the Lake, and a Swiss gymnastic ball for your daily exercise.
Twin bed
Double Bed
Furniture
Tiled Bathroom
Veranda with Sun Chairs
Swiss Gymnastic Ball
Solar Lights
Rooms
Full equipped Rooms alongside the Lake
Eliye Springs Resort has 4 self contained rooms with 2 double beds each. The rooms are simple but spacious, especially for families with children. The rooms are close to the Restaurant.
Double beds
Bathroom
Solar light
Veranda
Campsite
Tents
Full equipped Tents alongside the Lake
Eliye Springs Resort has 2 types of tents to rent: one is the common doom type, a simple tent for 1 – 2 persons. The other type is the Eliye tent for one person, which is basically a mosquitonet over your beddings. The advantage of this type is the fresh air and the free sight to the night sky.
Manyatta
Full equipped Manyatta alongside the Lake
Manyattas are common Turkana huts with one bed each. Beside the common Manyatta we have 4 special Manyattas, which are quite spacious. Manyattas have shared bathrooms.
Our Food
The Restaurant offers national and international food. Full board guests enjoy a set menu, while other visitors have the choice from an a la carte menu. Our main food is of course the delicious fresh Fish from Lake Turkana. On request we also offer vegetarian dishes. The bar is well stocked with all the sorts of cold drinks, soft drinks, beers, wines and spirits.
Activities
Beside of watersports activities we also offer Turkana cultural visits. A local market from the Turkana women offers traditional hand crafts. Within the Resort there are a wide screen DSTV and a pool billiard table.
Visit the unique Central Island National Park
Visit Sibiloi and KoobiFora
Sportsfishing
Boatsrides
Turkana Sundowner
Full Body massage
Visit Turkana homestead
Turkana lecture
How to get to Eliye Springs
By Road: (Public means)Take a bus from Nairobi to Kitale, Buses heading to Lodwar from Kitale are Dayah,Eldoret express,Mvumilivu,Sabre star and many more.From Lodwar,take a taxi to Eliye Springs Resort. (Private vehicle) Kitale-Kapenguria-Marich-Lokichar-Lodwar-Eliye Springs Resort. Approx 350kms,8 Hrs drive. Our sign boards are all the way from Lokichar to Eliye Springs Resort.
By air: Daily flights with Fly 540 from Nairobi/Eldoret to Lodwar and back (except Tuesdays). Monday to Friday Safarilink direct from Nairobi to Lodwar.- Charter flights direct to Eliye Airstrip are also available by Yellow Wings flight company. Transfer to and from Eliye Springs Resort can be organized through our bookings office.
A Map to Eliye Springs

Eliye Springs

Contacts

Attraction Type: Scenery & Landscapes
Category: Lake or River, Natural Springs
Region: North Rift
Telephone: 254 738 827522
254 703 891810
Entrance Fee: Yes
More About Kenya
Kenya is a world unto itself. Kenya is Africa's original safari destination, attracting explorers, adventurers, and travelers for centuries. A safari to Kenya is a trip of a lifetime.
Tourist Attractions in Kenya:
Kenya has one of the world's greatest tourist attractions sites, known for its diversity of landscape, wildlife, and cultures. From sweeping savannahs to tropical beaches and coral reef, dense equatorial forests to mighty snow-capped mountains, and more.
For more information visit: Tourists Attractions in Kenya
Kenya Safari
Kenya is the ultimate safari destination, providing travelers with a window into the heart of Africa. But this is not all that Kenya has to offer. Located near the equator, Kenya´s magic lies in the fact that the country encompasses an astounding variety of landscapes and climates, flora and fauna, as well as communities and cultures, home to water sports, a swim with dolphins and adventure.
For more information visit: Kenya Safari
Hotels and Accommodation in Kenya
Hotels in Kenya vary enormously in price and facilities. Luxury hotels in Kenya offer excellent standards of service and are comparable to the best hotels anywhere in the world. Kenya's abundance of natural produce, combined with the rich variety of cultures and traditions, has created a great culinary nation.
The fertile volcanic soil of the Rift Valley produces a bounty of fresh vegetables, while the coast is a great source of tropical fruit and fresh seafood. The Kenyan coast is also the home of the world-renowned Swahili cuisine, a blend of Middle Eastern and African cooking with a particular coastal twist.
For more information visit: Hotels in Kenya
Towns in Kenya
Apart from the towns of Nairobi , Mombasa, Kisumu and Nakuru, Kenya has other major towns each a unique representation of the country's striking abundance in flora and fauna. Most of these towns are headquarters in their respective counties or major economic bases in their regions. Luxury hotels and lodges located here provide good accommodation and conferencing facilities for guests who dare to try out a taste different from the capital or the coast.
For more information visit: Towns in Kenya
The Kenyan People Culture and Tradition
Kenya's culture blends together diverse tribes, traditions, and religions into one beautiful, well-woven tapestry.  These traditions complement each other while incorporating the modern influences of globalization – resulting in a vibrant cultural spirit that is uniquely Kenyan. Kenya has over 42 different tribes with different languages and several dialects. Kenyan tourism has made the Maasai and Samburu tribes the most famous because of their long preserved culture.
For more information visit: Kenya People and Tribes
---
We endeavor to keep our content True, Accurate, Correct, Original and Up to Date.
If you believe that any information in this article is Incorrect, Incomplete, Plagiarised, violates your Copyright right or you want to propose an update, please send us an email to informationcradle@gmail.com indicating the proposed changes and the content URL. Provide as much information as you can and we promise to take corrective measures to the best of our abilities.
---