Embu Town Kenya Guide
Embu Town
Embu town lies about 120 km (75 miles) northeast of Nairobi. Located on the south an eastern slope of Mount Kenya. Embu Kenya has a population of 41,092. Embu Town plays host to adventures on Mount Kenya and to the north. Many expeditions set out from Embu each year to scale the slopes.
From Embu Kenya, visitors can go water rafting on the mighty Tana River or canoeing at the Seven Forks Dam. This is an ideal base for trout fishing on the many streams that flow from Mount Kenya. From Embu town, there are spectacular views of Mbere Plains. The nightlife in Embu town is accompanied by African drumbeats with a rhythm of real fun.
Embu Town Climate
Located on the south an eastern slope of Mount Kenya. Embu Kenya has a population of 41,092. Embu Town plays host to adventures on Mount Kenya and to the north. Many expeditions set out from Embu each year to scale the slopes.
The climate here is tropical. In winter, there is much less rainfall than in summer. The average annual temperature is 20.2 °C in Embu. The rainfall here averages 1120 mm.
The driest month is June, with 17 mm of rain. Most precipitation falls in April, with an average of 269 mm.
For more information click here
History of Embu Town
Embu is a town in Kenya, located approximately 120 kilometers (75 miles) northeast of Nairobi towards Mount Kenya. Embu Kenya serves as the headquarters of Embu County in Kenya and is also the district headquarters of the Embu District. Located on the southeastern slopes of Mount Kenya.
The Ambeere split from the Aembu in the 1990s and formed Mbeere District with its headquarters in Siakago, a dusty town about 25 Kilometers East of Embu town. This, however, did not stop the Ambeere people from visiting Embu Kenya especially for services and commodities that were not readily available in their new headquarters. Due to historical ties as well as the fact that many Ambeere people own property in Embu town, it is not uncommon to hear locals say that they consider the town as part of their heritage.
Embu Town Kenya is known for its Jacaranda trees, that literally turn the town into a purple shower when in flower. The Jacaranda trees lose their green leaves and become solid purple when they bloom, usually in October-November each year, depending on the rainfall.
Embu Kenya rises from the Ruvingaci River, up to the Kangaru School as well as from the Njukiri forest in the west to Muthatari in the East, a radius of about 10 kilometers (6 miles) in size. The main town (center) however is very small and can be crossed in a few minutes. Embu Kenya has a small airstrip (1 kilometer long), which is 7.1 kilometers southeast of the heart of the town. Dallas, an estate in the town is known mostly for its diverse inhabitants.
Economic Activities in Embu Town
Embu town is a major trading centre in Eastern Kenya. For a long time, it was the main economic center for the Aembu and the Ambeere subtribes, as well as other groups of people in central Kenya.
Places To Visit While in Embu Town
Must See Attractions in Embu Town
Karue Hill
Towering at about 1,600 meters above sea level, Karue Hill is a serene site with a captivating landscape.
Driving from Embu Town to Karue Hill takes about 30 minutes.
Many years ago, it was the site for traditional rituals by the Embu people.
Ena River
Thenge Njeru Waterfalls
This is Thenge Njeru waterfall. It's in Runyejes, in Embu. To get here you use murram roads that slither up hills. If you step off the road, you will plunge deep into shockingly beautiful greenery and clear rivers. The folk who live here only have to stare at the green hills to get Vitamin A. Quite often this area gets misty and drizzly. The roads here are mostly deserted and once in a while, a bodaboda motorbike will zoom past but most of the time you are alone.
Njukiri Forest
Njukiri Forest is located at Embu, Kenya.
Njukiri Forest is categorized as Provincial Forest in Embu, Kenya
 Seven Perks.
Kigari Church Bells
Bridge of God
Many people haven't still had a chance to visit the Bridge Of God popularly known as Ndaraca Ya Ngai by residents of Mururi Market. Mururi Market is a small upcoming town located on your way to Embu Town.
God has blessed the town with an important tourist attraction, a bridge that was never created by any man. Scientists have tried to explain how it came to be but still, there is no clear explanation.
The site is a good enjoyable place which all people can visit. I have been there too so make a point of visiting it.
Mau Mau Caves
Mau Mau Caves
Things To Do While in Embu Town
Bird watching
Picnics
Nature walks
Bungee jumping
Canoeing
Camping
Rock climbing
River fishing
How to get Embu town
The most convenient mode of transport to Embu Town in Kenya from Nairobi is by Traveling by bus or commonly referred to as 'matatus'.
Night Clubs and Nightlife in Embu Town
Tavern @Kenol
Sunrise Hotel
Club Storm (Countyview Hotel)
Minni Inn
Innocent Inn
Gerish Hotel
Hotels in Embu Town
Embu Kenya has a fast-growing hospitality industry with a diverse array of hotels lodges and other accommodation.
The Izaak Walton Inn Embu
The Izaak Walton inn embu
Izaak Walton exudes individuality, elegance and refined comfort and luxury in Embu. The hotel's turn-of-the-century origins are evident in the subdued colors, discreet patterns that are ideal for business or leisure.
An understated palette of subtle colors lends an air of calm to the calmness of the well-manicured gardens.
Our signature inclusive luxury experience ensures a convenient and streamlined stay, with all accommodation options, food, premium beverages and a wide assortment of activities included in our rates.
For more information visit The Izaak Walton inn
Masinga Dam Resort (MDR)
Masinga Dam Resort (MDR) is located adjacent to the Masinga reservoir in Machakos District located approximately 160km from Nairobi. The Masinga Reservoir developed and commissioned by TARDA in 1981, are a multipurpose man-made lake meant for irrigation, electricity generation and tourism development. The magnificent water body covers 120 km², has a height of 55m-crest length of 2100m and impounds a reservoir 1560 million m3. It is surrounded by picturesque Mountains of boundless beauty and has the sprawling Mwea Game Reserve on the boundary of its eastern fringes.
For more information visit Masinga Dam Resort
Kwetu lodge
Kwetu lodge
Kwetu Lodge is a budget friendly lodge located in a serene environment, a short distance from the Rupinganci River bridge in Embu, Kenya. The lodge is strategically located near trading and business centers and ideal for business and people traveling on a short budget. Kyeni Hospital is 5 minutes drive away.
Each room has an en-suite bathroom and a TV with cable service.
The onsite restaurant serves Kenyan dishes and the onsite bar serves soft and alcoholic drinks. The restaurant offers a complimentary breakfast daily. There is a billiard board on the premises.
Laundry is offered at a surcharge. Onsite parking is available and security guards watch the premises of the lodge.
The lodge is in close proximity to the Rupinganzi Petrol Station. Rupingazi River bridge and Mount Kenya National Park are respectively 500m and 80 km away.
Gerish Hotels
Gerish Hotels
Gerish Hotel K Ltd is located at Embu. The hotel is close to trading and business centers and offers free WiFi access.
Each room is fitted with a TV with satellite stations, a wardrobe, a chair, and an en suite bathroom.
Breakfast is complimentary and guests can order local and international dishes at the restaurant. The bar serves a variety of soft drinks and alcohols which can be enjoyed on the terrace. The hotel has a playground with merry-go-rounds and slides for kids.
Guests on business retreats can use the hotel's conference room for their meetings and training programs. Parking facilities are available and the premises are guarded by security personnel.
Gerish Hotels K LTD is located near Tenri Polytechnic and a 24-minute drive from Embu Town.
New Thuci Lodge
Maina Highway Hotel
Maina Highway Hotel
Maina Highway Hotel is not only one of the largest chains of hotels and lodges in Embu town, it is also one of the most innovative enterprises, offering customers and guests diverse experiences that are simply unforgettable.
Maina Highway Hotel currently has 95 rooms, with qualified and courteous staff. For the leisure traveler, MainaHighway Hotel offers a host of diverse experiences of relaxation. For business-oriented guests, we provide up-to-date business facilities as well as state-of-the-art conferencing through our customized conferencing solution.
Maina Highway Hotel has retained a distinguished position as a responsible hospitality service provider in all aspects within which we operate. We are guided by three pillars: "The customer is always right, Quality service and Clean environment". Maina Highway Hotel is located in a very strategic position as all the main services like the banks, post office, M-Pesa joints, and courier services are all located near the hotel.
For more Information Visit Maina Highway Hotel
Valley View Hotel L
Baraka Guest House
Baraka Guest House
Philadelphia Retreat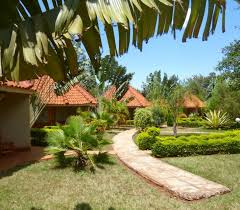 Philadelphia Retreat and Conference Centre in Embu Town in Kenya that provides enjoyable accommodation in Embu Town and conference halls for seminars and meetings in Embu, especially for those who travel from Nairobi city to Embu town in Kenya. Philadelphia Retreat and Conference Centre in Kenya is located along Nairobi Embu Road and only 11 km from Embu town in Kenya on the western part. If you wish to book for accommodation with Philadelphia Retreat and Conference Centre in Embu, you can call +254 20 260 8702 or use the Philadelphia Retreat and Conference Centre website at www.philadelphiaplace.kbo.co.ke
Hotel Chakaka Sagana
Education Institutions in Embu Town
There are numerous recognized educational institutions within Embu Kenya. The schools and institutions of higher learning include;
St Paul's High School-Kevote
Kangaru High School
Kamama Boys High School
St. Teresa's girls High School-Kithimu
St. Benedict day Secondary School-Kithimu
Kithegi day secondary School
Embu Lions Primary School
Embu County Primary School
Embu High School and College
Government Training Institute
East College
Similarly, there are up and coming tens of Catholic private primary schools, which include Mother Angelina academy in Kithimu. these latter ones fall under Catholic Education Secretary's office.
Embu County Map
Embu County Map
More About Kenya
Kenya is a world unto itself. Kenya is Africa's original safari destination, attracting explorers, adventurers, and travelers for centuries. A safari to Kenya is a trip of a lifetime.
Other Towns in Kenya
Apart from Nairobi , Mombasa, Kisumu, Nakuru, and Embu town, Kenya has other major towns each a unique representation of the country's striking abundance in flora and fauna. Most of these towns are headquarters in their respective counties or major economic bases in their regions. Luxury hotels and lodges located here provide good accommodation and conferencing facilities for guests who dare to try out a taste different from the capital or the coast.
For more information visit: Towns in Kenya
Hotels and Accommodation in Kenya
Hotels in Kenya vary enormously in price and facilities. Luxury hotels in Kenya offer excellent standards of service and are comparable to the best hotels anywhere in the world. Kenya's abundance of natural produce, combined with the rich variety of cultures and traditions, has created a great culinary nation.
The fertile volcanic soil of the Rift Valley produces a bounty of fresh vegetables, while the coast is a great source of tropical fruit and fresh seafood. The Kenyan coast is also the home of the world-renowned Swahili cuisine, a blend of Middle Eastern and African cooking with a particular coastal twist.
For more information visit: Hotels in Kenya
Tourist Attractions in Kenya:
Kenya has one of the world's greatest tourist attractions sites, known for its diversity of landscape, wildlife, and cultures. From sweeping savannahs to tropical beaches and coral reef, dense equatorial forests to mighty snow-capped mountains, and more.
For more information visit: Tourists Attractions in Kenya
Kenya Safari
Kenya is the ultimate safari destination, providing travelers with a window into the heart of Africa. But this is not all that Kenya has to offer. Located near the equator, Kenya´s magic lies in the fact that the country encompasses an astounding variety of landscapes and climates, flora and fauna, as well as communities and cultures, home to water sports, a swim with dolphins and adventure.
For more information visit: Kenya Safari
The Kenyan People Culture and Tradition
Kenya's culture blends together diverse tribes, traditions, and religions into one beautiful, well-woven tapestry.  These traditions complement each other while incorporating the modern influences of globalization – resulting in a vibrant cultural spirit that is uniquely Kenyan. Kenya has over 42 different tribes with different languages and several dialects. Kenyan tourism has made the Maasai and Samburu tribes the most famous because of their long preserved culture.
For more information visit: Kenya People and Tribes
Embu Town – Video
---
We endeavor to keep our content True, Accurate, Correct, Original and Up to Date.
If you believe that any information in this article is Incorrect, Incomplete, Plagiarised, violates your Copyright right or you want to propose an update, please send us an email to informationcradle@gmail.com indicating the proposed changes and the content URL. Provide as much information as you can and we promise to take corrective measures to the best of our abilities.
---