Giraffe Centre

Description

The Giraffe Centre has been ostensibly set up as a breeding centre for the endangered Rothschild giraffe, but now operates conservation/education programs for Kenyan school children. There is good information on giraffes available here, and an elevated feeding platform where visitors meet the resident giraffes face to face.

The Giraffe Centre is located at Karen, approximately (12.5 miles) 20 kilometres from the centre of Nairobi, Kenya. It was established in order to protect the endangered Rothschild giraffe, Giraffa camelopardalis rothschildi, that is found only in the grasslands of East Africa.
The Giraffe Centre was started by Jock Leslie-Melville in 1979, the Kenyan grandson of a Scottish Earl, when he and his wife Betty captured a baby giraffe to start a programme of breeding giraffe in captivity at their home in Langata – home of the present centre. Since then the programme has had huge success, resulting in the introduction of several breeding pairs of Rothschild Giraffe into Kenyan national parks.
In 1979, Leslie-Melville added an education centre to his (then still private) giraffe sanctuary. By 1983 he had raised enough money to establish the Giraffe Visitor's Centre as a tourist destination in Nairobi. The centre has rescued, hand-reared and released around 500 orphaned giraffes back into the wild since opening.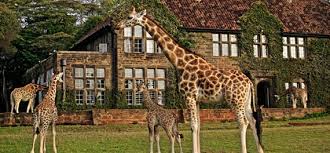 The main attraction for visitors is feeding giraffes from a raised observation platform. The centre is also home to several warthogs which freely roam the area along with the giraffes.
Things to see and do at Giraffe Centre
Feeding the Giraffe: There is an elevated feeding platform that allows you to hand feed the giraffes, which can be an education in itself. You are given small pellets to feed the Giraffes and there are unlimited refills.
Kiss a Giraffe: The centre has a platform where they can exchange kisses with visitors for pelleted food. At the Giraffe Center you are able to site on top of a platform and stand eye to eye with the Giraffes which is quite an experience..
Nature Walk: Across from the Giraffe Center is a small nature walk that features two other giraffes and a variety of unique plants and birds. Make sure that you stay 50 feet (15 meters) away from them.
Giraffe Centre Opening Hours
The Giraffe Center is open daily from 9:00 am to 5:00 pm including weekends and public holidays.
Giraffe Centre Entrance Fee
Resident
Adults – Ksh. 250
Children/student – Ksh. 50
Non-Resident
Adults – Ksh. 1,000
Child/student – Ksh. 500
How to get to Giraffe Centre
By road: Giraffe Centre is located at Langata, approximately 20 kilometers from the centre of Nairobi, Kenya which is about 40 Min drive away from Nairobi City.
From Kencom & Ambassador Buildings
Take the City Hoppa or the KBS (Kenya Bus Service) from the buildings listed above and they will take you directly to the Hardy Bus Station which is near the Giraffe Center. Do not go all the way to the Hardy Bus Station, let the collector know that you want to go to Giraffe Center.
After you get dropped off you will see signs for the Giraffe Center. There will be a very long road that will bend left (you will see a white wooden gate and then the Giraffe Manor) followed by a bend to the right. The giraffe center will be on the right. You can also take a local piki piki (motorcycle) to take you from where you get off the Matatu to the Giraffe Center, should only cost you roughly 50 shillings.
From Nairobi Railway Station
The first will go to Galleria Mall in the neighborhood of Nairobi called Karen and will cost 30 Shillings. Look for Matatu #124/125 (combined number).
The second Matatu will be taken once you arrive at the Galleria mall in Kenya. Walk towards the Galleria Mall and you will see the Matatu station that you will take to the Giraffe Center(20-40 shillings).
Via Taxi
After arriving at the Galleria Mall you can find a slew of cars parked on the side of the road. They will try to hustle you for the fare which should be 400 Kenyan Shillings. There is no point to take a taxi to just the Giraffe Center since many tourist attractions in Nairobi are nearby like the Elephant Orphange & Nairobi National Park. I got a group from the local hostel and we shared a taxi for the entire day for 4,500 Kenyan Shillings. The normal rate is 4,500 to 5,000 Kenyan Shillings.
A Map to Giraffe Centre

Giraffe Centre

Contacts

Attraction Type: Wildlife
Category: Animal Sanctuary
Region: Nairobi
City / Town: Nairobi Town
Road / Street: Duma Road
Telephone: 254 20 807 0804; 254 734 890952
Email: info@giraffecentre.org
Website: http://www.giraffecentre.org
Entrance Fee: Yes
More About Kenya
Kenya is a world unto itself. Kenya is Africa's original safari destination, attracting explorers, adventurers, and travelers for centuries. A safari to Kenya is a trip of a lifetime.
Tourist Attractions in Kenya:
Kenya has one of the world's greatest tourist attractions sites, known for its diversity of landscape, wildlife, and cultures. From sweeping savannahs to tropical beaches and coral reef, dense equatorial forests to mighty snow-capped mountains, and more.
For more information visit: Tourists Attractions in Kenya
Kenya Safari
Kenya is the ultimate safari destination, providing travelers with a window into the heart of Africa. But this is not all that Kenya has to offer. Located near the equator, Kenya´s magic lies in the fact that the country encompasses an astounding variety of landscapes and climates, flora and fauna, as well as communities and cultures, home to water sports, a swim with dolphins and adventure.
For more information visit: Kenya Safari
Hotels and Accommodation in Kenya
Hotels in Kenya vary enormously in price and facilities. Luxury hotels in Kenya offer excellent standards of service and are comparable to the best hotels anywhere in the world. Kenya's abundance of natural produce, combined with the rich variety of cultures and traditions, has created a great culinary nation.
The fertile volcanic soil of the Rift Valley produces a bounty of fresh vegetables, while the coast is a great source of tropical fruit and fresh seafood. The Kenyan coast is also the home of the world-renowned Swahili cuisine, a blend of Middle Eastern and African cooking with a particular coastal twist.
For more information visit: Hotels in Kenya
Towns in Kenya
Apart from the towns of Nairobi , Mombasa, Kisumu and Nakuru, Kenya has other major towns each a unique representation of the country's striking abundance in flora and fauna. Most of these towns are headquarters in their respective counties or major economic bases in their regions. Luxury hotels and lodges located here provide good accommodation and conferencing facilities for guests who dare to try out a taste different from the capital or the coast.
For more information visit: Towns in Kenya
The Kenyan People Culture and Tradition
Kenya's culture blends together diverse tribes, traditions, and religions into one beautiful, well-woven tapestry.  These traditions complement each other while incorporating the modern influences of globalization – resulting in a vibrant cultural spirit that is uniquely Kenyan. Kenya has over 42 different tribes with different languages and several dialects. Kenyan tourism has made the Maasai and Samburu tribes the most famous because of their long preserved culture.
For more information visit: Kenya People and Tribes
Watch a Video of Giraffe Centre
---
We endeavor to keep our content True, Accurate, Correct, Original and Up to Date.
If you believe that any information in this article is Incorrect, Incomplete, Plagiarised, violates your Copyright right or you want to propose an update, please send us an email to informationcradle@gmail.com indicating the proposed changes and the content URL. Provide as much information as you can and we promise to take corrective measures to the best of our abilities.
---