Irrigation in Kenya
Irrigation in Kenya has a long history spanning more than 400 years. Records show that irrigation has been practised for many years along the lower River Tana and in Keiyo, Marakwet, West Pokot and Baringo regions.
Farmers all around the globe are quickly adopting irrigated agriculture as a guard against uncertainties such as the amount and distribution of rain.
Rice irrigation activities along river valleys in Kipini, Malindi, Shimoni and Vanga, where slaves were used to constructing rice schemes in the early 19th century, are also well-known.
Indian coolies (workers) who built the Mombasa – Nairobi Railway also started irrigation activities near Makindu and Kibwezi.
In 1946, the African Land Development Unit (ALDEV) identified irrigation as part of a broad agricultural rehabilitation programme. It initiated a number of irrigation schemes – Mwea, Hola, Perkerra, Ishihara and Yatta using cheap labour from Mau Mau detainees. Many detainees were eventually settled in the schemes.
The Government of Kenya is implementing projects that will increase water storage per capita from 5m3 to 80m3 (16 times). This will support the country from perennial water shortage. Further, the storage capacity will contribute to the growth of irrigated agriculture by 50,000 hectares. The dams are estimated to cost Sh85 billion ($1.1 billion) in the next 10 years.
It is estimated that irrigation can increase agricultural productivity four fold and, depending on crops, incomes can be multiplied 10 times. In addition to rain-fed agriculture, the Government has promoted irrigation farming for food and cash crops.
The flagship Irrigation Projects in Kenya are:
Construction of the Tana Delta project
Expansion of schemes in Bura, Hola, Kano Plains, Nzoia (upper; middle and lower) Perkerra, Kerio Valley, Mwea, Taita Taveta, Ewaso Ng'iro North and Ngurumaini (Kajiado)
Extension of the Yatta Canal for another 100km to cover Yatta, parts of Kitui and Mwingi regions.
Smallholder irrigation schemes Geography and weather patterns make irrigated agriculture indispensable since only about 20 per cent of the country has a high or medium potential for agricultural production. The estimated potential area for irrigation and drainage in Kenya is about 540,000 hectares (3,240km2) and 600,000 hectares (3,600km2) respectively.
Drip Irrigation in Kenya
Drip irrigation is a method of watering plants with single drops of water at a time. The set up consists of tapes with very small outlets that let out water one drop at a time wetting the soil around the plants' roots. The technology was developed in the USA and Israel for growing crops in dry climates where water is limited.
The technology is efficient in the use of water – no water is wasted as runoff or lost by moving down through the soil too quickly for the roots to absorb it. The technology has been further simplified and requires low water pressure to operate. The tapes are very flexible and can be modified to suit different lengths of rows or plot sizes.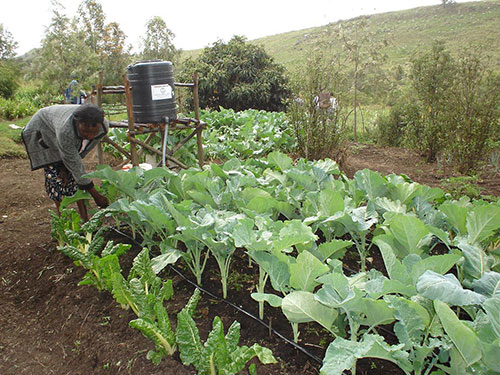 Irrigation in Kenya – Advantages of Drip irrigation over Convectional Methods
The technology delivers water directly to the roots of the crop in small regular drops. This reduces the amount of water wastage
It is imperative in preventing the spread of fungal diseases such as powdery mildew.
It prevents the nutrient runoff which is common in other methods of irrigation where the soil is flooded with water.
Reduction of labour costs

It is a more effective method of fertiliser application on the plants, where liquid fertiliser is mixed with water and spread straight to the plants
Irrigation in Kenya – Problems with Drip Irrigation
Clogging: Since water is released through tiny pores on the plastic ducts, it is important for you to constantly check the quality of water to ensure it does not contain suspended particles such as silt.
Damage: Drip irrigation kits are mainly comprised of thin plastic tubes that carry water across the field. There is, therefore, the risk of the pipes getting damaged while in the field. Therefore, extra care should be taken when carrying out normal practices such as weeding or furrowing to prevent
any damage on the irrigation lines.
Irrigation Schemes in Kenya
Irrigation in Kenya – Bura Irrigation Scheme
Bura Irrigation Scheme is along the Tana River. It is 50 Km north of Hola town, about 400 km north-west of Mombasa. The construction of the scheme started in 1978 and was funded by the World Bank, ODA, EEC, UNDR Finnish government, the Netherlands and Kenya.
Bura Irrigation Scheme project was modelled on the Tana Irrigation Scheme, 50km south of Bura. The population was estimated at 65,000. The families were to be settled in 23 villages and t0 be supported through agricultural production. Cotton was the main cash crop and farmers were to cultivate 1.25-hectare plot each a year. Maize and groundnuts were the main food crops and farmers were to cultivate 0.65 hectares plot each year. For vegetables and other legumes, farmers were to cultivate 0.05ha plot, and choose what crops to grow.
The construction of Phase 1 ended in 1982. At the start of implementation, the Government scaled down the project to 3,900 hectares. This curtailed some components –  gravity water supply system, ginnery and staff housing. Currently, the project irrigates 1,000 hectares with a population is 2,245. Because of the lack of adequate water, 3,900 hectares could not be fully used. As a result, a third of the farmers have gone back to their rural homes.
Bura Irrigation Scheme project produced cotton and maize between 1982 and 1990, and 2,500 hectares were irrigated. But in the next 15 years, there was little or no crop harvest due to lack of adequate water and frequent breakdown of the Nanighi Pumping Station. But in 2003, when President Kibaki took over the reins of G0vernment,  maize growing resumed.
One pump was revived, while seeds and fertiliser were acquired and distributed free of charge to farmers. In December 2005, the scheme again changed hands and was taken over by the National Irrigation Board.
Irrigation in Kenya – Bunyala Irrigation Scheme
Its operations stalled in the 1999/2000, but it was revived in  2004. In 2005, the board started an expansion programme – 80 acres in Muluwa and 140 acres in Munaka were developed and supplied with water. In 2006/07, the infrastructure to irrigate an additional 100 acres in Muluwa was developed. An additional 100 acres were developed in the 2007/2008 period.
Farmer Organisation
The farmer organizations in the scheme are as follows:
Advisory Committee: In-charge of land administration
Water Users Association: in charge of water distribution
Magombe Multipurpose Co-operative Society: in charge of production marketing
Challenges:
Weak farmers' organizations: There is a need to institute and strengthen strong farmers' organizations especially the WUA and the farmers Co-operative. This will allow for effective Participatory Irrigation Management (PIM) and eventually Irrigation Management Transfer
Gravity water supply: A detailed design for a sustainable and cost-effective gravity water supply system to the scheme and its environs is underway. This will also cover the Rwambwa Mudembi section. This will be achieved through the implementation of the Lower Nzoia Project. This should mitigate the high cost of pumping.
Drying Floor, Stores, Permanent Office: The scheme is in need of a bigger drying floor and stores due to the expanded acreage. The scheme Offices should also have permanent buildings.
Water storage facility upstream: The Budalangi area is prone to flooding so as to guarantee a continuous supply of irrigation water during the dry spell there is a need to construct a dam upstream.
Irrigation in Kenya – Mwea Irrigation Scheme
Mwea Irrigation Scheme is in Kirinyaga District. The scheme is about 100km south-east of' Nairobi. Farming started in 1956 and rice has been the dominant crop. The scheme has 30,350 acres, with 16,000 acres developed for paddy production. The rest of the scheme is used for settlement, public utilities, subsistence and horticultural farming.
Two main rivers – Nyamindi and Thiba – serve the scheme. Water is abstracted from the rivers by gravity and fixed intake weirs conveyed and distributed through unlined open channels. A link canal joins the two rivers. Land tenure is on a tenancy basis.
In 1998, the Mwea Rice Farmers Cooperative Society took over. However, the farmers could not go it alone due to unskilled personnel and lack of finances and machinery. In 2003, the farmers sought Government for help in management. Now, the scheme is run by the NIB and farmers organisations. NIB is responsible for infrastructure, the cropping programme and land administration.
Farmers decide where to sell rice, but the National Cereal and Produce Board (NCPB) is the main player. The farmers pay NIB Sh2,000 ($25) for infrastructure, maintenance and water management.
Irrigation in Kenya – Perkerra Irrigation Scheme
lt is 100km north of Nakuru, near Marigat township in Baringo. It derived its name from the Perkerra River, the source of water and the only permanent river in the district. Construction started in 1954 after feasibility studies showed that the land was suitable for irrigation.
In Perkerra Irrigation Scheme, 5,800 acres have the potential for irrigation, but due to water shortage, only 1,500 of the 2,000 acres have been developed for gravity furrow irrigation. The scheme started horticultural production from the onset and was a major source of onions, chillies, watermelon, pawpaws and cotton in the
past.
However, due to marketing problems, seed maize was introduced in 1996. The crop is planted under a contract with the Kenya Seed Company. With an assured market, better and prompt payment, seed maize became a turning point for crop production in the scheme.
Irrigation in Kenya – Tana Hola Irrigation Scheme
Tana -Hola Irrigation Scheme was started in 1953 by the colonial government as a holding camp for detainee labour and is among the oldest NIB schemes. It is in Tana River District and the gazetted area is 4,800 hectares. But only 900 hectares are under cultivation. The scheme has 700 families in six villages. The main cash crop is cotton although other crops – groundnuts, maize and cowpeas – are grown at a small scale.
Agricultural activities stopped in 1989 when River Tana, the main source of water, changed course at the Laini water intake point, leaving the scheme without water for irrigation. Most families have gone back to their original homes. But since 1990, the Government has made efforts at reviving the scheme.
The Government acquired funds from the Arab Bank for Economic Development in Africa for a feasibility study for the scheme. lt pledged to rehabilitate the scheme with $11500 million ($0.25 million). This was to cover phase one of the programme on the developed 900 hectares. The scheme was to be expanded by 2,500 hectares in phase two. Similarly, plans are underway to develop gravity systems. Currently, phase one is in good progress. Rehabilitation works are on.
Irrigation in Kenya – West Kano Irrigation Scheme
West Kano Irrigation Scheme operations stalled in the 1999/2000 cropping season. But it was revived in 2003. Phase one covered 1,158 of`2,229 acres and phase two the entire 2,229 acres, 91 5 of which had been cropped before production was suspended to allow installation of new pumps.
But inadequate funding, high cost of operation and receding lake levels have hindered full exploitation of the scheme. However, increased Government funding of NIB, a cost-effective water supply system through gravity and construction of a protection dyke and water storage pans make it easier to boost production and efficiency at the scheme
Benefits being realized
Food security
Employment creation
Improved living standards
Challenges:
High cost of electricity for pumping of irrigation water.
Marketing.
Machinery: There is inadequate local capacity to undertake operations such as land preparation & transport of paddy.
Drying Floor: There is a need to rehabilitate facilities such as the drying floor.
Weak farmer organizations.
Rehabilitation of Infrastructure.
Irrigation in Kenya – Irrigation system and Fertigation systems
Drip irrigation
Overhead irrigation
Pivot centre

Center Fertigation unit
Water measuring equipment for agriculture
Steel water tanks
Complete pump house
Irrigation in Kenya – Video
---
We endeavor to keep our content True, Accurate, Correct, Original and Up to Date.
If you believe that any information in this article is Incorrect, Incomplete, Plagiarised, violates your Copyright right or you want to propose an update, please send us an email to informationcradle@gmail.com indicating the proposed changes and the content URL. Provide as much information as you can and we promise to take corrective measures to the best of our abilities.
---
Crop Farming in Kenya
Livestock Farming in Kenya
---