Kajiado County News
Kajiado county covers an approximated area of 21,900.9 square kilometers. The administrative districts in the County are Central, Isinya, Loitokitok, Magadi, Mashuru, Namanga and Ngong. The County has Nairobi, Machakos, Makueni, Narok, Taita Taveta and Kiambu counties as its immediate neighbours. The main physical features of Kajiado are plains, valleys occasional volcanic hills scarce vegetation in low altitude areas which increases with altitude and rain. Wildlife habitat is a major land occupation.
The county is mainly water stressed where communities cover an average of 10km in search of water
Demographic Features of Kajiado County
Kajiado county has a population growth rate of 5.5 percent; total population was estimated at 807,070 with 401,785 being females and 405,245 males as at 2012. The population is projected to grow to 1 million by 2017
The county has Ngong, Kitengela, Ongata Rongai, Kiserian, Kajiado, Loitokitok, Namanga, Isinya, Sultan Hamud and Ilbisil as the major towns.
Kajiado County Map
The Kajiado county government structure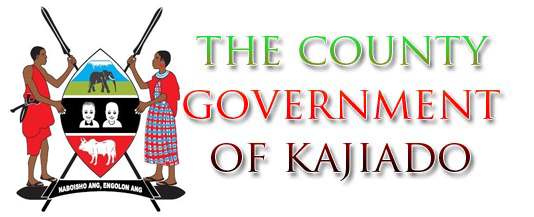 Kajiado County Governor and Deputy Governor
The current governor of Kajiado County is Hon. Dr David Nkedianye and the deputy governor is Hon. Paul Ole Ntiati.
Kajiado County Assembly
The Kajiado county assembly is consist of 25 elected ward representatives and 15 nominated assembly members. View the list and their respective wards
Constituencies in Kajiado County
Kajiado County Assembly Wards
Kajiado South Constituency
Entonet/Lenkism Ward
Imbirikani/Eselenkei Ward
Kuku Ward
Rombo Ward
Kimana Ward
Kajiado East Constituency
Kaputiei Ward
Kitengela Ward
Oloosirkon/Sholinke Ward
Kenyawa-Poka Ward
Imaroro Ward
Kajiado Central Constituency
Purko Ward
Ildamat Ward
Dalalekutuk Ward
Matapato Ward
Matapato South Ward
Kajiado North Constituency
Olkeri Ward
Ongata Rongai Ward
Nkaimirunya Ward
Oloolua Ward
Ngong Ward
Kajiado County Tenders
Kajiado county tenders are awarded in a free, fair and transparency manner in the need to fight corruption in the country.
To access tenders in Kajiado county click the link: https://www.kajiado.go.ke/ for the latest job opportunities in the county.
Kajiado County Jobs
Kajiado County Jobs opportunities for all qualified personnel and those who would wish to work with Kajiado County government. Jobs in Kajiado County are posted on the county website.
Jobs in Kajiado County are awarded in a free, fair and transparency manner in the need to fight corruption in the country.
To access these Kajiado county jobs advertisement click the link Kajiado County Jobs for the latest job opportunities in the county.
Economy, Business and Investment Opportunities in Kajiado County
Pastoralism plays a major role in contributing to the economy of Kajiado County. Livestock production has been on an increase because of the growing commercialization of the pastoral economy. Further efforts to develop the processing capacity for dairy and beef products coupled with improvements in livestock marketing boards would see this industry take the county to greater levels.
Agriculture is practised in some parts of the county as more and more of the indigenous people of the county move from relying solely on livestock for their incomes to substituting this with subsistence agriculture. Efforts to develop irrigation projects in the region would see this agricultural production increase and enable the county to be food secure.
Some notable resources in the county includes the Amboseli National Park a popular tourist destination rich with wildlife and diverse ecosystem of flora and fauna and mineral resources particularly Soda ash from Lake Magadi.
 Economic Activities in Kajiado County
The growth and development of the County hinges and viable investment in the areas of;
Agriculture –Horticulture, food crop farming
Livestock Production – Dairy, beef, hides and skins
Poultry farming for commercial purposes
Tourism whose focus is beyond Amboseli National Park as a matter close to our heart. Establishment of conservancies to complement natural habitats is an area ripe for investment.

Forestry – 16,866.88 ha forest cover. Concerted efforts to improve our forest cover shall be started in earnest. Tree farming as an economic activity shall be encouraged.
The landscape of Kajiado county consists of plains plus some volcanic hills and valleys. The region is very dry with no continually flowing rivers and is officially designated as semi-arid. The annual rainfall varies between 500 and 1,250mm.
 There are two wet seasons, the 'short rains' between October and December and the 'long rains' between March and May. In recent years there have been long periods of drought when there has been little or no rain.
Other major economic activities include:
Tourism
Commodity trading
Sand harvesting
Quarrying
Soda ash mining at Lake Magadi
People of Kajiado County
The indigenous people of Kajiado county are the Maasai but there is an increasing influx of peoples from other tribal groups.
Tourist Attractions in Kajiado County
Amboseli National Park
How to get there
By Road:
From Nairobi via Namanga (240 km) on the Nairobi – Arusha Road, through Meshanani Gate.
From Nairobi via Emali (228 km) on the Nairobi – Mombasa Road through Remito Gate.
Access from Mombasa is mainly through Tsavo West National Park via Kimana (Olkelunyiet) Gate.
By Air:
The park has a single airstrip for light aircrafts at Empusel gate, Kilimanjaro Buffalo Lodge and Namanga town.
Park Gates
Olkelunyiet Gate
Meshanani Gate
Kitirua Gate
Remito Gate
Airstrip Gate
Climate
Temperature ranges from 20—30°C and rainfall from 200 mm – 700 mm.
Two rain seasons:
Long rains — March and April.

Short rains — November and December.
Major attractions in Amboseli National Park 
Large Herds of Elephants — the pachyderms of Amboseli are the longest studied elephants in the wild since the early 1971.
Mt. Kilimanjaro
Big Five
Observation Hill for an aerial view of the park with its swamps, dust plains and Mt Kilimanjaro.
Swamp below Observation Hill which is frequented by elephants, buffaloes, hippos and water fowls like pelicans and Egyptian geese.
Maasai culture.
Wildlife in Amboseli National Park
Leopard, cheetah, Wild dogs, buffalo, elephant, giraffe, zebra, lion, plains game, crocodile, mongoose, hyrax, Dik- dik, Lesser kudu and others Prolific birdlife with approximately 600 species
For more information visit: Amboseli National Park
Tsavo West National Park
Category: Tourist Attractions in Kajiado County
The joint mass of Tsavo East and Tsavo West National Park Kenya forms one of the largest National Parks in the world and covers a massive 4% of Kenya's total land area.
For ore information visit: Tsavo West National Park
Lake Magadi Kenya
Category: Tourist Attractions in Kajiado County
Deep in the heart of Southern Kenya's Maasai land is the unearthly Lake Magadi. This 104 sq km soda lake is completely surrounded by vast natural salt flats. These sweltering hot plains prevent any animals reaching the alkaline lake at its centre.
For more information visit: Lake Magadi Kenya
Major Towns in Kajiado County
Ngong Town – Ngong Town is located on the slopes of Ngong hills and about 20 km from the capital Nairobi. There are modern buildings, supermarkets, wholesale shops, petrol stations and other social amenities in the town.
Kajiado Town – Kajiado Town serves as the headquaters of the county government of Kajiado. It is located about 80 km south of the capital Nairobi along the Nairobi-Arusha road.
Other major towns in Kajiado County include:
Kitengela
Rombo
Loitokitok
Namanga
Ongata Rongai
Kiserian
Isinya
Sultan Hamud
Ilbisil
Notable Personalities
The late Professor George Saitoti who was a mathematician, the sixth vice president of Kenya and a politician. He was the Member of Parliament for Kajiado North constituency for 24 years.
Peris Tobiko became the first woman from the Maasai community to be elected Member of Parliament for Kajiado East constituency.
 Kajiado County Contacts
Postal Address
County Government of Kajiado
P.O. Box 11 – 01100
Kajiado, Kenya
Our Telephone:
+254-708-299339
+254-708-299391
+254-726-986445
Email:
info@kajiado.go.ke
Kajiado County Website
Kajiado County Video
---
We endeavor to keep our content True, Accurate, Correct, Original and Up to Date.
If you believe that any information in this article is Incorrect, Incomplete, Plagiarised, violates your Copyright right or you want to propose an update, please send us an email to informationcradle@gmail.com indicating the proposed changes and the content URL. Provide as much information as you can and we promise to take corrective measures to the best of our abilities.
---
List of 47 Counties in Kenya
---