Kazuri Beads and Pottery Centre

description

Kazuri Beads and pottery Centre produce brightly-colored, handmade ceramic jewellery which are sold all over the world. Kazuri Beads supports literally hundreds of disadvantaged Kenyan women, by providing employment and healthcare services for them and their families.
Kazuri Beads is a popular place for many guests who have just a few hours to spend seeing the sights of Nairobi. The main showroom and workshop is located close to many attractions and tourist venues in the leafy suburbs of Karen.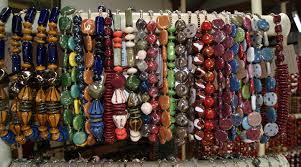 The workshop is just a stones-throw away from the Karen Blixen Museum (named after Karen Blixen of the award winning film and book 'Out Of Africa')
Kazuri means "small and beautiful" in Swahili and this describes each and every beautifully handmade ceramic bead which is shaped by hand by the women who work at the Kazuri workshop. The beads are kiln fired once, glazed and then fired again before being strung.
Kazuri Beads Workshop Tours
A visit to the Kazuri Beads workshop and craft centre takes approximately one hour and here you will see the various processes.
A knowledgeable guide will show you around where you will see the whole process from the molding of raw clay through to the glazing, decorating and threading of beads as finished products. The salesroom is attractively laid out and a beautiful place to visit.
The History of Kazuri Beads:
The company was originally founded by the late Lady Susan Wood in 1975, who created employment for struggling single mothers in the locality. Kazuri is still located in its' original setting in Karen, and the workshop there now has over 340 local women who are employed, most of them still being single mothers.
Care and welfare of Kazuri employees:
It's good to know that each piece of jewellery sold from the Kazuri Beads store is in some way helping people who really need it. The Kazuri workshop in Karen is equipped with a clinic, which provides free medical care for the employees.
80% of the medical bills outside the Factory Clinic are also absorbed by Kazuri. In their mission statement Kazuri say that "the greatest contribution we can make is to create employment, especially for the disadvantaged and this remains our guiding philosophy. The result is reflected in the strength of the Kazuri Family and the beauty of our products."
Kazuri Beads Outlets:
Kazuri have outlets at various places around Nairobi and a worldwide distribution network. They are a fair trade company and you can buy their jewellery online.
In addition to the main sales room and workshop in Karen, retail stores selling Kazuri beads in Nairobi are found in the Westgate Shopping Centre, Viking House (by Westlands roundabout), The Junction Shopping Centre and Capital Centre.
At the coast Kazuri have an outlet at the Diani Shopping Centre at the South Coast of Mombasa. They also have an outlet at Bombululu Workshops (www.apdkbombolulu.org) at the North Coast of Mombasa. The profits from this outlet support their mission of assisting the physically disabled of our society.
Kazuri also support the Kawangware street children project by purchasing paper shopping bags made from recycled paper.
Kazuri Beads and Pottery Centre
Attraction Type:    Culture
Category:    Community Tourism, Market
Region:     Nairobi
City / Town:    Nairobi
Road / Street:    Mbagathi Ridge
Telephone:     254 20 232 8905
Website:     http://www.kazuri.com
Entrance Fee:    Yes
More About Kenya
Kenya is a world unto itself. Kenya is Africa's original safari destination, attracting explorers, adventurers, and travelers for centuries. A safari to Kenya is a trip of a lifetime.
Tourist Attractions in Kenya:
Kenya has one of the world's greatest tourist attractions sites, known for its diversity of landscape, wildlife, and cultures. From sweeping savannahs to tropical beaches and coral reef, dense equatorial forests to mighty snow-capped mountains, and more.
For more information visit: Tourists Attractions in Kenya
Kenya Safari
Kenya is the ultimate safari destination, providing travelers with a window into the heart of Africa. But this is not all that Kenya has to offer. Located near the equator, Kenya´s magic lies in the fact that the country encompasses an astounding variety of landscapes and climates, flora and fauna, as well as communities and cultures, home to water sports, a swim with dolphins and adventure.
For more information visit: Kenya Safari
Hotels and Accommodation in Kenya
Hotels in Kenya vary enormously in price and facilities. Luxury hotels in Kenya offer excellent standards of service and are comparable to the best hotels anywhere in the world. Kenya's abundance of natural produce, combined with the rich variety of cultures and traditions, has created a great culinary nation.
The fertile volcanic soil of the Rift Valley produces a bounty of fresh vegetables, while the coast is a great source of tropical fruit and fresh seafood. The Kenyan coast is also the home of the world-renowned Swahili cuisine, a blend of Middle Eastern and African cooking with a particular coastal twist.
For more information visit: Hotels in Kenya
Towns in Kenya
Apart from the towns of Nairobi , Mombasa, Kisumu and Nakuru, Kenya has other major towns each a unique representation of the country's striking abundance in flora and fauna. Most of these towns are headquarters in their respective counties or major economic bases in their regions. Luxury hotels and lodges located here provide good accommodation and conferencing facilities for guests who dare to try out a taste different from the capital or the coast.
For more information visit: Towns in Kenya
The Kenyan People Culture and Tradition
Kenya's culture blends together diverse tribes, traditions, and religions into one beautiful, well-woven tapestry.  These traditions complement each other while incorporating the modern influences of globalization – resulting in a vibrant cultural spirit that is uniquely Kenyan. Kenya has over 42 different tribes with different languages and several dialects. Kenyan tourism has made the Maasai and Samburu tribes the most famous because of their long preserved culture.
For more information visit: Kenya People and Tribes
---
We endeavor to keep our content True, Accurate, Correct, Original and Up to Date.
If you believe that any information in this article is Incorrect, Incomplete, Plagiarised, violates your Copyright right or you want to propose an update, please send us an email to informationcradle@gmail.com indicating the proposed changes and the content URL. Provide as much information as you can and we promise to take corrective measures to the best of our abilities.
---