How to  check for your KCSE Results 2021 via SMS and Online
How to Check KCSE Results 2021 via SMS
KCSE Results 2021 results can be received by sending an SMS with your Index Number followed by full KNEC initials to 20076 for Safaricom, Airtel and Telcom networks. Due to the high number of requests being made at that particular time, the feedback may take a few minutes to arrive.
How to Check KCSE Results 2021 Online
To check KCSE results online, go to the KNEC website: http://www.knec-portal.ac.ke/ and enter your Index number.
School headteachers can download and print the results from the KNEC portal and website
Procedure
Visit the official KNEC schools portal
To login to the KNEC portal, Insert the User Name and Password which you used during the KCSE 2019 registration.
Fill in the following fields under the box labelled 'FROM INDEX', input the index number of the first candidate and in the box labelled 'TO INDEX NUMBER' input the last candidate's index Number. Click on 'VIEW REPORT'. Then Menu labeled 'EXPORT'.
Select the format you would like to export the KCSE Result Slips e.g. 'WORD' or 'PDF' formats.
NOTE: The KCSE Result slips will be downloaded to an offline storage in your computer. You can then print the downloaded result slips.
Top 10 Candidates in KCSE Results 2020
Simiyu Robinson Wanjala of Muranga High School is the top candidate with a mean score of 87.334, CS Magoha announces.
Simiyu Robinson Wanjala, 87.334,
Wasonga Allan, 87.173,
Sharon Chepngeno 87.173,
Rob Ongare, 87.173.
Mbugua Esther, 87.113,
Kipkoech Mark, 87.106,
Kenneth Orange, 87.049,
Henry Madaga, 87.046,
Patience Chepkorir, 87. 046,
Musomba Edith, 87.013
——-
Top 10 Schools in KCSE Results 2021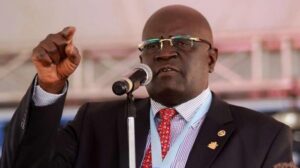 Candidates should visit their examination centers for their official results slip.
The ministry of education advises parents teachers and pupils to check the KCSE results and KCSE result slip for any anomaly such as incorrect candidate's name, school name and code as well as wrong subject grade and report to KNEC within a month after the announcement.
Guidelines of Releasing of KCSE Results 2021
The Kenya National Examinations Council (KNEC) wishes to bring the following information to the attention of all institutions presenting candidates for the KNEC examinations:
KCSE Results Slips and Printouts
Each of the institutions that enter candidates for the KNEC examinations shall receive a hard copy of the institution's examination results printout and result slips which captures the following information:
School's Code and Name
This appears on the top left side of the printout. The institution's code is a unique number by which an examination centre is identified by the Council. This is the number that an institution should always quote whenever communicating with Kenya National Examination Council -.
Candidates Details
Below the institution's name and code are details of the candidates. These details include the index number of the candidate, year of examination, gender, individual subject grades and the mean grade.
The important features of the examination results are as indicated below:-
X – Denotes an absent candidate. A candidate is declared absent if he/she did not sit for one or all papers in the examination. However, for the KCSE examination results, the symbol AB indicates an absence;
Y- Denotes that the candidate was involved in an examination irregularity. For the KCSE examination results, the symbol 00 indicates an irregularity;
P– Denotes that the candidate's examination results have been pended due to infringement on the entry requirements for the examination e.g. incorrect KCPE details for entry in KCSE examination;
W- Denotes that the candidate's examination results have been withheld on suspicion that the candidate has been involved in an examination malpractice and investigations are ongoing;
U- denotes ungraded examination results due to infringement of the awards criteria.
The details of pended, withheld and irregularities are communicated to the institution through the Sub County Director of Education at the time of release of the examination results and are received by the institutions at the same time with the examination results.
Release of KCSE Certificates
Once certificates for a specific examination are ready for collection/dispatch from Kenya National Examination Council – KNEC, the institutions shall be informed through the mass and print media, Sub County Directors of Education and/or the heads of institutions:
All certificates for regular candidates are issued through the Heads of Schools/Institutions and to private candidates through the Sub County Directors of Education.
The Kenya National Examinations Council reserves the right to withdraw a certificate for amendment or for any other reason should this be necessary.
Period of launching queries after release of KCSE Results
The Kenya National Examinations Council allows thirty (30) days after the date of release of the results/certificates for candidate(s) or institution(s) to raise any query arising from the released examination results/certificates.
Queries about KCSE results/certificates must be made through the Heads of Schools/Institutions and the Sub County Directors of Education. The appeal documents must reach KNEC not later than thirty (30) days after the release of the examination results/certificates, after which the query shall attract a penalty.
Charges on Queries after Release of KCSE Examination Results
Any amendment on name, gender and year of birth attracts a penalty of 3,000/= (three thousand) per candidate if the query is submitted after thirty (30) days after the date of release of examination results
The Head of Institution must request in writing explaining the origin of the error.
Submit a Query by Click Here 
KCSE Results remarking
The Kenya National Examinations Council – KNEC is accepting requests to remark any subject any candidate may have doubts with for 2019 KCSE Results. This is if the candidate feels that the results got did not reflect what was expected.
KCSE Results 2021 remarking procedure
The candidate should submit the request for remarking within 30 (Thirty) Days after the date the results were released. This remarking will attract a fee of Ksh. 1000.
Remarking of scripts may be undertaken by the Council at the written request of the headteachers who presented the candidate. For remarking from a private candidate shall be channeled through the Provincial Directors of Education or the District Education Officers of the Ministry of Education or the candidate presenting himself/herself physically at Mitihani House, KNEC Headquarters where one will need to fill a form.
The Council shall undertake to remark scripts only after satisfactory reasons are given by the requesting headteacher justifying the remarking of scripts for a candidate whose results have already been issued.
The Council may reject any request for remarking where in its opinion, a strong case for the same has not been established.
KCSE 2021 Mean Grade Award Descriptions
Mean grade will be CRNM, if the course requirements for the Teacher education, Business and Technical examinations are not met.
KCSE 2021 grading system
The 2018 KCSE exams whose results are set to be out by 20th December, will use the following grading system.
KCSE Results: Juliet Otieno emerges top in KCSE exams (2019)
A boy has  emerged top in the Kenya Certificate of Secondary Education (KCSE) exam that the government hailed as cheating free.
Tony Buluma Wabuko from Kapsabet Boys' High school is the best candidate overall in the 2019 form 4 National exams, results released on Wednesday shows.
Education Cabinet Secretary Prof George Magoha said Tony emerged the best after garnering strong A plain of 87.159 points.
Tony Buluma was also among the Top ten candidate nationally in 2015 KCPE results.
While speaking at KNEC headquarters ,Nairobi, CS Magoha confirmed a total of 699,745 candidates sat for for the 2019 KCSE examinations at 10287 examinations centers countrywide. He also added that 356870( 51%) were male while 342875 (49%) were female.
2019 candidates recorded examplary overall grades compared to last year. The number of candidates who scored A plain increased from 315 last year to 627 this year. 5796 candidates scored A- and in general, those who scored above C+ were 125,746.
CS Magoha also faulted the parent for failing the students saying the parents don't advise their son and daughters when they receive lower grades in primary level.
"parents are the ones to be blamed when students commits suicide just because he/she recorded lower marks in primary level, We have analysed children who scored less than 200 marks in KCPE and they have done really well in KCSE." Said Magoha.
Professor Magoha also confirmed there are candidates whose results were canceled for various exam malpractices.
" Basically we have canceled 1309 candidates results for various forms of cheating during the examination process, it includes being found with mobile phones, carrying unauthorized materials to examinations rooms" Said the CS.
Magoha also confirmed the cases of irregularities has reduced compared to last year, from 4519 to 1309 of this year.
List of Top 10Candidates in KCSE Results
Buluma Tony Wabuko — Kapsabet Boys (87.159)
Barasa Maryanne Njeri– Kenya High School (87.087)
Aboge David Odhiambo — Kapsabet Boys (87.080)
Anthony Owuor Ochieng — Maseno School (87.000)
Mathuri Natasha Wawira — Kenya High School (86.961)
Kizito Ezra Sikuta — Moi High School Kabarak (86.960)
Long'ali Chepengat — Alliance High School (86.924)
Ndathi Hellen Njoki — Kenya High School (86.914)

Siele Chelang'at Aileen — Moi Forces Academy Lanet (86.900)
Laura Chelang'at Ruto — St. Brigid's Girls Kiminini (86.533)
Most Improved Candidate in KCSE Results 
The most improved candidate was Kinyua Milka Wanjiru From Gathara Secondary School. She scored 179 marks in KCPE and an B- in this years KCSE. Others are;
Most improved candidates KCPE vs KCSE:
Kinyua Milka Wanjiru 179   B-
Mbugua Macharia 176    C+
Joseph Mwangi 193    C+
Timothy Mureithi 194  C+
Muchai Samson 277  A-
Munywoki Mwikali 199  B-
Sharon Chepkoech 183  C+
This is a clear indication that candidates who score low marks in KCPE exams can perform better in KCSE exams four years later. This is a clear justification for the 100% transition of students from primary schools to secondary schools.
What next after the release of  KCSE results?
The release of KCSE examinations is not the end but just a transition period. All Student should be ready to move to the next level. For Those students who have achieved the required cutoff points to Join University under government sponsored will begin doing revision as communicated by the Kenya Universities and College Central Placement Service (KUCCPS)  in January ahead of 2020 September intake.
For those who have not met the threshold to join university are advised to apply to join technical institutions. In Kenya today, it is important for students to join other colleges and training centers for Skill Based Short Course before they join university and other institutions.
---
We endeavor to keep our content True, Accurate, Correct, Original and Up to Date.
If you believe that any information in this article is Incorrect, Incomplete, Plagiarised, violates your Copyright right or you want to propose an update, please send us an email to informationcradle@gmail.com indicating the proposed changes and the content URL. Provide as much information as you can and we promise to take corrective measures to the best of our abilities.
---
Useful Information About Kenya
---