Kisumu Impala Sanctuary – Impala Park Kisumu Safari Guide
Kisumu is situated on the gently sloping shores of Lake Victoria and is Kenya's third largest city. Kisumu Impala Sanctuary lies close to Hippo Point and features 3 km of nature trails and a selection of picnic sites.
Kisumu Impala Sanctuary is a holding area for animals which require special protection in this densely populated area. Impala Park Kisumu focuses on a small herd of impala, while the animal orphanage contains a collection of caged Lion, leopard, baboon, hyena, jackal, buffalo, cheetah, bushbuck, babbon and syke monkey.
The sanctuary also provides important open grazing for the local hippo population while the threatened sitatunga antelope is believed to exist in the nearby swamps. A shady and peaceful place, with its abundance of birdlife and picnic areas beside the lake Kisumu Impala Sanctuary provides an ideal refuge away from the busy Kisumu town centre.
Kisumu Impala Sanctuary – Where to stay
There is no accommodation or camping in the Sanctuary but there are many places to stay in Kisumu city. The sanctuary offers campsite
Impala Park Kisumu – When to visit

The Sanctuary is open all year round.
Impala Park Kisumu – What to take with you
Drinking water and picnic items. Also useful are: camera, binoculars, hat, sunscreen, sunglasses, insect repellent and guidebooks.
Impala Park Kisumu – Lake Victoria
With an area approaching 70,000 sq km, Lake Victoria is the largest lake in Africa  and the second largest freshwater lake in the world (after Canada's Lake  Superior). Unlike the lakes further west, Lake Victoria is not of the Rift Valley system and is wide and shallow (only 80m deep) with shores spanning three countries.
Impala Park Kisumu – Facilities

Campsite with cool shade of indigenous trees. Kitchen is available at the campsite for self-catering. An ablution with shower rooms is also available for use.
Sun downer view point – gives an excellent view of the sunset in the evening. 5 picnic sites namely, sunset, Albizia, Impala, Baboon, Fig tree. All give a fantastic view of the lake. The picnic site are also ideal for weddings, parties and corporate events.
Attractions in Kisumu Impala Sanctuary
Free ranging herds of impalas, zebras and vervet monkeys
Animal orphanage which hold species under special care.
The local hippo population and threatened Sitatunga antelope
A shady and peaceful place with its abundance of birdlife and picnic sites beside the lake
The sanctuary provides an ideal refuge away from Kisumu's busy and noisy town centre.
Lake Victoria being the 2nd largest fresh water in the world and the largest one in Africa
Things to do at Kisumu Impala Sanctuary
Game viewing of several primate species, giraffes, buffalos, impalas and the Sitatunga antelope
Birdwatching with over 100 bird species recorded
Camping at one of the 5 campsites with a spectacular view of the lake
Boat riding in the glass bottom boats on Lake Victoria
Nature trail to the rocky view area
Picnicking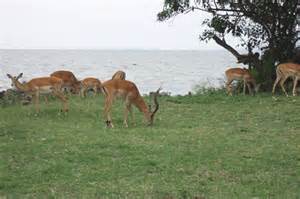 How to get to Kisumu Impala Wildlife Sanctuary
By Road:
Kisumu is 355km north-west of Nairobi. Kisumu Impala Sanctuary is located 3km from Kisumu near Hippo Point.
By Air:
The flight from Nairobi takes around one hour and there are regular flights operated by local airlines.
By Water:
Kisumu is linked by ferry with Kendu Bay, Homa Bay and Mbita (as well as to neighbouring countries).
Kisumu Impala Sanctuary – Please respect the wildlife code
Please observe these rules while visiting this special facility.
For Your Own Safety
Don not throw anything at the animals or birds. If you do, they'll hide or run away from you.
Do not shout, yell or tease the animals
Stay on the paths. They're to keep you and the animals safe from each other
Do not feed the animals; they require a special diet. Animals also become aggressive if they get used to being fed by people.
Fact about Kisumu Impala Wildlife Sanctuary

Altitude:1,149metersnabove sea level
Area : less than 1sqkm..
Location: Kisumu County,Nyanza province
Distance from Nairobi: 355 km

Gazette: 1992
Climate: Hot and Humid
Vegetation: remnant indigenious forest dominated by Terminalia brownie and fig trees.
Wildlife: Includes; lions,impala,leopard,jackal, vervet,monkey ,zebra,buffalo,bushbuck,cheetah,and baboon.
Birds: over 115 species have been recorded
please…
See, hear and read as much as possible and
Enjoy the beauty & fun of the sanctuary.
and please do not
Litter or drop rubbish on the ground. Use the rubbish bins provided
Smoke. This is a smoke- free environment
Drink Alcoholic beverages or use drugs. This is prohibited. Intoxicated visitors will be asked to leave
Open:
Daily 6.00am- 6.00pm including public holidays. Note: visitors will not be allowed entry after 6.15pm.
Accommodation and Hotels in Kisumu Impala Sanctuary
Campsites in Kisumu Impala Sanctuary
Impalla Picnic Site

Albizia Picnic Site

Baboon Picnic Site

Sunset Picnic Site

Fig Tree Picnic Site

Simba Picnic Site

Kisumu Impala Public Campiste
Privately Owned Campsites & Lodges in Kisumu Impala Sanctuary
State Lodge Campsite 

Jambo Lake Victoria Eco-lodge
Kisumu Impala Sanctuary Entrance Fees and Charges
Citizen
Adults KSH: 250
Child KSH: 150
Resident
Adults KSH: 350
Child KSH: 200
Non – Resident
Adults USD:25
Child USD: 15
At present the Sanctuary and Park do not operate the Safaricard system. Entry is by cash only (Ksh or USS).
Kisumu Impala Sanctuary Contacts
Attraction Type: Wildlife
Category: Animal Sanctuary, Birding Site
Region: Western
City / Town: Kisumu
Road / Street: Harambee Road
Telephone: 254 57 250 1535
Email: impalapark@kws.go.ke
Entrance Fee: Yes
More About Kenya
Kenya is a world unto itself. Kenya is Africa's original safari destination, attracting explorers, adventurers, and travelers for centuries. A safari to Kenya is a trip of a lifetime.
Tourist Attractions in Kenya:
Kenya has one of the world's greatest tourist attractions sites, known for its diversity of landscape, wildlife, and cultures. From sweeping savannahs to tropical beaches and coral reef, dense equatorial forests to mighty snow-capped mountains, and more.
For more information visit: Tourists Attractions in Kenya
Kenya Safari
Kenya is the ultimate safari destination, providing travelers with a window into the heart of Africa. But this is not all that Kenya has to offer. Located near the equator, Kenya´s magic lies in the fact that the country encompasses an astounding variety of landscapes and climates, flora and fauna, as well as communities and cultures, home to water sports, a swim with dolphins and adventure.
For more information visit: Kenya Safari
Hotels and Accommodation in Kenya
Hotels in Kenya vary enormously in price and facilities. Luxury hotels in Kenya offer excellent standards of service and are comparable to the best hotels anywhere in the world. Kenya's abundance of natural produce, combined with the rich variety of cultures and traditions, has created a great culinary nation.
The fertile volcanic soil of the Rift Valley produces a bounty of fresh vegetables, while the coast is a great source of tropical fruit and fresh seafood. The Kenyan coast is also the home of the world-renowned Swahili cuisine, a blend of Middle Eastern and African cooking with a particular coastal twist.
For more information visit: Hotels in Kenya
Towns in Kenya
Apart from the towns of Nairobi , Mombasa, Kisumu and Nakuru, Kenya has other major towns each a unique representation of the country's striking abundance in flora and fauna. Most of these towns are headquarters in their respective counties or major economic bases in their regions. Luxury hotels and lodges located here provide good accommodation and conferencing facilities for guests who dare to try out a taste different from the capital or the coast.
For more information visit: Towns in Kenya
The Kenyan People Culture and Tradition
Kenya's culture blends together diverse tribes, traditions, and religions into one beautiful, well-woven tapestry.  These traditions complement each other while incorporating the modern influences of globalization – resulting in a vibrant cultural spirit that is uniquely Kenyan. Kenya has over 42 different tribes with different languages and several dialects. Kenyan tourism has made the Maasai and Samburu tribes the most famous because of their long preserved culture.
For more information visit: Kenya People and Tribes
Watch a tour video of Kisumu Impala Sanctuary
---
We endeavor to keep our content True, Accurate, Correct, Original and Up to Date.
If you believe that any information in this article is Incorrect, Incomplete, Plagiarised, violates your Copyright right or you want to propose an update, please send us an email to informationcradle@gmail.com indicating the proposed changes and the content URL. Provide as much information as you can and we promise to take corrective measures to the best of our abilities.
---