A Guide To Laikipia Plateau
Laikipia Plateau is set against the backdrop of Mt. Kenya. It is home to one of Kenyas highest population of endangered species including black rhinos and half of the worlds Grevy zebra. It has been recently gazetted as Laikipia National Park.
Stretching across the western flank of Mt. Kenya, Laikipia Plateau, gateway to Kenya's little-visited northern territory, isn't in itself a national park or reserve, but it's become one of Kenya's most recent conservation successes. It's still free from the hordes of game vehicles and flashing cameras that are found in more well-known regions.
Amid spectacular scenery, traditional ways of pastoral life continue side by side with an abundance of free-roaming game. This is high country, with altitudes from 1,700 meters (5,577 feet) to 2,600 meters (8,530 feet), so bring those sweaters and jackets. Habitats range from arid semidesert, scrubland, and sprawling open plains in the north and south, to the thick forests of cedar and olive trees in the east.
Laikipia Plateau 

Scenery

The mighty snow-capped peak of Mount Kenya looms over Laikipia Plateau. The semi-arid plains are interrupted by basalt outcrops and lush, forested slopes. The scenic Ewaso Nyiro and Ewaso Narok rivers cut through the plateau via spectacular rock gorges.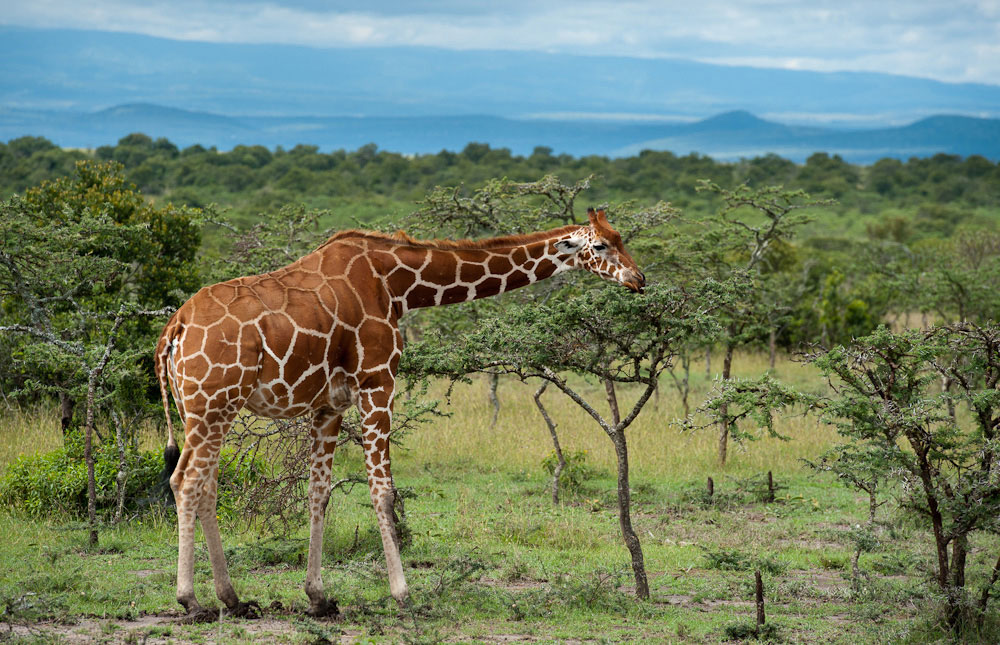 The area around the Laikipia Plateau has one of the biggest and most diverse mammal populations in Kenya—only the Masai Mara can boast more game. The Big Five are all present, plus the wide-ranging painted dogs; there's even a chance of seeing the rare aquatic sitatunga antelope. Grevy's zebra, which is more narrowly striped than its southern cousin, was once hunted almost to extinction for its fine desirable skin, but is reestablishing itself well in the area.
Segera Retreat Laikipia Plateau
Segera is situated in the wooded savannah and grasslands of the Laikipia Plateau. Segera helps conserve the second-highest density of wildlife in Kenya. It is home to a vast array of animal, bird and plant life and provides an important corridor for the migration of elephant and other wide ranging species.
Accommodation
Segera Retreat takes the form of 6 villas, which are raised off of the ground on wooden decking and are ideal for relaxing surrounded by natural beauty; the outdoor hot tub is proof of that. For honeymooners Villa Segera is recommended; private and secluded the spacious villa boasts its own garden, pool and veranda. For small parties Segera House is a natural choice; capable of accommodating up to 4 people, beautifully decorated with a vintage Rolls Royce garnishing the lounge area.
Best Time to Visit
You can go on safari at Laikipia Plateau year-round. But in terms of the weather, the Dry season (June to September) – along with a period of diminished rainfall at the end/beginning of the year (December to February) – is the best time to visit. Regarding the drier months, animals are easier to spot in the absence of long grass, and the roads are in better condition.
Laikipia Plateau

Contacts

Attraction Type: Wildlife, Scenery & Landscapes
Category: National Park, Mountain
Region:  Mt. Kenya
City / Town: Laikipia
Telephone: 254 20 232 6170
Entrance Fee: Yes
More About Kenya
Kenya is a world unto itself. Kenya is Africa's original safari destination, attracting explorers, adventurers, and travelers for centuries. A safari to Kenya is a trip of a lifetime.
Tourist Attractions in Kenya:
Kenya has one of the world's greatest tourist attractions sites, known for its diversity of landscape, wildlife, and cultures. From sweeping savannahs to tropical beaches and coral reef, dense equatorial forests to mighty snow-capped mountains, and more.
For more information visit: Tourists Attractions in Kenya
Kenya Safari
Kenya is the ultimate safari destination, providing travelers with a window into the heart of Africa. But this is not all that Kenya has to offer. Located near the equator, Kenya´s magic lies in the fact that the country encompasses an astounding variety of landscapes and climates, flora and fauna, as well as communities and cultures, home to water sports, a swim with dolphins and adventure.
For more information visit: Kenya Safari
Hotels and Accommodation in Kenya
Hotels in Kenya vary enormously in price and facilities. Luxury hotels in Kenya offer excellent standards of service and are comparable to the best hotels anywhere in the world. Kenya's abundance of natural produce, combined with the rich variety of cultures and traditions, has created a great culinary nation.
The fertile volcanic soil of the Rift Valley produces a bounty of fresh vegetables, while the coast is a great source of tropical fruit and fresh seafood. The Kenyan coast is also the home of the world-renowned Swahili cuisine, a blend of Middle Eastern and African cooking with a particular coastal twist.
For more information visit: Hotels in Kenya
Towns in Kenya
Apart from the towns of Nairobi , Mombasa, Kisumu and Nakuru, Kenya has other major towns each a unique representation of the country's striking abundance in flora and fauna. Most of these towns are headquarters in their respective counties or major economic bases in their regions. Luxury hotels and lodges located here provide good accommodation and conferencing facilities for guests who dare to try out a taste different from the capital or the coast.
For more information visit: Towns in Kenya
The Kenyan People Culture and Tradition
Kenya's culture blends together diverse tribes, traditions, and religions into one beautiful, well-woven tapestry.  These traditions complement each other while incorporating the modern influences of globalization – resulting in a vibrant cultural spirit that is uniquely Kenyan. Kenya has over 42 different tribes with different languages and several dialects. Kenyan tourism has made the Maasai and Samburu tribes the most famous because of their long preserved culture.
For more information visit: Kenya People and Tribes
Laikipia Plateau Vidieo
---
We endeavor to keep our content True, Accurate, Correct, Original and Up to Date.
If you believe that any information in this article is Incorrect, Incomplete, Plagiarised, violates your Copyright right or you want to propose an update, please send us an email to informationcradle@gmail.com indicating the proposed changes and the content URL. Provide as much information as you can and we promise to take corrective measures to the best of our abilities.
---