A Guide To Lake Naivasha
Just half-way before Lake Nakuru and about an hour' s drive from Nairobi, is Lake Naivasha, the "Sunshine Lake", lying at about 1890 meters above sea level. It is a strangely fresh water lake on the floor of the Rift Valley with no outlet, but believed to have an underground seepage flow.
Lake Naivasha Destination Guide
Lake Naivasha is a beautiful freshwater lake, fringed by thick papyrus. The lake is almost 13kms across, but its waters are shallow with an average depth of five metres. Lake area varies greatly according to rainfall, with an average range between 114 and 991 sq kms. At the beginning of the 20th Century, Naivasha completely dried up and effectively disappeared. The resulting open land was farmed, until heavy rains a few years later caused the lake to return to existence, swallowing up the newly established estates.
Afternoon wind and storms can cause Lake Naivasha to become suddenly rough and produce high waves. For this reason, the local Maasai christened the lake Nai'posha meaning "rough water", which the British later misspelt as Naivasha..
Lake Naivasha and its surrounds are rich in natural bounty, and the fertile soils and water supply have made this one of Kenya's prime agricultural regions.
Much of the lake is surrounded by forests of the yellow barked Acacia Xanthophlea, known as the yellow fever tree. These forests abound with bird life, and Naivasha is known as a world class birding destination.
The waters of Lake Naivasha draw a great range of game to these shores. Giraffes wander among the acacia, Buffalo wallow in the swamps and Colobus monkeys call from the treetops while the Lakes large hippo population sleep the day out in the shallows.
The region surrounding Lake Naivasha is well worth exploring. There are two more smaller lakes nearby, Oloidien, and Sonachi, a bright green cater lake.
Hell's Gate National Park lies beside the lake. This Park was named for its pair of massive red tinged cliffs framing a geothermically active interior of steam vents and bubbling springs. The park is home to a profusion of plains game and birdlife. Walking is permitted, making it ideal for hiking, biking, and rock climbing.
Boat trips on the lake are widely available, and is a great way to spend an afternoon or morning.
Sunsets are always stunning, with the haunting call of a Fish Eagle high over Lake Naivasha bringing the day to a perfect end….
About Lake Naivasha
Lake Naivasha is at the highest elevation of the Kenyan Rift valley at 1,884 metres (6,181 ft) in a complex geological combination of volcanic rocks and sedimentary deposits from a larger Pleistocene era lake. Apart from transient streams, the lake is fed by the perennial Malewa and Gilgil rivers. There is no visible outlet, but since the lake water is relatively fresh it is assumed to have an underground outflow.
Lake Naivasha has a surface area of 139 km², and is surrounded by a swamp which covers an area of 64 square km, but this can vary largely depending on rainfall. It is situated at an altitude of 1,884 metres (6,180 ft). Lake Naivasha has an average depth of 6 m (20 ft), with the deepest area being at Crescent Island, at a maximum depth of 30 m (100 ft). Njorowa Gorge used to form the lake's outlet, but it is now high above the lake and forms the entrance to Hell's Gate National Park. The town of Naivasha (formerly East Nakuru) lies on the north-east edge of the lake.
History of Lake Naivasha
The Germany naturalist Gustav Fischer was the first white man to see Lake Naivasha on 11th may, 1883, before he and his 300 strong caravan was chased back to the Coast by the Maasai. Since then, the lake has been described as a "bewilderment of birds" due to its amazing variety of both aquatic and terrestrial birdlife where more than 340 bird species can be spotted in a single visit. The lake water level fluctuates with the rainfall and has fluctuated that way for many years.
Lake Naivasha views are dominated by the shadow of Mt. Longonot 2,777 meters (9,109 ft.) a partly extinct volcano which has been declared a national park (52 Sq.Kms.) and whose fantastic views can be obtained from the eastern escarpment on the scenic highway to the region.
The Naivasha yellow-barked and umbrella thorn trees were once called "yellow fever trees" after the explorers who camped under them caught malaria fever from the bites of the mosquitoes, which the trees' dampy shades harboured . After a period of wanton destruction by charcoal burners in the early 1970s, the trees are now strictly protected and form the major flora attraction around Lake Naivasha shores and its environs.
Between 1937 and 1950, Lake Naivasha was used as a landing place for flying boats on the Imperial Airways passenger and mail route from Southampton in Britain to South Africa. It linked Kisumu and Nairobi. Joy Adamson, the author of Born Free, lived on the shores of the lake in the mid-1960s.
On the shores of Lake Naivasha is Oserian ("Djinn Palace"), which gained notoriety in the Happy Valley days between the two world wars. It now forms part of the Oserian flower farm. In 1999, the Lake Naivasha Riparian Association received the Ramsar Wetland Conservation Award for its conservation efforts regarding the Lake Naivasha Ramsar site.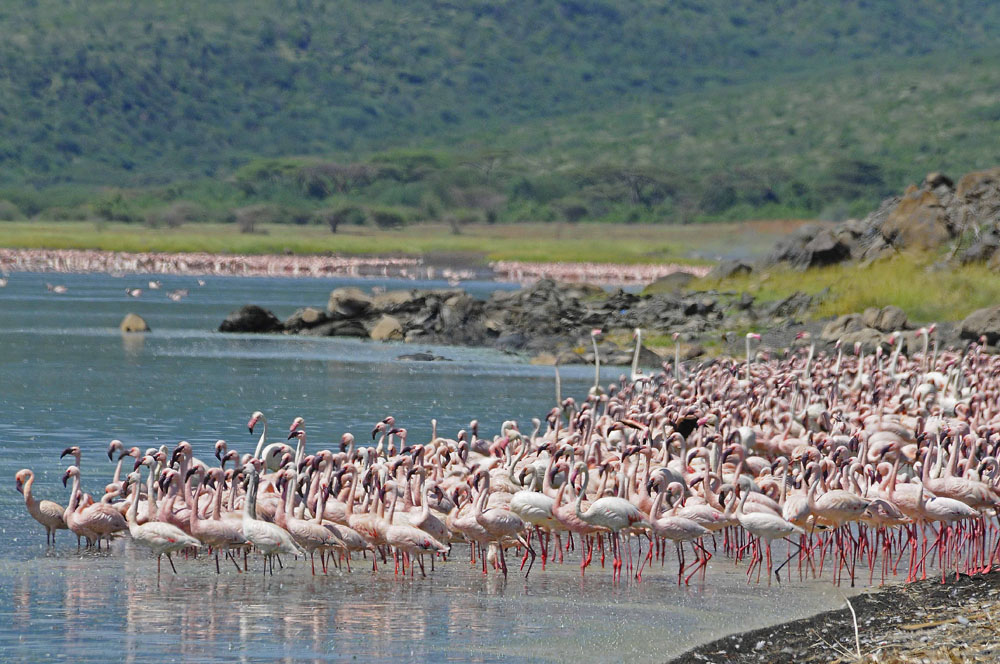 What to see in Lake Naivasha
Lake Naivasha is home to a variety of types of wildlife including over 400 different species of bird and a sizeable population of hippos. The fish community in the lake has been highly variable over time, influenced by changes in climate, fishing effort and the introduction of invasive species. The most recent shift in the fish population followed the accidental introduction of common carp in 2001. Nine years later, in 2010, common carp accounted for over 90% of the mass of fish caught in the lake.
There are two smaller lakes in the vicinity of Lake Naivasaha: Lake Oloiden and Lake Sonachi (a green crater lake). The Crater Lake Game Sanctuary lies nearby, while the lake shore is known for its population of European immigrants and settlers.
Lake Naivasha – A Recreational Area
Due to its closeness to Nairobi, Lake Naivasha has become an important recreational area for city dwellers who go there for adventure trekking, game watching trips, sailing, water-skiing and fishing activities organized for the recreation of the visitors.
Between Lake Naivasha and Mt. Longonot stands the Hells Gate with rock climbs and a sky-throbbing Fischer's Tower. The area has also been declared a national park (68 Sq. Kms), for the protection of the rarest of Kenya's vulture population the Lammergeyer which nests on the rock cliffs. Other wildlife species – buffalo, zebra, eland, kongoni, gazelles, impala and birds abound in the park.
If you can spare thirty minutes visit the Olkaria Geothermal Power Station built in 1982 on the periphery of the National Park where about fourteen wells have been drilled in the volcanically active Olkaria Ridges to tap gaseous steam from underground. The steam drives turbines to produce electricity.
The station produces 40 megawatts or 16% of all electricity produced in the country; thus making kenya one of the 18 countries in the world to utilize geothermal energy.
How to get to Lake Naivasha
Main road access to Lake Naivasha is directly from Nairobi by bus/Matatu or private transport. The main highway continues from Naivasha to Nakuru. Naivasha is just over an hour from Nairobi. There is an airstrip in Naivasha, with charter flights available. Some lodges and guesthouses here have private airstrips. Many hotels and lodges here can organise transfers from Nairobi to Naivasha.
Lake Naivasha Hotels
Great Rift Valley Lodge & Golf Resort
Lake Naivasha Country Club-Sun Africa Hotels
Enashipai Resort & Spa
Lake Naivasha Villas
Jacaranda Lake Elementaita Lodge
Sarova Lion Hill Game Lodge
The Ark
Eastmark Hotel
Things to do Around Lake Naivasha
Take a boat safari
The most popular attraction at Lake Naivasha is undoubtedly the chance to take a guided boat safari out onto the water.
Dead trees reach up out of the cool blue water like grasping hands as a huge assortment of bird life moves about. Everything from pelicans to cranes to smaller, more brightly coloured birds are on display.
The waters themselves are home to wallowing hippopotamuses, and along the shores, you'll spot Cape Buffalo and other herbivores.
Walk with the animals at Crescent Island
Easily combined with the boat safari, a visit to the Crescent Island Sanctuary offers a rare chance to literally walk with the animals.
The island sanctuary isn't home to any predators, so you can safely trade the safari car for your own two feet as you wander alongside zebras, giraffes, and wildebeest!
Explore Hell's Gate National Park
One of Kenya's most naturally beautiful parks, Hell's Gate isn't as intimidating as its name might suggest!
With its volcanic landscape, Hell's Gate might put you in mind of paying a visit to another planet. Red earth, towering stone pillars and cliffs, and a sparse animal population make it something completely different to what you'll find elsewhere.
Visitors to Hell's Gate National Park can cycle its dusty roads, hike its scenic canyons, climb its towering pillars, and more!
Climb Mt. Longonot
For the more adventurous, the opportunity to hike a dormant volcano might be too hard to resist!
A relatively challenging 4-5 hour hike, the ascent to the crater of Mount Longonot takes you through land inhabited by buffalo, antelopes, and even leopards.
An easy day trip from either Lake Naivasha or Nairobi, the half-day Mount Longonot hike can be combined with other local activities.
Look for flamingos at Lake Elementaita
While Lake Bogoria is the more famous haunt for both Greater and Lesser Flamingos, Lake Elementaita is also home to the vast flocks of brightly coloured birds during the year.
Depending on conditions, Lake Elementaita can be your best chance to spot the huge crowds of pink birds, but even when they're absent – Lake Elementaita is still a fantastic option for birdwatchers.
Take a dip at Ol Karia Geothermal Spa
Located within Hell's Gate National Park, Ol Karia (or Olkaria) is the largest geothermal spa of its kind in Africa.
Heated by the volcanic activity that gives Hell's Gate its name, the man-made pools of Ol Karia are a great place to soak in the warm waters and wash away the dust of the road.
Travel back in time at the Karlandusi Cradle of Mankind
Much like Oldupai Gorge in Tanzania, Karlandusi claims to be the Cradle of Mankind.
Dating back more than 1 million years, this Stone Age site is rumoured to have been a prehistoric 'factory' where stone tools were produced for use elsewhere.
The attached Karlandusi Museum is an informative, government run museum in which visitors can learn more about not only Karlandusi – but other historically significant sites nearby.
Getting Around Lake Naivasha
Most of the places in interest in Naivasha are around the Lakeshore, out of town. There are taxis available in Naivasha town. A private car is a good way to explore this region. Many hotels and Lodges organize local excursions.
Lake Naivasha – My Love is like a red, red rose
If you'd like to get to the heart of the matter of Valentine's Day, which seems to bloom from strength to strength around the world (and nowhere more brightly than in Kenya), you owe yourself a visit to a rose farm. Kenya is one of the world's largest exporters of roses supplying 36% of all the blooms that arrive in the major auction houses of Holland. Roses are grown all over Kenya, but most romantically on the shores of Lake Naivasha.
An alternately storm-tossed and serenely calm lake, which nestles in the Great Rift Valley some 70kms north of Nairobi, Lake Naivasha is towered over by the bulk of a dormant volcano. Known as Mount Longonot, the mountain reputedly shelters an enormous lava tunnel system, so mysteriously labyrinthine that it inspired the Victorian writer, H Rider Haggard, to write his epic adventure story, The Legend of She
It was around the shores of this hauntingly beautiful lake that, in the early 1900s, an exotic band of colonials gathered to dine, shoot, drink gin, dance and wait for the arrival of the Imperial Airways socalled flying boats, which flew from London to Naivasha via Cairo.
And the crenelated walls of the palaces they built for the legendary parties, documented in the novel White Mischief, can still be seen on the shores of the lake. Here too, lived Joy Adamson, famous for raising the orphaned lion cub, Elsa, whose story was immortalized in the book and the film Born Free. The extensive grounds of Joy's house, 'Elsamere', hug the shores of the lake and are now a nature conservancy offering guided walks, boat trips, accommodation and some very fine afternoon tea and cakes.
On the shores of the Lake you'll also find one of Kenya's most dramatic national parks, Hell's Gate, whose wild volcanic landscape, towering basalt cliffs and belching plumes of geothermal steam earned it its name. A place of high drama, patrolled by majestic raptors, the park has provided the backdrop to many a Hollywood movie and still offers one of the most astonishing canyon walks on the African continent.
Hell's Gate is also the only park in which you can walk, or mountain bike, alongside vast herds of buffalo, zebra, eland and hartebeest, and learn to rock climb on a volcanic plug that is said to be a Maasai maiden turned to stone.
Finally, for those looking for roses and romance, venues don't come much more romantic than Lake Naivasha where the choice of hotels ranges from rambling colonial mansions with idyllic gardens stretching down to the shores of the lake to campsites offering, amongst other things, upturned boats as accommodation.
---
We endeavor to keep our content True, Accurate, Correct, Original and Up to Date.
If you believe that any information in this article is Incorrect, Incomplete, Plagiarised, violates your Copyright right or you want to propose an update, please send us an email to informationcradle@gmail.com indicating the proposed changes and the content URL. Provide as much information as you can and we promise to take corrective measures to the best of our abilities.
---