Loreto High School Limuru Details
Loreto High School Limuru is a girls-only boarding National Secondary school located in Limuru, Kiambu County. The school was established by the Loreto Sisters who came from Ireland to Kenya in 1921 as Catholic Missionaries, the aim of the missionaries was to educate African girls who, during that time, were denied the right to education. For more information, please check the contacts below;

Loreto High School Limuru aims to prepare students to make a positive contribution to the development of the society and to acquire the values of national patriotism, self-respect, self-reliance, cooperation, adaptability, a sense of purpose and self-discipline.
Loreto High School Limuru is classified as a public secondary school and is funded by the government of Kenya and managed through a board of governors and parent-teacher associations (PTA).
Secondary school education in Kenya starts at 14 years of age and runs for four years. Upon completion, students sit for the Kenya Certificate of Secondary Education (KCSE). This prepares them for university, colleges, middle-level trades, professions, vocational and technical training.
Quick Facts
Here are some interesting facts you don't want to miss;
School Code:11200005
Level: Secondary School
Day/Boarding: Boarding
Gender: Girls only
Ownership: Public
Sponsor: Government of Kenya
Student Needs: Ordinary
System: 844
School Curriculum
The secondary school curriculum in Kenya covers six major areas:
Mathematics.
Communication: English, Kiswahili, and foreign languages),
Science: Physical Science and Biological Science.
Humanities: History, government, social education, geography, religious education, and ethics),
Applied Education: Agriculture, business education, accounts, commerce, industrial education, wood technology, metal technology, power mechanics, electrical technology, typing and office practice, home science, clothing and textiles, food and nutrition, arts, and music)
Physical Education
Loreto High School Limuru KCSE Results
Individual candidates can check their KCSE results by SMS or online using an SMS number or website link provided at the release of the exam. Candidates and parents should visit the school for their official results slip. Results for all candidates and the school national, county and local ranking can also be found from the schools' office.
The ministry of education advises parents teachers and pupils to check the KCSE result slip for any anomaly such as incorrect candidate's name, school name and code as well as wrong subject grade and report to KNEC within a month after the announcement.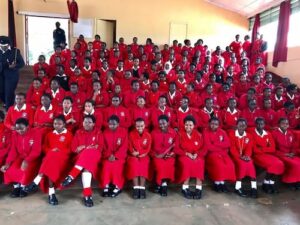 Loreto High School Limuru Fees, Account Number and Uniform
For details on school fees structure, account number and uniform, please contact the principal or the schools office using the contacts below.
Motto, Vision and Mission
School Motto: United in Love and Peace with good education
School Mission: To provide quality education through holistic growth of the girl-child in order to nurture women of integrity and intellect who will be agents of positive change.
School Vision: To be a centre for instilling positive values and attaining high academic standards.
Loreto High School Limuru History
On December 4, 1936, Loreto Limuru High School opened its doors to its first students. The school founders were the Sisters of Loreto, who came from Ireland to Kenya in 1921 as Catholic missionaries to improve educational opportunity for girls in that area. The original vision of the school's founders was to educate African girls who, at that time, were denied the right to an academic education.
The pioneers of this school were sisters S.M. Dolores Stafford, S.M. Theresa Joseph O'Sullivan and S.M. Veronica Bradley. They believed, as did Mary Ward, foundress of the Loreto Sisters in 1609, that through education "Women in time to come would do much". True to this vision, today the school has been suggested to have inspired people such as Wangari Maathai who won Nobel Peace Prize for protecting the environment.
The first task of the sisters was to prepare the girls to sit for the primary examination. They began with seven girls. However, due to the severe cold and mist, the girls disappeared overnight. Later, the girls returned and in 1938 four girls took the Primary Examination and began their Teacher Training course.
The first secondary class began in 1947. The first two students, Mary Sekunda Wanjiru, and Merioth Wairimu, passed the Senior Cambridge Certificate Examination. This was the beginning of a record of excellence in public examinations, which still continues at Loreto. Currently, the school is one of the top in the country in extra-curricular activities such as netball, hockey and more. There is also a music festival held at the school.
In 1956, a double stream was then admitted. There were between 20 and 26 girls per class. In 1958, Loreto was categorized as a National School, a status it still holds today. In 1970, Loreto was given permission to start an "A level" art class, and in 1981 the school was given an "A level" science stream, with a science laboratory. Since then, there has been a rapid expansion of the existing facilities, a gradual replacement of old buildings, and establishment of the new infrastructures.
In 1986, Kenya underwent a new era in the field of secondary education, with the introduction of the 8-4-4 Curriculum in Kenya. In addition to this, Loreto was given another challenge to start a third stream, bringing the number of students to over 500.
In 1996, the school celebrated its 60th anniversary where the President of Kenya attended the occasion as the chief guest.
In 1999, a fourth stream was introduced and in 2002, it became a four-streamed school with 40 students per class.
In 2011, the school introduced a fifth stream. Today, the school hosts over 800 students, over 45 teaching staff, and over 50 support staff.
Loreto High School Limuru  Contacts (Address, Location, Email, Telephone and Website)
School Name: Loreto High School Limuru
Physical Location: Karambaini
Address: P.O. Box Private Bag Limuru 00217
City/Town: Limuru
County: Kiambu
School Category: Public
School Code: 11200005
Phone Number: 020-2023196, 0736 088139
Email:admin@loretolimuru.co.ke
Website: www.loreto.high.school.co.ke
Loreto School Limuru Highlights
Music: Yes
Drama Club: Yes
Debate Club: Yes
Sports Team: Yes
Girls Scouts: Ye
Loreto High School Limuru Facilities
School Library: Yes
Swimming Pool: Yes
Sports Field: Yes
Computer Lab: Yes
Science Laboratory: Yes
---
We endeavor to keep our content True, Accurate, Correct, Original and Up to Date.
If you believe that any information in this article is Incorrect, Incomplete, Plagiarised, violates your Copyright right or you want to propose an update, please send us an email to informationcradle@gmail.com indicating the proposed changes and the content URL. Provide as much information as you can and we promise to take corrective measures to the best of our abilities.
---
Famous Secondary Schools in Kenya
---