The Maasai Market Nairobi
The Maasai Market is a modern display of an indigenous people's culture. It sells African artifacts and has become a convergence zone for various kinds of people, including tourists, in search of 'authentic' African souvenirs.
 The Maasai Market – Guide
For the ultimate breath of culture and color, the Masai Market gives you the opportunity to buy authentic African art, handcrafted beaded jewelry and clothing as souvenirs, gifts and even decorating material you could use for your home back in your country. At very affordable prices, you can purchase as many products as possible and at the same time promote local handicraft businesses.
As seen below, the venue for the open air Maasai Market keeps of changing with the days of the week so feel free to find a day and come spoil yourself.
A Gift Guide to Nairobi's Maasai Markets
Maasai markets, like most others in Africa, are extremely lively spaces and can be a bit overwhelming for newcomers. Kenyans are very entrepreneurial and the artisans, who come from a variety of communities, naturally want your business. Expect to be called and coaxed with promises of the 'best price' or 'best quality'. People will be eager to get you to their shop and offer to show you where to find things. Just walk with confidence, take your time and of course, have fun with the experience! You can learn a lot and meet many interesting and creative people in your shopping quest.
Bargaining & Language
Bargaining is part of the fun of the market experience. If you are not Kenyan, you will almost always be quoted a substantially higher price and should be prepared to bargain hard, but respectfully. Speaking some Swahili will help place you as someone who knows what you are talking about and who does not want to be ripped off.
Greeting someone with jambo will mark you as a tourist while using sasa or sema will make you appear more familiar with the Nairobi terrain. It is important to note that this can be seen as impolite towards a much older person however, so you should stick to asking how their day is going: 'Habari za leo?'. 
A few more useful phrases:
Si leo—'Not today'—Use this if you are not even remotely interested in what someone has to offer.
Nitarudi—'I will return'—This can be helpful if you are actually interested in something at someone's stall, but either want to shop around more, or are hoping that they will come down on the price. It is always advisable to do a lap before purchasing. There will be a lot of similar products available but quality and prices will often differ, so shop around.
Ni ghali—'It's expensive!'—Feel free to really over-exaggerate this one for maximum bargaining leverage.
Bei ya mwisho—'Last price'—Use this to announce your final offer.
Knowing some basic numbers to bargain in Swahili can also be a huge help, but don't worry if you don't master them all. The traders will be happy to let you know their prices, often with calculators in hand for some added drama.
Useful tip—Many artisans will be more likely to bargain either first thing when they open up to get a 'first sale' or in the evening just before closing up shop.
What To Buy
Maasai Sandals
Maasai leather and beaded sandals can be found in abundance at most of the markets and it is definitely worth picking up a pair or two. Try them on as sizes can differ between vendors. There will be a lot of choice, so take your time comparing designs across a few shops.
Maasai market Jewelry
Most of the markets feature a good choice of jewelry, ranging from brass to beads, and you can find some really cool stuff. Many visitors buy bracelets beaded in the Kenyan national colors, which locals also wear. One thing to note is that many of the best artisans don't bring their best-quality work with them to display for fear of competitors copying their designs. If you see someone who has nice products and has a bit of time to spare, it may be worth asking if they have other designs available.
Maasai market Shukas
Maasai blanket or shukas are a gift that most people will actually use so it is worth stocking up on some for your family and friends, and at least one or two for yourself. They are perfect to keep in your car, use as a picnic blanket or use as an extra layer in chilly weather.
Maasai market Kiondos
These woven carryall bags come in both natural or colorful, striped varieties and are perfect to carry your day-to-day items. Prepare to be complimented frequently and for all your friends at home to ask why you didn't bring them one!
Maasai market Artwork & Carvings
You can find some interesting artwork and batiks within most markets if you want something cool to hang on your wall but don't want to spend a fortune. If your budget is a bit more flexible and you want something more unique, you can check out some of Nairobi's art galleries—like those found at the Railway Museum or Kuona Trust—for some more variety. You'll also find a decent range of wooden carvings, bowls, baskets and so on, to add a little Kenyan flair to your home.
The markets can be overwhelming but don't let that get in the way of having fun while shopping. Remember to be patient and selective, so you don't end up with 20 pairs of salad spoons that you and your loved ones really don't need and won't use. Focus on getting a few worthwhile pieces and enjoying the process of interacting with the artisans.
Maasai Market Jewellery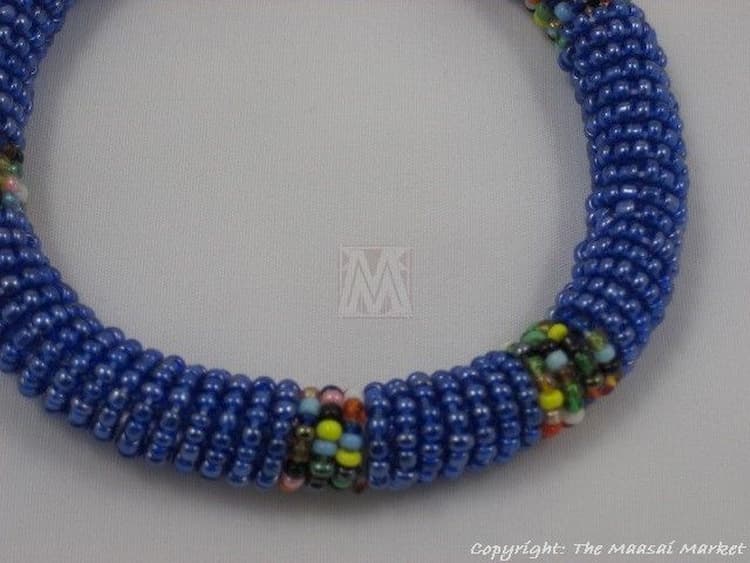 Maasai Market Bags
Maasai Market Schedule
The Masai Market is open several days a week at different locations in Nairobi. The sector has attracted private individuals to open up shop in various towns, mostly tourist destinations. The Maasai sculpture is one of the most famous artworks that depict the culture of the community.
Maasai Market Days in Nairobi
Tuesday
location, near Text Book Center
Prestige Plaza, 1st floor Rooftop Parking,
Ngong Road
Wednesday
Capital Center, Mombasa Road
Thursday
The Junction, 3rd-floor  Ngong Road
Friday
Village Market, Limuru Road
Galleria Shopping mall, junction of Langata road and Magadi road
Saturday
Nairobi Law Courts Parking, City Center
Adams' Arcade, Ngong road
Sunday
Law Courts Parking, City Center
Safari Park Hotel, Thika Road
Yaya Center, Argwings Kodhek Road
Adams Arcade, Ngong road
Maasai Market Hours
Thursday 8am–6pm
Friday 8am–6pm
Saturday 8am–6pm
Sunday 8am–6pm
Monday Closed
Tuesday 8am–6pm
Wednesday 8am–6pm
Shopping Tips at Maasai Market Nairobi
Be specific on quality. Don't buy an item if its finishing has not been properly done. Instead, look for a seller who has perfected the quality of the item. This is more so for items like wall hangings, ornaments or kitchenware.
Be the typical Kenyan even if you are a foreigner. Haggle till you run the seller out of breath. Kenyans have perfected the art of haggling. This is how;-
Identify the item you want. Don't ask for the cost of an item before you have made up your mind that you want it. This also applies to other markets such as Gikomba, Toi Market and the street vendors.
Take a walk around the market first before settling on what to buy. As you walk identify the artisan who is more creative in their use of colours, function, and cheaper in cost and consider your preference.
Understand the purchase terms properly. The purchase terms will determine whether you will be given the cost in Dollars or using the dollar as the exchange rate. It will also determine how much markup the sellers will increase. On the other hand, a foreigner can get a local friend or guide to take them and negotiate on their behalf.

It is important for foreigner not to allow to be guided by the traders found at the market. This is because there are some self -appointed guides in the market who will seem like they are doing you good offering to show you the best items, asking what you are looking for and trying to engage in small talk. Be very weary of them, they will get a commission from you then proceed to extort any artisan you bought from or worse, they could be trying to con you.
Make sure you have changed your money into Kenyan Shillings before proceeding to Maasai market.
Refrain from buying common tourist items such as Safari Hats, & Safari T-Shirts. They will be costing an arm and a leg. Get something else that still says you were in 'Africa'.
Engage the artisan and find out if they are the ones who made the item. These artisans at Maasai market like to talk about their work and being appreciated. As a result chances are, you will end up getting a discount.
The markets at Kijabe Street and the High court parking have the best rates as they are perceived to be for locals as opposed to those in up-market venues such as malls. This is despite the fact that the items and the traders are the same in all these markets.
Bargaining Tips for the best rate
After walking around the market, noting the traders with the items you want, you can now proceed to buying the item. Haggling is part of our culture as locals so be ready to engage in some back and forth. Here are some tips on how to bargain for the best prices.
Ask for the cost of the item casually
Upon hearing the cost of the item, act shocked
Tell the seller that you have half of that amount
Go ahead and tell the seller that's the only amount you have and you were actually looking for something else
If the trader is unyielding on their rates, start moving to another trader and chances are, they will not let you go to that other trader
After negotiating with the trader, you can offer to add something little above your stated amount and the deal will have been sealed.
Maasai Market Online
The Maasai Market is also available online Click Here!
Maasai Market Empowerment Trust (MMET)
The Maasai Market Empowerment Trust (MMET), an NGO for artisans at the Masai Market and other parts of the country, seeks to inform, educate and empower artisans and handicraft makers on intellectual property and protect their creations and inventions through patenting and trademarking. Seminars, campaigns, workshops and other awareness programmes have been used to do this.
The trust also hopes to give financial help to members to expand their businesses. The trust organized an intellectual property rights campaign to agitate for the return of the kiondo (basket), kikoi and other Kenyan innovations that have been patented elsewhere, to their rightful owners.
 Maasai Market Contacts
Postal Address: P.O Box 1983
West Jordan, UT 84084
Maasai Market Video
---
We endeavor to keep our content True, Accurate, Correct, Original and Up to Date.
If you believe that any information in this article is Incorrect, Incomplete, Plagiarised, violates your Copyright right or you want to propose an update, please send us an email to informationcradle@gmail.com indicating the proposed changes and the content URL. Provide as much information as you can and we promise to take corrective measures to the best of our abilities.
---
Useful Information About Kenya
---