A Guide To Maasai Ostrich Farm
Maasai Ostrich Farm in Nairobi is a great place where you can get up close and personal with ostriches. The farm sits on 200 acres of land and there is a bit more to do at the Ostrich Farm than just ride an Ostrich.

Ostriches have been known to disembowel or kill attackers with a single blow from their powerful legs. The birds at the Masaai Ostrich farm are tamed, but keep in mind that they can kick if they feel threatened. It's best to approach the birds carefully.
With a running speed of 40-60 miles per hour, this fellow biped is the fastest two-legged creature on earth. For this reason, two attendants run with you the entire time. They are there to make sure the bird stays at a steady pace and doesn't try to carry you off into the savannah sunset, as fun as that may sound. Although the ride is controlled, be prepared to ride around the pen at a fast-gallop. With nothing more than its feathery shoulders to hang onto, ostrich riding is not for the faint of heart.
For the ornithophobes out there, you can overcome your fear by showing giant birds where they really stand on the food chain. Tasting like a cross between chicken and venison, ostrich steak meals are offered on the tree-shadowed grounds.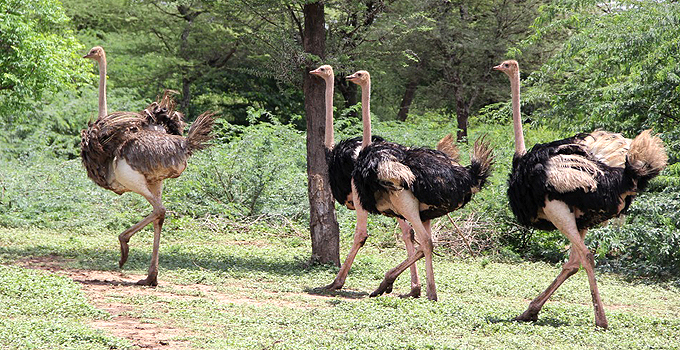 The Maasai Ostrich Farm, which is Kenya's largest, was established in 1991. Named after the semi-nomadic ethnic group living in the area, the Maasai Farm ships feathers, meat, skins, and live ostrich throughout Kenya and abroad.
Around 700 birds of two breeds are maintained: the blue-neck or Somali ostrich and the Maasai ostrich, which has a pink neck and legs.
Things To Do At The 
Maasai Ostrich Farm
Bird Watching
Eat Ostrich Meat
Ride an Ostrich
Spend a weekend at the Resort
Tour the Ostrich Farm
Maasai Ostrich Farm Resort
Maasai Ostrich Resort is a luxurious resort located 45 km from Nairobi on the Athi River/Kitengela plains. One hour drive from the city centre and seven km off Namanga road.
Facilities
The spacious double rooms and cottages are all ensuite,tasteful and private. The  Masai Ostrich Farm Resort surrounded by beautiful gardens has become a haven of peace for travel weary guests. An ideal spot for family outings,with a fully fledged swimming pool,tennis court,and  sauna. The outside barbeque or locally known  "Mbuni choma Ranch" area has become a great favourite with many guests, who have a choice of dinning either inside the cool Makuti roofed hut,which is very spacious or out by the pool side under the trees, Our spaciality is Char-grilled Ostrich meat (famously known for its low chorestrol) grilled or fried to your preferred taste.A continental buffet is also available for groups over 15 pax.
Activities
Swimming
Relax and enjoy yourself by the pool with the compliments of the hotel.
Ostrich Riding
Guests from all walks of life continue to experience this giant sized bird and believe you me, your friends will never believe that you actually had the courage to do something completely different. Our riders and birds have been a spectacle at many entertainment venues around the country. They have entertained Royalties and Presidents alike.
Farm Tour
Don't miss the opportunity to learn more about the Ostrich in a tour of the farm.
Dining Experience
Dine by the barbecue Mbuni choma Ranch, a spacious dining room or under tree shades by the poolside. The specialty of char-grilled fillet, famous for its low cholesterol is a must bite while at this popular joint.
Wedding Experience
Wedding functions in the lush green manicured lawns have become so popular and more so, the traditional ostrich chariots – ride by the bride and groom after tying the knots.
Team Building
The resort offers various facilities e.g. Trust falls, high scales and slippery tug of war etc, and they are made available free of charge for groups and companies engaged in team building activities.
How to get to Maasai Ostrich Farm
By road: Masai Ostrich Farm is located 45 kilometers from Nairobi on Athi River/ Kitengela plains.
By air: Masai Ostrich Farm is about 30 minutes from the Jomo Kenyatta International Airport and one and half hours from the Namanga/Tanzania border.
A Map of Maasai Ostrich Farm

Maasai Ostrich Farm

Contacts

Attraction Type: Wildlife, Scenery & Landscapes
Category: Birding Site, Farm or Plantation
Region: Nairobi
City / Town:Nairobi
Road / Street: Enkasiti Road
Telephone: +254 50 250 2128, +254 50 250 2129
Email: reservations@maasaiostrich.com
Website: http://www.maasaiostrich.com
Entrance Fee: Yes
More About Kenya
Kenya is a world unto itself. Kenya is Africa's original safari destination, attracting explorers, adventurers, and travelers for centuries. A safari to Kenya is a trip of a lifetime.
Tourist Attractions in Kenya:
Kenya has one of the world's greatest tourist attractions sites, known for its diversity of landscape, wildlife, and cultures. From sweeping savannahs to tropical beaches and coral reef, dense equatorial forests to mighty snow-capped mountains, and more.
For more information visit: Tourists Attractions in Kenya
Kenya Safari
Kenya is the ultimate safari destination, providing travelers with a window into the heart of Africa. But this is not all that Kenya has to offer. Located near the equator, Kenya´s magic lies in the fact that the country encompasses an astounding variety of landscapes and climates, flora and fauna, as well as communities and cultures, home to water sports, a swim with dolphins and adventure.
For more information visit: Kenya Safari
Hotels and Accommodation in Kenya
Hotels in Kenya vary enormously in price and facilities. Luxury hotels in Kenya offer excellent standards of service and are comparable to the best hotels anywhere in the world. Kenya's abundance of natural produce, combined with the rich variety of cultures and traditions, has created a great culinary nation.
The fertile volcanic soil of the Rift Valley produces a bounty of fresh vegetables, while the coast is a great source of tropical fruit and fresh seafood. The Kenyan coast is also the home of the world-renowned Swahili cuisine, a blend of Middle Eastern and African cooking with a particular coastal twist.
For more information visit: Hotels in Kenya
Towns in Kenya
Apart from the towns of Nairobi , Mombasa, Kisumu and Nakuru, Kenya has other major towns each a unique representation of the country's striking abundance in flora and fauna. Most of these towns are headquarters in their respective counties or major economic bases in their regions. Luxury hotels and lodges located here provide good accommodation and conferencing facilities for guests who dare to try out a taste different from the capital or the coast.
For more information visit: Towns in Kenya
The Kenyan People Culture and Tradition
Kenya's culture blends together diverse tribes, traditions, and religions into one beautiful, well-woven tapestry.  These traditions complement each other while incorporating the modern influences of globalization – resulting in a vibrant cultural spirit that is uniquely Kenyan. Kenya has over 42 different tribes with different languages and several dialects. Kenyan tourism has made the Maasai and Samburu tribes the most famous because of their long preserved culture.
For more information visit: Kenya People and Tribes
Watch a Video of Maasai Ostrich Farm
---
We endeavor to keep our content True, Accurate, Correct, Original and Up to Date.
If you believe that any information in this article is Incorrect, Incomplete, Plagiarised, violates your Copyright right or you want to propose an update, please send us an email to informationcradle@gmail.com indicating the proposed changes and the content URL. Provide as much information as you can and we promise to take corrective measures to the best of our abilities.
---