A Guide To Maralal Sanctuary
Maralal sanctuary is a majestic scenery whose grandeur is enhanced by its consort with wildlife and by the calm dignity of the herdsmen and their herds. Resident games here include impala, eland, buffalo, , warthog and living in harmonious profusion but ever watchful for the leopard and hyena.
Maralal is a frontier town, the beginning of the Great Northern wilderness and the staging post for many great adventures. This simple town is a thriving centre for the local Samburu people, and the streets are always busy with camels, passing warriors and traders.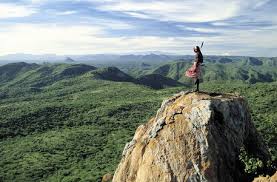 Beyond Maralal lies some of Kenya's most beautiful country. Here the broad arid plains give way to the spectacular Loroghi Hills and the high, wild Matthews ranges. Dry river beds course through this land, and have become the tracks and routes of nomadic camel trains. The wild country between Maralal and Turkana is ideal for the adventure seeker.
Here in these vast empty spaces, there is freedom to explore and lose yourself in the wild. Whether you want to take a truck to Turkana or a camel through Samburu land, this is your starting point.
What to see at Maralal Sanctuary
Maralal Sanctuary is home to zebras, impalas, elands, buffalos, warthogs,baboons and other wildlife. If you have not encountered the zorillas, bush backs and elands, this is the place.
Things to do at Maralal Sanctuary
Hiking around the Maralal National Sanctuary
Tracking leopards and hyenas, and discover the traditional arts of the Samburu Maasai warriors
Stay in a Traditional Samburu Maasai Village
Visit Kenyatta home where Jomo Kenyatta was detained prior to his release
Drive 15km to the spectacular Rift Valley viewpoint at Malasso
Accommodation And Hotels At Maralal Sanctuary
Maralal Safari Lodge is set in Maralal Game Sanctuary, with beautiful landscapes, a wide assortment of wildlife, and the best place from where to experience the Annual Camel Derby. Guests enjoy the restaurant and bar which afford fantastic wildlife viewing in luxurious surroundings.
Apart from having the best stocked bar in the region, the inglenook fireplaces are perfect for chilly evenings. The rooms are built of local cedar and cypress woods, with most comprising a spacious 'Swiss Chalet' feel. Each has its own fireplace, hot showers, comfortable beds and shaded patio decks.
The wildlife come right to the rooms – with zebras, monkeys and impala being frequent guests. Bird watchers will be in heaven too. The lodge amenities are very modest, but we do certainly have the best stocked bar in northern Kenya and we also have the only swimming pool in the region.
How to get to Maralal Sanctuary
By road: Maralal is accessible from Nairobi via either Baringo or Isiolo, by either bus/matatu or private transport. Driving time from Nairobi is approximately 6 hours. Accessing the North from Maralal can be difficult without private transport. Maralal is a good base for organized safaris.
By air:  There is an airstrip servicing charter aircraft.
A Map to Maralal Sanctuary

Maralal Sanctuary Contacts
Attraction Type: Wildlife
Category: Wildlife Conservancy
Region: North Rift
City / Town: Maralal
Telephone: 254 65 62456
Entrance Fee: Yes
More About Kenya
Kenya is a world unto itself. Kenya is Africa's original safari destination, attracting explorers, adventurers, and travelers for centuries. A safari to Kenya is a trip of a lifetime.
Tourist Attractions in Kenya:
Kenya has one of the world's greatest tourist attractions sites, known for its diversity of landscape, wildlife, and cultures. From sweeping savannahs to tropical beaches and coral reef, dense equatorial forests to mighty snow-capped mountains, and more.
For more information visit: Tourists Attractions in Kenya
Kenya Safari
Kenya is the ultimate safari destination, providing travelers with a window into the heart of Africa. But this is not all that Kenya has to offer. Located near the equator, Kenya´s magic lies in the fact that the country encompasses an astounding variety of landscapes and climates, flora and fauna, as well as communities and cultures, home to water sports, a swim with dolphins and adventure.
For more information visit: Kenya Safari
Hotels and Accommodation in Kenya
Hotels in Kenya vary enormously in price and facilities. Luxury hotels in Kenya offer excellent standards of service and are comparable to the best hotels anywhere in the world. Kenya's abundance of natural produce, combined with the rich variety of cultures and traditions, has created a great culinary nation.
The fertile volcanic soil of the Rift Valley produces a bounty of fresh vegetables, while the coast is a great source of tropical fruit and fresh seafood. The Kenyan coast is also the home of the world-renowned Swahili cuisine, a blend of Middle Eastern and African cooking with a particular coastal twist.
For more information visit: Hotels in Kenya
Towns in Kenya
Apart from the towns of Nairobi , Mombasa, Kisumu and Nakuru, Kenya has other major towns each a unique representation of the country's striking abundance in flora and fauna. Most of these towns are headquarters in their respective counties or major economic bases in their regions. Luxury hotels and lodges located here provide good accommodation and conferencing facilities for guests who dare to try out a taste different from the capital or the coast.
For more information visit: Towns in Kenya
The Kenyan People Culture and Tradition
Kenya's culture blends together diverse tribes, traditions, and religions into one beautiful, well-woven tapestry.  These traditions complement each other while incorporating the modern influences of globalization – resulting in a vibrant cultural spirit that is uniquely Kenyan. Kenya has over 42 different tribes with different languages and several dialects. Kenyan tourism has made the Maasai and Samburu tribes the most famous because of their long preserved culture.
For more information visit: Kenya People and Tribes
---
We endeavor to keep our content True, Accurate, Correct, Original and Up to Date.
If you believe that any information in this article is Incorrect, Incomplete, Plagiarised, violates your Copyright right or you want to propose an update, please send us an email to informationcradle@gmail.com indicating the proposed changes and the content URL. Provide as much information as you can and we promise to take corrective measures to the best of our abilities.
---