A Guide To Meru National Park Kenya
Few places offer a more genuine wilderness ambiance than the remote and rugged Meru National Park Kenya and Kora National Parks. Little – visited, utterly unspoilt and the most geographically diverse Parks in Kenya, they are the favorites of safari professionals and wildlife experts alike. Brilliantly painted on a magnificent scale, these sister Parks feature luxuriant jungle, coursing rivers, verdant swamp, khaki grasslands,gaunt termite cathedrals and an ever-evolving dance between clouds and sky.
Brilliant on a magnificent scale, the Meru and Kora sister parks feature luxuriant jungle, coursing rivers, verdant swamp, khaki grasslands and gaunt termite cathedrals all under the sky's great blue bowl. Little visited and utterly unspoilt, few places are comparable to the remote and rugged atmosphere found here. Visitors can see Grevy's zebras, elephants, Bohor reedbucks, hartebeests, pythons, puff adders, cobras, buffalos and more than 427 recorded species of birds.
Facts About Meru National Park
Altitude – Meru: 366-914 meters above sea level.
Area – Meru: 870 sq km
Location – Meru: Meru District, Eastern Province
Distance from Nairobi: 348 km north-east of Nairobi
Gazetted – Meru: opened 1968
Climate: The Parks are part of the semi-arid zone and have irregular rainfall. The wet seasons are April-June and November-December.
Vegetation: Mainly thorny bushland in the north, wooded grasslands in the west and open grasslands elsewhere. The Parks also feature dense riverine forests of doum and raffia palm.
Wildlife Includes: buffalo, lion, leopard, cheetah, elephant, zebra, rhino, giraffe, hippo, lesser kudu, oryx, gerenuk, hartebeest and gazelle.
Reptiles: python, puff adder and cobra.
Birds: More than 300 recorded species including Red-necked falcon, Heuglins courser, brown-backed woodpecker, sunbirds Peter's Finfoot, inhabiting the Murera and Ura Rivers; Pel's Fishing Owl, kingfishers, rollers, bee-eaters, starlings and weavers
Roads: 4WD is essential during the rainy seasons and recommended at other times to best enjoy the Parks.

What To See At Meru National Park
A classic savannah landscape
A fine example of the classic savannah landscape, Meru National Park character is defined by the rivers that form its perimeters: the mighty Tana to the south, the Ura to the south-west and the Rojeweru to the east. Meru National Park is also scored by T4 permanent streams which drain off the nearby Nyambeni Hills.
A rich diversity of habitats: Thanks to the diversity of its habitats, Meru National Park offers unique wildlife watching opportunities.
The northern plains: One of the most rewarding areas for wildlife viewing, the northern plains boasts of Elephant, Lion and Cheetah. Both species of Zebra, Grant gazelle and Thomsons gazelle, Impala, Beisa Oryx, hartebeest and Reticulated Giraffe are also easily seen.
The southem plain: The dense woodlands shelter Gerenuk, Common Eland, Kirk's Dik-Dik and Warthog. They also make an ideal habitat for one of the Meru National Park highlights, the Lesser kudu.
The kopjes: Meru National Park is renowned for its rocky outcrops (known as inselbergs or kopjes),where baboons cavort and leopard lurk among the boulders.
The swampy grasslands: Are grazed by Defassa Waterbuck and shifting herds of Buffalo.
The rivers: Hippo and Nile crocodile are common in the slower streams of the Tana River.
A brilliance of birds
Meru National Park birds are abundant and colorful; common river birds include Ibis, Heron and African Fish Eagle while the riverine acacia woodland shelters the smallest of the Long-tailed in birds, the Black-bellied Sunbird. Flocks of glorious golden- breasted starlings are also often encountered as well as loudly honking groups of hornbills.
The setting for 'Born Free'
Meru National Park is where Joy and George Adamson released their most famous lioness, Elsa, back into the wild. Her tale is told in the book and the film 'Born Free'. The Park was also the site of their alter experiments with orphaned cheetahs.
Attractions And What To Do At Meru National Park
Former home of Joy and George Adamson and Elsa the lioness
Views of Mt Kenya
Rivers and riverine habitats
Tana river
Adamson's falls
Accommodation And Hotels At Meru National Park
Where to stay when at Kora National Park

There are no lodges, tented camps or self-catering accommodation options in Kora National Park. For information on campsites in Kora National Park please contact the warden or KWS HQ, Nairobi.
Elsa's Kopje Tented Camp: This exclusive lodge offers 9 stone and thatch cottages, international cuisine, swimming pool and game viewing.
Contact: Cheli and Peacock, Tel: +254(20)603090, 604053/4.
Email: safaris@chelipeacock.co.ke
Leopard Rock Lodge: Overlooking the Murera River, this authentic lodge offers African and international cuisine, swimming pool and game viewing.
Contact: Tel: +254(20)60003l/6, 862527/0733333100.
Email: leopardrocklodge@leopardrocklodgecom
Rhino River Camp +2547l 81 39359, Murera Springs +254711986513/0737636693
Self-catering accommodation: Murera Bandas: Four simple two bedroom stone chalets located by Murera Gate. Contact: KWS H0, Nairobi.
Bwatherongi Bandas: Four simple one and two bedroom wooden chalets, 22km from Murera Gate and next to the Bwatherongi River. Contact: KWS HQ, Nairobi.
Camping at Meru National Park

Public campsite. 18km from Murera Gate, this site lies in a stretch of open ground beside a wooded stream lavatories and showers are provided.
'Special' campsites: A number of 'special' Campsites are seasonally located along the rivers. Special campsites have no basic amenities and must be booked in advance on an exclusive use.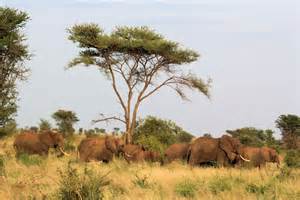 Kora National Park Kenya
Meru's sister Park, the adjoining Kora National Park is famous as the former home of naturalist George Adamson. A vast area ofacacia bush land from whose alluvial plains rise stark granite kopjes and low hills, it is bordered to the south-east by the Mwitamisyi River, which supports an abundance of lizards, snakes, tortoises and crocodiles.
Kora National Park Kenya
When to Visit Meru and Kora National Park

The Parks are accessible all year round.
Meru National Park Kenya What to take with you
Drinking water and picnic items (and camping equipment ifyou intend to camp overnight). Also useful are: camera, binoculars, hat, sunscreen, sunglasses, insect repellent and Guidebooks.
Open:
Daily 6.00am – 7.00pm including public holidays.
Note: no entry is allowed on foot and visitors will not be allowed entry after 6.15pm.
Current entry charges:
obtainable via KWS HQ, Tel: (Nairobi) +254 (20) 6000800, 6002345.
E-mail: marketing@kws.go.ke Website: www.kws.go.ke
'Safaricard' required?
At present the Parks do not operate the SafariCard system.
Entry is by cash only (KShs or US$).
How to get to Meru National Park Kenya
Roads:
Access from Nairobi (348 kms) is via Nyeri-Nanyuki-Meru or via Embu all weather roads. Access into the park from Maua to Murera Gate (35 km) and 348 km from Nairobi..
The other access is via Embu to Ura Gate (120 km), 290 km from Nairobi
Airstrip:
Main airstrip at Kina, Mulika next to Meru Mulika Lodge and Elsa's Kopje airstrip
A Map of Meru National Park
Accommodation and Hotels in Meru National Park Kenya
 KWS Self Catering
Kinna Guesthouse
Murera Cottages
Meru Guest House
Campsites in Meru National Park Kenya
Mugunga
Rojawero
Kenmare
Golo 1
Golo 2
Fisi
Kampi Baridi
Chuma
Bwatherongi
Ekime (Kora N. Park)
Privately Owned Lodges & Hotels in Meru National Park
Elsa's Kopje
Elsa's Kopje was designed and built by Stefano Cheli, and opened in 1999 by Dr Richard Leakey (chairman of KWS), and Virgina McKenna, the star of the 1960's film "Born Free", and founder of the "Born Free" foundation.
The lodge can be credited with single handedly saving this beautiful National Park which had suffered from little or no income from visitors. Before the opening of Elsa's Kopje and subsequent income from visitors, there was talk in government of de-gazetting the park and turning the well-watered fertile land into rice plantations.
Widely acclaimed as one of the most spectacular locations and lodge designs in Africa, Elsa's is built round a granite hill with each cottage individually designed to take advantage of the stunning views, and the natural curves, rocks, and trees on the hillside.
With passion for the environment, Elsa's Kopje was designed to blend in with its surrounds, uses minimal power, and adheres to innovative policies of minimal environmental impact. Elsa's Kopje received the first Eco-rating in Kenya in 2003, and now boasts a Gold Eco-Rating as well as a International Silver-Level Certification with Sustainable Travel International.
The Elewana Collection
In 2015 became a part of the Elewana Collection. With a collection of 15 boutique properties across the most iconic locations of Kenya and Tanzania, Elewana Collection provides exceptional and authentic safari experiences in comfort and style
Elsa's Kopje
Leopard Rock Lodge
Leopard Rock Lodge is a five star luxury lodge located in Meru National Park, Kenya. Meru National Park is one of the most beautiful and untouched parks in Kenya. At Leopard Rock Lodge, guests will enjoy a high class experience in a fascinating and charming environment.
AMENITIES
-Tropical Swimming Pool next to river
-Jacuzzi, SPA
-Bar, Restaurant, Coffee/Tea Lounge
-Open Panoramic Lounge
-Terrace with view on the Bisanadi Reserve
-Museum
-Gift Shop
-Reading Space
ACTIVITIES
-Game Drive
-Sundowner
-Borana Village Visit
-Nature Walk
-River Fishing
-Bird Watching
-Night Game Drive
-Museum Lecture
-Rhino Sanctuary visit
-Joy Adamson Immersion
-Bush Breakfast at the Hippo Pool
-Excursion to the Tana River
GASTRONOMIC CUISINE
Leopard Rock Lodge offers gastronomic meals composed by our chef, inspired by European and African cuisine. Guests will be treated to a high class dining experience to the sound of birds chirping in our dining haul featuring a magnificent view.
CONFERENCE, WEDDING, HONEYMOON
Leopard Rock lodge is the only lodge in Meru capable to cater a Business conference with its fully equipped conference room for up to 30 people. We are also the perfect venue to organize an unforgettable wedding or for a passionate honeymoon

Email: booking@leopardmico.com / marketing@leopardmico.com
Phone: +254 (0) 7 33 92 00 82 / +254 (0) 7 36 33 31 00
Meru National Park Entrance Fees and Charges
Citizen
Adults KSH: 350
Child KSH: 250
Resident
Adults KSH: 1200
Child KSH: 600
Non – Resident
Adults USD:75
Child USD: 40
Meru National Park Contacts
Attraction Type: Wildlife
Category: National Park
Region: Mt. Kenya
City / Town: Meru
Road / Street: Maua Road
Telephone: 254 61 230 3094
Email: merupark@kws.go.ke
---
We endeavor to keep our content True, Accurate, Correct, Original and Up to Date.
If you believe that any information in this article is Incorrect, Incomplete, Plagiarised, violates your Copyright right or you want to propose an update, please send us an email to informationcradle@gmail.com indicating the proposed changes and the content URL. Provide as much information as you can and we promise to take corrective measures to the best of our abilities.
---