Migori County News
Migori County is a county in the Nyanza region of southwestern Kenya. The county borders Homa-Bay county, Kisii county and Narok County.
Its capital is Migori, its largest town. The county has a population of 917,170. This County is perhaps the most diverse in Nyanza after Kisumu. The inhabitants include Suba-Luos, Luos, Kuria, Kisiis, Luhya, Somalis, a small pockets of Indians, Arabs, and Nubians. Migori town serves as in important link between Kenya and Tanzania and the second most viable commercial center in Luo-Nyanza after Kisumu. Other major towns in the county include Kehanncha and Isebania in Kuria District.
Facts About Migori County
Area (Km 2): 2,597
 Climate: Two seasons of rain; temperatures 21 – 35 degrees C
 Road network:
Tarmac 72 Km
Gravel/Murram 324 Km
Earth Surface 514 Km
Key National Monuments: Thimlich Ohinga ruins
Migori County Population
 Population: 917,170
Male 48%
Female 52%
 Density: 353 people per km²
National Percentage: 2.38%
 Population Growth Rate: 3.05%
Age distribution:
0-14 Years 49%
15-34 Years – 33%
35-64 Years – 14%
over 65 years – 3%
Migori County Government
 County capital: Migori Town
 Number of Constituencies (2010): 5 (Rongo, Migoris, Uriri, Nyatike and Kuria)
 Registered Voters: 248,453
 National percentage of Registered Voters: 1.97%
 Number of Districts (2009): 4 (Rongo, Awendo, Migori and Kuria)
 Number of Local Authorities (2010): 5 (Municipal Councils of Migori and Kehancha, County Council of Migori, and Town Councils of Rongo and Awendo)
Economy, Business and Investment Opportunities in Migori County
The presence of Lake Victoria, Migori and Kuja rivers and the relatively good weather patterns in Migori County have allowed the soils in the region to be well drained making the county a conducive environment for agriculture. Agricultural produce consists of tobacco, sugarcane, maize, beans, coffee, groundnuts and vegetables. Livestock farming is also undertaken in small scale basis. Fishing is also a major economic activitiy.
Due to minieral resources available in the county, there is a nascent but growing mining industry particularly gold mining that many residents have taken up.
Economy
 Resources: Natural (Gold), Water (Kuja and Migori Rivers)
 Financial services: Banks and Micro Finance Institutions, Decentralised Funds e.g. CDF through Constituencies & LATF through Local Authorities
 Poverty Level: 43% of population live below the poverty line
 Main Economic Activities/industries: Agriculture, fishing, manufacturing and mining
 Main Agricultural products: Maize, Millet, Sugarcane, Sorghum, Groundnuts, Cassava, Sweet Potatoes, Beans, Sukuma-Wiki, Sweet Bananas
Education
 Primary schools: 788
Total enrolment: 240,366
 Secondary schools: 144
Total enrolment: 17,554
 Youth Polytechnics: 10
 Tertiary Institutions: Moi Institute of Technology, Moi & Kenyatta Universities Satellite Campuses, Migori TTC
 Health
 Hospitals: 4 District Hospitals and 5 Sub District Hospitals
 Number of Doctors: 18
 Doctors to Population Ratio: 1:52,280
 Infant Mortality Rates: 95 per 1,000 (This for Nyanza Province) KDHS 2008-09
Under-Five Mortality Rates: 149 per 1,000 (This for Nyanza Province) KDHS 2008-09
 Prevalent Diseases: Malaria, HIV/Aids, Diarrhoea, URTI (Urinary Tract Infections)
Notable Private Hospitals: Royal Hospital, Ombo Mission Hospital, Rakwaro Mission Hospital, Dr. Machage Memorial Hospital
Tourist Attractions
Attractions in the county include the Thim Lich Ohinga Ruins which is a protected and nationally gazetted heritage site. This is a unique architectural stone structure built over 500 years ago. Thim Lich's strategic location forms a perfect stop over for those on their way to or from Ruma National Park and Masai Mara National Game Park, Gogo Falls and also Mac Calder Mines.The beaches of Lake Victoria and the famous Migingo archipelago are also in Migori county.
Ruma National Park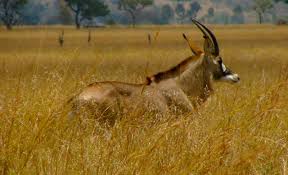 Category: Tourist Attractions in Migori County
The 120sq km Ruma National Park is close to the shores of Africa's largest inland lake, Lake Victoria. It is situated in Lambwe Valley in South Nyanza, 425km from Nairobi, 140 km from Kisumu, 10km east of Lake Victoria and south west of Homa Bay.
For more information visit: Ruma National Park
Lakes, Rivers and Waterfalls
Lake Victoria… The presence of the lake in the region has lead to the development of tourism in the area. This is due to the ever increasing number of local and regional and international tourists that visit the region annually.
Migori County Jobs opportunities for all qualified personnel and those who would wish to work with Migori County government. Jobs in Migori are posted on the county website.
Jobs in Migori County are awarded in a free, fair and transparency manner in the need to fight corruption in the country.
To access these Migori county jobs advertisement click the link: Migori County Jobs for the latest job opportunities in the county.
Migori County Tenders
Migori county tenders are awarded in a free, fair and transparency manner in the need to fight corruption in the country.
To access tenders in Migori county click the link: http://www.migori.go.ke  for the latest job opportunities in the county.
Migori County Governor and Deputy Governor
The current governor of Migori is Hon. Zacharia Obado and the deputy governor is Hon. Nelson Mahanga Mwita.
Constituencies in Migori County
Awedo Constituency
Migori East Constituency
Migori West Constituency
Migori County Contacts
P O Box 195 – 40400
MIGORI
Email: info@migori.go.ke
Phone: +254726319450 / +254770304976
Mobile: +254736860086
Migori County Website
Website: http://www.migori.go.ke

Migori County Map
Migori County Video
---
We endeavor to keep our content True, Accurate, Correct, Original and Up to Date.
If you believe that any information in this article is Incorrect, Incomplete, Plagiarised, violates your Copyright right or you want to propose an update, please send us an email to informationcradle@gmail.com indicating the proposed changes and the content URL. Provide as much information as you can and we promise to take corrective measures to the best of our abilities.
---
List of 47 Counties in Kenya
---