A Guide To Mombasa Go-Kart
Mombasa Go-Kart is where to give young people a Karting treat. Also called Go-Kart, this is a track racing event with small rear engine, four-wheeled cars. It is where motor sport starts and is considered as the little brother of track races, which is now growing in popularity.
Karting is a track racing event with small, rear-engined, 4 wheeled vehicles. Many rally and formula drivers started with karting, notably Michael Schumacher and Lewis Hamilton. It is suitable for all age groups but you must be at least 10 years old and 1.47 mts (4 ft 6 in) to race at full speed (for those who don't qualify the kart's maximum speed can be reduced to 10 km/hr). Helmets are mandatory and are provided at no additional cost. There is a computer controlled timing system which provides pilots with their lap times displayed on a monitor in the pit area.
The Track
The concrete track is about 500 mts long and 5 mts wide. A maximum of 14 go karts are allowed on the track. A 20 KVA floodlit system enables night racing.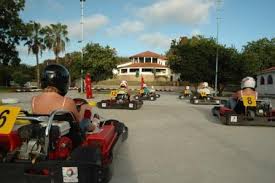 The Karts
kart Engine: Honda GX-200 Capacity: 200ccs, 6.5 HP, 4 stroke
Max.speed: 66 km/hr, rpm 4,000
Wheelbase 1.2 mts
Weight 130 kgs
Bar And Restaurant
Enjoy a drink whilst watching the action below or have a meal at the Galana restaurant. We have a snack menu including soups, salads, samosas, sandwiches, burgers plus a variety of grilled steaks, chicken or fish and nyama choma (BBQ), all at reasonable prices
Other activities to do at Mombasa Go-Kart
Beside Go-Kart, there is much more to do like: Paintball, Off-road Buggies, Bulldozing, Mechanical Bull riding, Archery. For small kids there is a big playground with a huge trampoline and some video games, both free of charge.
Mombasa Go-Kart Prices
Kenyan Residents:
Training Session .. 1200/-
10 minutes on the Track
Kids up to 12 years …………. 500/-
At reduced speed, the Kart Speed is only about 10km/h
10 minutes on the Track
Fun Race Program …………. 2100/-
– 5 Laps Warm-up then 5 Laps Qualifying.
– A Race with start from the Grid over 10 Laps.
– Winners Presentation and a Certificate
Tourists:
Training Session ……………… 1500/-
10 minutes on the Track
Kids up to 12 years …………. 500/-
At reduced speed, the Kart Speed is only about 10km/h
10 minutes on the Track
Fun Race Program ………….. 2500/-
Mombasa Go-Kart Contacts
Attraction Type: Special Interest
Category: Special Event
Region: Coast
City / Town: Mombasa
Road / Street: Malindi Road
Telephone: 254 721 485247
Email: casanova@mombasa-gokart.com
Website: http://www.mombasa-gokart.com/
Entrance Fee: Yes
More About Kenya
Kenya is a world unto itself. Kenya is Africa's original safari destination, attracting explorers, adventurers, and travelers for centuries. A safari to Kenya is a trip of a lifetime.
Tourist Attractions in Kenya:
Kenya has one of the world's greatest tourist attractions sites, known for its diversity of landscape, wildlife, and cultures. From sweeping savannahs to tropical beaches and coral reef, dense equatorial forests to mighty snow-capped mountains, and more.
For more information visit: Tourists Attractions in Kenya
Kenya Safari
Kenya is the ultimate safari destination, providing travelers with a window into the heart of Africa. But this is not all that Kenya has to offer. Located near the equator, Kenya´s magic lies in the fact that the country encompasses an astounding variety of landscapes and climates, flora and fauna, as well as communities and cultures, home to water sports, a swim with dolphins and adventure.
For more information visit: Kenya Safari
Hotels and Accommodation in Kenya
Hotels in Kenya vary enormously in price and facilities. Luxury hotels in Kenya offer excellent standards of service and are comparable to the best hotels anywhere in the world. Kenya's abundance of natural produce, combined with the rich variety of cultures and traditions, has created a great culinary nation.
The fertile volcanic soil of the Rift Valley produces a bounty of fresh vegetables, while the coast is a great source of tropical fruit and fresh seafood. The Kenyan coast is also the home of the world-renowned Swahili cuisine, a blend of Middle Eastern and African cooking with a particular coastal twist.
For more information visit: Hotels in Kenya
Towns in Kenya
Apart from the towns of Nairobi , Mombasa, Kisumu and Nakuru, Kenya has other major towns each a unique representation of the country's striking abundance in flora and fauna. Most of these towns are headquarters in their respective counties or major economic bases in their regions. Luxury hotels and lodges located here provide good accommodation and conferencing facilities for guests who dare to try out a taste different from the capital or the coast.
For more information visit: Towns in Kenya
The Kenyan People Culture and Tradition
Kenya's culture blends together diverse tribes, traditions, and religions into one beautiful, well-woven tapestry.  These traditions complement each other while incorporating the modern influences of globalization – resulting in a vibrant cultural spirit that is uniquely Kenyan. Kenya has over 42 different tribes with different languages and several dialects. Kenyan tourism has made the Maasai and Samburu tribes the most famous because of their long preserved culture.
For more information visit: Kenya People and Tribes
Watch a Video of Mombasa Go-Kart
---
We endeavor to keep our content True, Accurate, Correct, Original and Up to Date.
If you believe that any information in this article is Incorrect, Incomplete, Plagiarised, violates your Copyright right or you want to propose an update, please send us an email to informationcradle@gmail.com indicating the proposed changes and the content URL. Provide as much information as you can and we promise to take corrective measures to the best of our abilities.
---