Mombasa Mamba Village

description

Mombasa Mamba Village is an awesome farm for crocodiles. Its tour starts with a movie on life cycle and behaviour of crocodiles. This is followed by a comprehensive farm walk that ends with the highlight of the day – a spectacular scene of blood-thirsty crocodiles fighting for food during feeding.
The crocodile farm better known as Mamba Village is an eco-friendly quarry concentrating on the farming and conservation of one of the oldest and interesting animals – African crocodiles. The village is just a day trip from the Northern coast of Mombasa.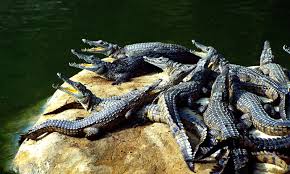 Mamba Village, East Africa's largest crocodile farm, is a "must see" during your exploratory beach vacation in Mombasa if you have not seen any crocodiles on safari. Each section of the estate offers a unique experience, and the most popular is the crocodile farm where these aquatic reptiles are displayed. Your tour of the farm begins with a video presentation that introduces you to many reptile species and the valuable roles they play in the ecosystems of the world and the fascinating facts, such as the longevity of the species on earth, bite force and average life span, will give you a greater appreciation for these prehistoric animals.
While touring the crocodile farm, your guide will enlighten you about the crocodile life cycle and behavior while you view live crocodiles of every size, from hatchlings to fully-grown adults. Some crocodile displays are labeled with a description of age, length and weight, and one of the most predictable events at the farm is the daily crocodile feeding where the giants fight for fresh meat. While the crocodile farm is the most popular area of the village, AfricanMecca guests may also enjoy horseback riding on its small estate and beginners can even take lessons, or you may prefer the more outlandish camel riding. Should you have time, take a leisurely walk through the botanical gardens before enjoying a meal at the village restaurant that features a range of game meats, such as crocodile, zebra, ostrich and many other choices.
Campsite
Mamba Village Crocodile Farm Mombasa has a nice campsite with clean washrooms and a covered dining room with facilities that are perfect for a group of up to 80 children and 50 adults. Security in the Mamba Village campsite is as good as you can find in Mombasa with a perimeter fence, and guards.
Things to do at Mombasa Mamba Village
Camel Riding
Unforgettable and unique Somali camel riding experience at camel's headquarters "Mamba Desert Express".
Horse Riding
Riding lessons and, beach riding tours, everyday from 8.00 am to 6.00 pm.
Floral Magic
Beautiful collection of plants and flowers specializing in orchids and aquatic flora. They also have on display carnivorous species, marine aquarium and snakes.
Boat Rides
Beyond Mamba Village's crocodile population, there is an ostrich enclosure and a giraffe pen. There is also a large lake in the middle of Mamba Village where you can rent paddle boats or take boat rides (100 Kenya Shillings for adults, 50 Kenya Shillings for children).
Mamba Restaurant
Overlooking the crocodile pond, a unique "a la carte" restaurant serves game meat like crocodile, ostrich and zebra meat among other delicacies.
Best time to visit Mombasa Mamba Village
Mamba Village Crocodile Farm best visiting time is in the afternoon as at 5 p.m daily, the crocodiles are fed and guests can see them jump high in the air to snap the meat.
How to get to 
Mombasa Mamba Village
By road: Mombasa Mamba Village is located 10 kilometers from Mombasa Island along the Nyali area at links Road opposite the Nyali Golf club.
A Map to Mombasa Mamba Village

Mombasa Mamba Village

Contacts

Attraction Type: Wildlife
Category: Animal Sanctuary
Region:  Nairobi
City / Town: Mombasa
Road / Street: Links Road
Telephone: 254 41 222 5428, 254 722 475796
Website: http://www.mombasa-island.com/attractions/excursio
Entrance Fee: Yes
More About Kenya
Kenya is a world unto itself. Kenya is Africa's original safari destination, attracting explorers, adventurers, and travelers for centuries. A safari to Kenya is a trip of a lifetime.
Tourist Attractions in Kenya:
Kenya has one of the world's greatest tourist attractions sites, known for its diversity of landscape, wildlife, and cultures. From sweeping savannahs to tropical beaches and coral reef, dense equatorial forests to mighty snow-capped mountains, and more.
For more information visit: Tourists Attractions in Kenya
Kenya Safari
Kenya is the ultimate safari destination, providing travelers with a window into the heart of Africa. But this is not all that Kenya has to offer. Located near the equator, Kenya´s magic lies in the fact that the country encompasses an astounding variety of landscapes and climates, flora and fauna, as well as communities and cultures, home to water sports, a swim with dolphins and adventure.
For more information visit: Kenya Safari
Hotels and Accommodation in Kenya
Hotels in Kenya vary enormously in price and facilities. Luxury hotels in Kenya offer excellent standards of service and are comparable to the best hotels anywhere in the world. Kenya's abundance of natural produce, combined with the rich variety of cultures and traditions, has created a great culinary nation.
The fertile volcanic soil of the Rift Valley produces a bounty of fresh vegetables, while the coast is a great source of tropical fruit and fresh seafood. The Kenyan coast is also the home of the world-renowned Swahili cuisine, a blend of Middle Eastern and African cooking with a particular coastal twist.
For more information visit: Hotels in Kenya
Towns in Kenya
Apart from the towns of Nairobi , Mombasa, Kisumu and Nakuru, Kenya has other major towns each a unique representation of the country's striking abundance in flora and fauna. Most of these towns are headquarters in their respective counties or major economic bases in their regions. Luxury hotels and lodges located here provide good accommodation and conferencing facilities for guests who dare to try out a taste different from the capital or the coast.
For more information visit: Towns in Kenya
The Kenyan People Culture and Tradition
Kenya's culture blends together diverse tribes, traditions, and religions into one beautiful, well-woven tapestry.  These traditions complement each other while incorporating the modern influences of globalization – resulting in a vibrant cultural spirit that is uniquely Kenyan. Kenya has over 42 different tribes with different languages and several dialects. Kenyan tourism has made the Maasai and Samburu tribes the most famous because of their long preserved culture.
For more information visit: Kenya People and Tribes
Watch a tour video about Mombasa Mamba Village
---
We endeavor to keep our content True, Accurate, Correct, Original and Up to Date.
If you believe that any information in this article is Incorrect, Incomplete, Plagiarised, violates your Copyright right or you want to propose an update, please send us an email to informationcradle@gmail.com indicating the proposed changes and the content URL. Provide as much information as you can and we promise to take corrective measures to the best of our abilities.
---