Guide To Mombasa Marine National Park and Reserve
The Mombasa Marine National Park and Reserve is an unforgettable paradise of beautiful sun, sandy beach, and safe ocean adventure.
Mombasa Marine National Park and Reserve was established just over 20 years ago to protect the coral reef and the resident marine life spread out over a breath taking 210sq.km.
Facts About Mombasa Marine National Park And Reserve
Altitude: Sea level.
Area: Mombasa Marine National Reserve; 200 sq km.
Mombasa Marine National Park; 10 sq km.
Location: Mombasa District, Coast Province; offshore of Mombasa town.
Distance from Nairobi: 485 km south east of the capital.
Gazetted: 1986.
Climate: Hot and humid.
Vegetation: Mangroves, sea grasses and seaweeds.
Fauna: Myriad species of reef and deep-sea fish, corals and other forms of marine life.
Birds: Numerous shore birds.
Activities: Snorkelling, diving, windsurfing and swimming.
What To See At Mombasa Marine National Park And Reserve
Fishes galore
The reef attracts an incredible range of fish, most of which are almost iridescent in colour and fantastically marked. Look out for the celestial blue and jade-green parrotfish, striped zebra fish, multi-coloured angelfish and the soup plate-sized butterfly fish. Clouds of tiny damselfish also often hover above the branching coral, and under deep ledges you may catch a glimpse of the magnificent lionfish with its mane of sharp spikes (a sting from this fish can be very painful). Hunting sharks, rays, turtle and starfish also hunt the reef.
Turtle and dolphin territory
Kenya's reef and lagoons also prove popular with the endangered green, hawksbill, loggerhead, Ridley and leatherback sea turtles. Dolphins too are regular visitors to the area (spinner, humpback and bottle-nosed) and can be encountered singly or in schools, above and below the waves.
The beaches that border Mombasa Marine Park
North and south of Mombasa are some of the finest beaches in Africa; endless crescents of silver sand bordered by opulent coastal hotels; and with direct access to the coral gardens of the reef. Nyali Beach, Bamburi Beach, Shanzu Beach and Kenyatta Public Beach all enjoy immediate access to the Mombasa Marine Park.
Note : Shanzu Beach is very popular with sea turtles, which come here to lay their eggs.
What to do at Mombasa Marine National Park and Reserve

Besides taking in the beautiful coral gardens, you can sunbathe on the pristine beaches, or enjoy relaxing water sports, like scuba diving and snorkeling. As a point of interest, the greatest amount of marine life comes out two hours either side of low tide. That is the best recommended time to go snorkeling over the reef. Kenya's coastal waters are warm all year round so, even without a wet suit, diving is quite rewarding.
Accommodation at Mombasa Marine National Park and Reserve
There are lots of luxurious, comfortable and culturally rich hotels and lodges to choose from in close proximity to the Mombasa Marine National Park and Reserve.
The wonderful news is you don't have to wait for a specific time of year to visit the Mombasa Marine Park. The park is open all year round. And with the beautiful Kenyan coastal weather, snorkeling is good all through the year.
What to take with you to Mombasa Marine National Park and Reserve
Footwear, e.g. sandals or flip flops (to protect your feet from the reef)
T-shirts (to protect your body from sunburn)
Snorkel, mask, fins, all of which are available for hire
Camera, hat, sunscreen, insect repellant
Guide books
Plenty of drinking water
A friend(s)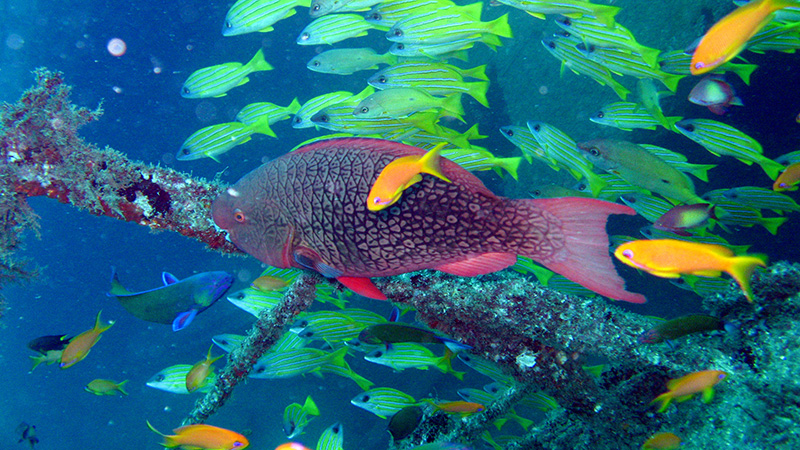 Mombasa Marine National Park and Reserve: Please respect the marine wildlife code
Check local weather and sea conditions before entering the reserve.

Some marine life is dangerous; do not touch anything underwater.
Do not damage or remove the coral, it's a living organism which takes many years to form, and is host to many rare and endangered species
Do not remove shells, starfish or any other sea Flora or Fauna.
Removal is illegal; seriously disrupt the eco system and some marine life is dangerous. The areas outside the park and reserves are threatened by excessive shell collection. Empty shell provides home for hermit crabs and some fish.
Do not buy shells and other marine animals products as souvenirs as this encourage further plundering of reefs and
Never dispose of litter on the beach or in the sea. It is illegal and environmentally unfriendly. Marine turtles can confuse clear plastics waste with jelly fish and they die if they eat it.
Hand feeding fish is discouraged. It disrupts normal feeding pattern.
Hook and line fishing is allowed in marine reserves but prohibited in marine parks. Spear guns are not permitted for used in either.
Environmental friendly activities such as snorkeling and diving are encourage, under the supervision of Kenya wildlife service warden, who work closely with local tour operators and hoteliers to ensure strict adherence to this code of practice.
Avoid restaurants that serve undersized crabs and/or lobsters as this contributes to their rapid demise.
Support traditional coastal livelihoods and industries, and do not give money to children on the beach, as this can encourage them to stay away from school. Respect the cultural heritage of Kenya, never take pictures of the local people in their habitat without asking for their permission, respect the cultural traditions of Kenya and always dress decently.
Mombasa Marine National Park and Reserve Entrance Fees and Charges
Open: Daily 6.00a.m. To 6.00pm, including public holidays
Citizen
Adults KSH: 150
Child KSH: 150
Resident
Adults KSH: 350
Child KSH: 200
Non – Resident
Adults USD:20
Child USD: 15
How to get to Mombasa Marine National Park & Reserve
By road
: Sited in the city of Mombasa about 487 km from Nairobi, the park can be reached by road from Mombasa city centre, and then connected by boat from the various points along the beach which include: Serena Gate on beach of Serena Hotel, Severin Gate on beach of Severin Hotel, Travellers Gate on beach of Travellers Hotel, Nyali Gate at Mombasa Marine Park Headquarters and Voyager Gate at Voyager water sport Area.
A Map to Mombasa Marine National Park and Reserve

Mombasa Marine National Park and Reserve Contacts
Attraction Type: Beach & Marine
Category: Beach, Coral Reef, Snorkeling
Region: Coast
City / Town: Mombasa
Telephone: 254 57 250 0136, +254 (0)41-2312744/
Email: msamarine@kws.go.ke
Website: http://www.kws.org/parks/parks_reserves/MMNP.html
Entrance Fee: Yes
Mombasa Marine Nati onal Park &  Reserve Video
---
We endeavor to keep our content True, Accurate, Correct, Original and Up to Date.
If you believe that any information in this article is Incorrect, Incomplete, Plagiarised, violates your Copyright right or you want to propose an update, please send us an email to informationcradle@gmail.com indicating the proposed changes and the content URL. Provide as much information as you can and we promise to take corrective measures to the best of our abilities.
---