A Guide To Mt. Kenya Safari Club
Despite the fact that Mt. Kenya Safari Club is a pitch and putt composed entirely of part three holes and measuring 2295 yards for eighteen, it is absolutely brutal. The course sits virtually in the shadows of Mt. Kenya, offering some of the most spectacular terrains that a golf course can offer.
With magnificent views of majestic Mount Kenya, the Fairmont Mount Kenya Safari Club Resort's 120 luxuriously appointed hotel rooms, set in over 100 acres of landscaped gardens, offer a unique blend of comfort, relaxation and adventure. Its no wonder this Nanyuki resort emerged a winner in the 2013 Travellers Choice Awards and that Travel & Leisure Magazine often positions it in the 'World's Top 50' List. Originally the retreat of movie star and Club founder, William Holden, the Club's illustrious former members have included Winston Churchill and Bing Crosby.
For those who wish to spend time relaxing at the Mount Kenya resort hotel, there are many Nanyuki recreational activities available: horseback riding, golf, croquet, a bowling green, table tennis, swimming, an animal orphanage and much more. To be able to relax and appreciate the superb setting, the personal attention lavished on all our visitors, the numerous activities and superb cuisine, one night is just not enough.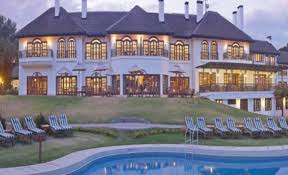 Fairmont Mount Kenya Safari Club is the ideal base for a truly superb holiday in Nanyuki, Kenya. With some of the country's finest attractions on the doorstep, visitors to the resort can enjoy an enormous range of excursions and activities without spending hours and even days traveling between each. Making it one of the most truly best hotels in kenya.
The Fairmont Mount Kenya Safari Club is pleased to introduce Tusker and Grammy, our canine ambassadors.
ACTIVITIES & SERVICES
High on the slopes of Africa's second highest mountain, the Fairmont Mount Kenya Safari Club Resort in Nanyuki straddles the equator in a glory of luxurious cottages and elegant buildings set amid manicured lawns and decorative ponds. This is the perfect base for your holiday in Kenya. There are many recreational activities in Kenya available: game viewing on horseback, golf, croquet, a bowling green, table tennis, swimming, an animal orphanage, nature walks with the Resident Naturalist and for the sturdy -climbing of Mt. Kenya.
If you are keen on discovering the exotic flora and fauna found in this region, we have crafted distinct safari packages, which provide you with the most authentic experiences.
Enjoy an elegant dining affair at the Tusks Restuarant, one of the most exquisite restaurants in Nanyuki. it offers a sophisticated indoor set up which extends onto a terrace, with a great view of the majestic mountain. Adjacent to it is the Zebar, a great spot to unwind after a day of adventure.
To be able to relax and appreciate the superb setting, the personal attention lavished on all our visitors, the numerous activities and superb cuisine, one night at our resort hotel in Nanyuki is just not enough.
The Fairmont Mount Kenya Safari Club offers luxury accomodation in Nanyuki, Kenya. A magnificent view to behold, the prestigious main structure reflects the 1950's colonial architectural design with a luxury country club feel, complemented with independent quaint cottages, including William Holden's original cottage.
Fairmont Hotels & Resorts renovated and upgraded the Club and its luxury Mount Kenya accomodations in 2009, however maintained its rich history and ambiance of a hunting club. It offers luxury accomodation in Nanyuki, Kenya with each of the guest rooms, suites and cottages reflect the history and charm of the original residence, complete with modern day facilities. Most of its luxury Nanyuki accomodation has magnificent views of Mount Kenya and closely located to its superb dining facilities and recreational amenities.
DINING
Enjoy an elegant dining affair at the Tusks Resturant, one of the most exquisite restaurants in Nanyuki. it offers a sophisticated indoor set up which extends onto a terrace, with a great view of the majestic mountain. Adjacent to it is the Zebar, a great spot to unwind after a day of adventure, whilst the Swimming Pool Bar is perfect for a tranquil rendezvous. The private William Holden Dining Area is popular for hosting private dinners and cocktail parties.
Created using fresh and nutritionally balanced ingredients, Fairmont Lifestyle Cuisine dishes contribute to optimal health and wellness. Additionally, we are pleased to offer you Lifestyle Cuisine Plus, nutritious meals catering to guests with specific diet-dependent conditions such as diabetes, heart disease and gluten-free, as well as unique dietary preferences including, macrobiotic, raw and vegan diets. Lifestyle Cuisine Plus menus are available for functions large and small, in all our meetings and event destinations around the world.
MEETINGS & WEDDINGS
MEETINGS
Fairmont Mount Kenya Safari Club provides a comprehensive range of conference rooms, all-round secretarial services and audiovisual equipment. Kirinyaga Room, the largest of our four conference rooms accommodates up to 300 persons in theatre style while Tembo seats 14 around a board room table. Syndicate rooms, Colobus and Chui are adjacent to the main the conference room.
The hotel meeting rooms are well lit with natural day light and provide internet connectivity, audio-visual equipment, adjustable light settings and air-conditioning. Specializing in personalized conference arrangement, for groups small and large, Fairmont Mount Kenya Safari Club offers elegant meeting spaces, which can accommodate up to 300 guests in theatre format, and spectacular grounds for outdoor events and activities. Our facilities, complemented by our dedicated conference team, will ensure that your meeting becomes a unique and memorable one.
WEDDINGS
Fairmont Mount Kenya Safari Club is the classic fairy tale destination wedding of your dreams, experience the sheer beauty of this idyllic paradise that sits at the base of the magnificent Mount Kenya, where exquisite manicured lawns overlook tranquil ponds, a delightful rose garden with a flowing stream and an elegant Ballroom with a seating capacity for 200 guests provide a unique setting for your personal wedding theme. And as every couple is unique, our resort features authentic touches tailored specifically to your needs.
We recommend our quaint little chapel for smaller intimate weddings which has a seating capacity of 15 guests.
Newly weds can indulge in our honeymoon extras with a romantic breakfast on the slopes of Mount Kenya, leisurely nature walks, horse riding or an idyllic picnic on Lake Alice where Prince William proposed to Kate Middleton.
Choose a Fairmont wedding and receive exclusive access to our Platinum Honeymoon Program.
Mount Kenya Destination Guide
Nestled in the lush foothills of Mount Kenya, and with a history as rich and evocative as the surrounding landscape, the Fairmont Mount Kenya Safari Club offers a snapshot of Africa from a bygone era. Enjoy adventure activities, local dining and cultural experiences in Kenya's most famous retreat.
Map Of Mt. Kenya Safari Club
SAFARI TOURS
Solio Game Reserve
Famous for its Rhino breeding sanctuary, the Solio game reserve is situated 45kms from the resort. Rhino enthusiasts will be delighted to get close up views of the endangered black and white rhinos in large herds, which is a rare treat in this region. The tour is not complete without viewing other wild life species including giraffes, buffalos, lions, cheetahs, zebras, antelopes, among others, with the exception of elephants.
At Solio the contrast in topography and wildlife in this 18,000 acre reserve is stunning. Huge stands of yellow acacia compliment the higher rolling plains whilst a bountiful marsh, Solio's lifeline, bisects the sanctuary.
Sweet Waters Game Reserve
Home to orphaned and abused chimpanzees from west and central Africa, this sanctuary attracts numerous guests who travel to view this fascinating and endearing specie due to its close resemblance to humans. A sheltered oasis, clustered around a water hole and set in the pristine calm of the private Ol Pejeta Conservancy, guests can view the fascinating Chimpanzees from 9.30am – 10.30am and 3.00pm – 4.30pm daily. Guests also have the privilege of viewing the Big Five, at the private conservancy, which has a higher wildlife-to-area ratio than any of Kenya's national parks. This tour will definitely leave a memorable impression of your African adventure.
Aberdare National Park
To fully appreciate the panoramic beauty and splendor of the Central Kenya region, the Aberdare National Park is a must visit. Located 150km from the resort, the park features altitudes from about 7,000 feet (2,100 m) to 14,000 feet (4,300 m) above sea level and covers an area of 766 square kilometers, which forms part of the Aberdare Mountain Range. The national park offers diverse topographies characterized by mesmerizing waterfalls, rivers, scenic highlands, deep ravines, rain and bamboo forests. Not to mention the breath taking views of Lake Naivasha and Lake Nakuru from the top of the Aberdare hills.
Wildlife viewing of a few species such as the black rhino, leopards, baboons and colobus monkeys is also possible. You may be tempted to stop over for an idyllic picnic at the famous cave, which Queen Elizabeth once had lunch.
Samburu Game Reserve
Situated 150kms from the resort, the journey to the Samburu game reserve is an adventure in itself, by traveling across diverse terrains before reaching Kenya's arid, northern scrublands. The wildlife here is more distinct with fortunate sighting of the Big Five, reticulated giraffes and the grevy zebras. The crowd pullers though are the enormous elephants and tenacious crocodiles found in Ewaso Nyiro River as you drive along one of the largest rivers in Kenya, spotted with branched palm trees. Making Fairmont Mount Kenya Safari Club an ideal location for starting or finishing off your Northern Kenyan circuit.
LOCAL ATTRACTIONS
Rose Garden
The club's beautiful gardens can be used as a venue for cocktail parties, reception or wedding settings.
Animal Orphanage
The animal orphanage managed by the neighboring ranch and the William Holden Foundation is operated as a non-profit organization focusing on the re-introduction of the endangered Mount Kenya antelope – the bongo. The Mount Kenya Wildlife Conservancy offices are located across the reception of the Club and the access to the orphanage is located next to the main gate and the Art Gallery. It is open from 8.30a.m. to 12.30p.m. and 1.30p.m. to 5.30p.m. Children under 12 years must be accompanied by an adult. Tickets are available at Club Shop located next to the Front Office.
http://www.animalorphanagekenya.org/
Forest Reserve Walking Safari
Guided game walks and sightseeing in the Forest Reserve are available through out the day, though the best times are early morning. Clients are escorted by a naturalist as well as armed Kenyan Wildlife Rangers, which makes for a very interesting three-hour walk, as the expert is a mine of information about the animals. Emphasis is placed on the flora and fauna, the bird-life, insects and the ecosystem.
Bird Walk
The Fairmont Mount Kenya Safari club is home to a large number of bird species including starlings, hornbills, secret ibis and many more.
Horse Back Rides
Riding on horses through the Forest Reserve gives you a unique vantage point, as you can get very close to the animals. Book through reception, keeping in mind that the last ride is at 5.00 p.m.
Mountain Biking
Mountain bikes are available at the Club either to ride within the Club or up the slopes of Mount Kenya with an expert rider. Book through reception.
Fishing Safaris
Mount Kenya is the second highest mountain in Africa, second only to Mount Kilimanjaro. On its slopes are three very remote high altitude lakes. Lake Rutundu at approx 10,000ft, Lake Alice, beneath Ithanguni, at around 11,000 ft and Lake Ellis at 12,500ft. To reach the lakes you have to first ascend through the ancient Cedar forest that rings Mount Kenya which gives way as you climb to giant groundsel and heather forests. Lake Rutundu, immediately adjacent the fishing lodge has a, greenish tinge to its waters whilst Lake Alice, a 1 ½ hour walk from the lodge, has exceptional clarity and given the right light is a vibrant blue.
SHOPPING
Shops in the Resort
The Club Shop: Souvenirs, T-shirts, sweaters, hats, mugs, plates and many more. Open daily from 7:00 a.m. to 9:00 p.m.
Safari Boutique: Clothing for men and women, accessories, and an assortment of gifts. Open daily from 8:00 a.m. to 6:00 p.m.
Mount Kenya Sundries: Toiletries, local and international newspapers, films, books, maps, African jewelry, clothing, bottled water, stamps, and many other gift items. Open daily from 8:00 a.m. to 6:00 p.m.
Art Gallery: Oil and watercolor paintings by Kenyan artists, as well as antiques and African art. Open daily from 8:00 a.m. to 6:00 p.m.
Gallery Shop: Clothing, accessories and an assortment of gifts. Open daily from 8:00 a.m. to 6:00 p.m.
Kikuyu Handicrafts
The Mount Kenya region in Nanyuki is known for it woven wool products, including matting and clothing. This is the heartland of the Kikuyu, and you may want to buy an example of the best-known Kikuyu handicraft, a Kiondoo. These very useful woven bags have become very popular as handbags.
Local Retailers include:
Nanyuki Spinners & Weavers, Laikipia Road
Sweetwaters Game Reserve Woodshop
Mt. Kenya Safari Club

Contacts
Attraction Type: Sports
Category: Golf
Region: Mt. Kenya
City / Town: Nanyuki
Telephone: 254 20 226 5555
Website: http://www.fairmont.com/mount-kenya-safari/
Entrance Fee: Yes
More About Kenya
Kenya is a world unto itself. Kenya is Africa's original safari destination, attracting explorers, adventurers, and travelers for centuries. A safari to Kenya is a trip of a lifetime.
Tourist Attractions in Kenya:
Kenya has one of the world's greatest tourist attractions sites, known for its diversity of landscape, wildlife, and cultures. From sweeping savannahs to tropical beaches and coral reef, dense equatorial forests to mighty snow-capped mountains, and more.
For more information visit: Tourists Attractions in Kenya
Kenya Safari
Kenya is the ultimate safari destination, providing travelers with a window into the heart of Africa. But this is not all that Kenya has to offer. Located near the equator, Kenya´s magic lies in the fact that the country encompasses an astounding variety of landscapes and climates, flora and fauna, as well as communities and cultures, home to water sports, a swim with dolphins and adventure.
For more information visit: Kenya Safari
Hotels and Accommodation in Kenya
Hotels in Kenya vary enormously in price and facilities. Luxury hotels in Kenya offer excellent standards of service and are comparable to the best hotels anywhere in the world. Kenya's abundance of natural produce, combined with the rich variety of cultures and traditions, has created a great culinary nation.
The fertile volcanic soil of the Rift Valley produces a bounty of fresh vegetables, while the coast is a great source of tropical fruit and fresh seafood. The Kenyan coast is also the home of the world-renowned Swahili cuisine, a blend of Middle Eastern and African cooking with a particular coastal twist.
For more information visit: Hotels in Kenya
Towns in Kenya
Apart from the towns of Nairobi , Mombasa, Kisumu and Nakuru, Kenya has other major towns each a unique representation of the country's striking abundance in flora and fauna. Most of these towns are headquarters in their respective counties or major economic bases in their regions. Luxury hotels and lodges located here provide good accommodation and conferencing facilities for guests who dare to try out a taste different from the capital or the coast.
For more information visit: Towns in Kenya
The Kenyan People Culture and Tradition
Kenya's culture blends together diverse tribes, traditions, and religions into one beautiful, well-woven tapestry.  These traditions complement each other while incorporating the modern influences of globalization – resulting in a vibrant cultural spirit that is uniquely Kenyan. Kenya has over 42 different tribes with different languages and several dialects. Kenyan tourism has made the Maasai and Samburu tribes the most famous because of their long preserved culture.
For more information visit: Kenya People and Tribes
---
We endeavor to keep our content True, Accurate, Correct, Original and Up to Date.
If you believe that any information in this article is Incorrect, Incomplete, Plagiarised, violates your Copyright right or you want to propose an update, please send us an email to informationcradle@gmail.com indicating the proposed changes and the content URL. Provide as much information as you can and we promise to take corrective measures to the best of our abilities.
---