The Mount Kenya Wildlife Conservancy (MKWC) was established in 1967 by the Hollywood actor, William Holden, Julian McKeand and Iris and Don Hunt. It began life as the
Mount Kenya
Game Ranch.
The Conservancy also hosts a herd of rare white zebras, shelters orphaned or wounded animals and provides a widereaching educational programme for young Kenyans. The Conservancy lies in the grounds of the world famous
Mount Kenya Safari Club
, which was also founded as one of the world's most famous hotels by William Holden and a group of friends in 1959.
Once known as 'millionaires' row' due to the superlative excellence of its facilities and the glittering array of famous faces that passed through its doors, today the Fairmont Mount Kenya Safari Club promises uninterrupted views of Mount Kenya, exquisite accommodation, gourmet cuisine and an unprecedented range of activities.
A Guide To Mt. Kenya Wildlife Conservancy
Mt. Kenya Wildlife Conservancy conservancy gives orphaned, injured, neglected, abused or frightened wild animals a second chance. The orphanage provides shelter and professional care with the goal to release these creatures back to the wild where they belong. Its known for bongo breeding programme and protection of the rare white zebra.
In 2004 American Zoological Institutions joined hands with the Bongo Species Survival Plan in returning 18 of their Zoo bred bongo with Kenyan ancestry to the soil of their origin.
Eleven baby bongos have since been born to that herd kept in the safety of the Mount Kenya Wildlife Conservancy.
In May we welcomed the first of the 'second generation' born to the repatriated American "grandmothers" as a part of the Conservancy's bongo rehabilitation to Mount Kenya program.
Some of the births this year were sired by our magnificent Conservancy bred bull "NOAH."
All our young bongo are raised with as little human interference as possible. The Conservancy has a team of trained and dedicated staff that keep a watchful eye as these new mothers are encouraged to raise their young in a relative natural environment.
They make sure that plenty of fresh browse is available for the animals as well as fresh water, minerals and other veterinary requirements are met when necessary.
Meanwhile a small group of mature bongo have entered an advanced stage towards rehabilitation. They are kept in a forest wilderness area where they encounter other wild animals. A natural stream provides fresh mountain water and the vegetation is the same as they will find after their eventual release. We make contact with humans rare and unpleasant so as to rekindle their instinctive fear of man needed for survival in the wild.
The Mount Kenya Wildlife Conservancy's Bongo Rehabilitation program was named amongst the three most important wildlife projects worldwide in 2006 (by AZA)
We are grateful to all our supporters the world over without whom this project could not progress. The success of this program is directly dependent on your sponsorship.
The Animal Orphanage at the Mount Kenya Wildlife Conservancy is a unique facility to give orphaned, injured, neglected, abused or frightened wild animals a second chance. The orphanage provides shelter and professional care with the goal to release these creatures back into the wild where they belong.
The William Holden Wildlife Education Center
William Holden was not only known for his many achievements as an actor and Hollywood film star.
In his private life he was driven by a curiosity that kept him travelling around the world for many years.
Finally when he visited Kenya he fell in love with the country, its people and its nature and specially the wildlife.
He teamed up the Julian McKeand, an ex professional hunter, naturalist and Game Warden, and Don and Iris Hunt, exotic animal specialists.
Together they built the Mount Kenya Game Ranch for the purpose of breeding and preserving endangered species.
Holden and Hunts' future plans included the establishment of an education center as a part of their Ranch, where Kenyan students could learn about wildlife. It was a project especially important to Bill Holden. He was in the midst of drawing up architectural plans for the education center when he passed away unexpectedly in 1981.
Many of Bill Holden's influential and famous friends wanted to help financially so that Holden's dream could be realized.
In 1982 the William Holden Wildlife Foundation was formed in his honour, with the purpose to work and assist in Kenya with the wildlife education of its yout
Holden's companion of many years, Stefanie Powers took over as chairman of the Foundation, with Don as Vice Chairman and Iris Hunt, Deane Johnson and Julian McKeand as Directors.
Don and Iris Hunt donated 15 acres of their land to be used as the site of the education center.
Together the team build a unique education facility that today is visited by over 10,000 students annually, free of charge to them.
The education center also operates an outreach program, build libraries in schools and generally assists needy schools with a view to environmental education.
The facility is operated with a Kenyan administrator, graduate Kenya educator and librarian, and other Kenyan staff.
Stefanie Powers, when not working in films or on stage, continues to support and gather funds for the Foundation's Education Center. She visits whenever possible and takes a keen personal interest.
The Hunts and the McKeands continue to donate their time and expertise to oversee day to day operations at the center.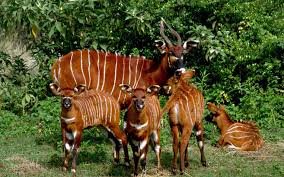 The Mount Kenya Wildlife Conservancy hosts the center's students free of charge on a daily basis.
Since its establishment, the William Holden Education Center has become a model educational facility reaching all over Kenya. Many other wildlife oriented organizations have since noted the positive impact of the center. They have inspired and motivated to further wildlife and environmental education in their own locations.
With the help of his partners in Kenya and friends around the world, William Holden's dream has become a reality.
Mt. Kenya Wildlife Conservancy: The vanishing Mountain Bongo
The mountain bongo is one of the most elusive creatures on earth. Critically endangered, until very recently, it was thought to be extinct in the forests of Mount Kenya. And it might just as well have been because sightings of bongos on the mountain have been about as regular as sightings of yetis in the Himalayas.
At the Mount Kenya Wildlife Conservancy, nerve centre of the 'Bongo Taskforce', warden, Donald Bunge, tells the tale of a colleague who studied the bongo for 15 years. In all that time, Donald recounts, the man never saw a single bongo. And as for the 20-man team of professional trackers who spend their entire lives looking for signs of bongos on the mountain, only two very elderly trackers have so much as glimpsed a bongo: and then only fleetingly.
Bongos are shyness incarnate. Rarely seen, rarely tracked, rarely caught on camera, they are believed to live high on the flanks of Kenya's mystical mountain, deep within its most impenetrable forest groves. But like their habitat, the bongos are shrouded in mist and wreathed in shape-shifting shadows.
And over the last century their numbers have shrunk so radically that today they're as mythical as unicorns. Strange then, to find one staring at you, mildly curious, over
an ice-bucket.
But then it's a strange situation. The morning sky is cloudless-blue and the jagged peaks of Mount Kenya sparkle with tropical ice. We're sitting on hay bales. In front of us, meticulously laid out, is a picnic breakfast. To one side stands a waiter, starched napkin over arm, champagne bottle in hand. To the other stands a man with a bucket of pellets. In front of us, their unusually large eyes glued to the bucket, is a herd of bongos. We're all waiting for kick-off.
The cork pops, the pellets are shaken on to the grass, and as the bongos make a headlong, if somewhat skittish, rush towards them, we make a start on the fruit. There's a lot of crunching, snorting and blowing. By the time we're on to the bacon and eggs, the pellets have disappeared and the herd is looking enquiringly towards the man with the bucket.
But he's under strict orders, as are we. They're to have no more pellets than have been carefully calibrated to ensure that they remain in peak, sleek condition. And, certainly, no croissants.
These creatures are as rare as fairy dust. It has taken many years, several million dollars and vast swathes of commitment to create a breeding herd of bongos. It's the only herd in Africa; and the bongo's last hope of survival.
It's been a brisk gallop to near-extinction for the bongo (Tragelaphus eurycerus isaaci). Until the early 1900s, bongos thrived on the higher slopes of Kenya's various mountain ranges. No wedding was complete amid the Kikuyu people without a haunch of bongo for the feast and the gift of a bongo hide wood-carrying strap for the bride. But then came hunting, rinderpestinfection, lion-predation, habitat shrinkage, poaching and the steady destruction of Mount Kenya's forests. And by 1970 the bongo looked set to follow the dodo into extinction.
Back at the picnic site breakfast is over and the bongos have vanished. One by one, they have stepped delicately back into the dense-dark undergrowth where, thanks to the brilliance of their camouflage, they have instantly disappeared. Peering deep into the dark leafy tunnels, we can just discern a bib of white below a long russet-brown face: then just a black mask around a pair of very bright eyes. Then, in utter silence, the largest forest antelope on earth completely fades away.
But this time… it's not forever.
But then a minor miracle intervened. The Mount Kenya Game Ranch, which had retained a small herd of bongos in captivity, decided to send a few carefully chosen animals to the United States of America where it was hoped they might survive. They did, and in 2004 a brave band of 18 'American cousin' bongos was shipped back to the Conservancy under the auspices of a group of globally renowned conservationists. Settled into their specially fenced bongo protection area, the incoming Americans intermingled with the local Kenyans and thereafter the great work of breeding a herd of super bongos, strong enough to return to the wild, was begun.
It was not easy. Desirable traits, such as sleek coats, elegant horns and good body shape were encouraged; crossed horns and pink noses were not. And, even today when the herd numbers 72 individuals, Donald Bunge can still look at any one of his precious charges and reel off a list of its forebears. The goal of the initiative is to expand the herd to 250 individuals, which constitutes a herd with the genetic strength to survive.
Thereafter, certain bongos will be placed in a larger sanctuary, presently being located on the wilder forested slopes of the mountain. Eventually, pioneer herds will be sent back, suitably protected, to re-establish themselves in the areas where once they thrived. Donald reckons it will take about 20 years and he is intent on seeing the mission accomplished. Why is he so zealous about the bongo? Donald's eye rests fondly on the herd, 'because they're ours,' he says. 'They live only here in Kenya. So we Kenyans must own them and keep them safe'.
Hollywood actress, Stefanie Powers – Why I Love Kenya
I first came to Kenya in 1973 with the actor, William Holden. He wanted to show me 'his' Africa; and I wanted to love everything that he loved. My initial response to Kenya was a feeling of familiarity. I felt immediately at home. The scenery was similar to that I had known in Southern California and, having grown up surrounded by exotic animals on my stepfather's stud farm I was already committed towards the preservation and celebration of all wildlife. But when I saw the Kenyan game dashing across the savannah in such great numbers – I fell immediately in love with Kenya. And I have remained so ever since.
At that time, Bill had established the Mount Kenya Game Ranch along with his partner, Don Hunt, and our visit was timed to coincide with the inauguration of a project dedicated towards capturing and relocating significant numbers of endangered Grevy's zebra from northern Kenya to Tsavo National Park, where they could be protected. I was captivated, and thereafter I began to spend more and more time in Kenya: I learned the language and the customs and, as I did so, my affection grew both for the Kenyan people and the Kenyan ecosystem, both of which continue to captivate me some 45 years later. Eventually I became a partner in the Ranch and was proud to be able to harness my celebrity in raising funds to support its work.
After Bill's untimely death in 1981, I wanted to create a living memorial to him. Bill had often told me that, despite the celebrity he had attained in his life, he had always felt that his greatest life's work had been the creation, in 1960, of the Mount Kenya Game Ranch. His dream, however, had always been to build an educational centre that would enhance and expand the Ranch's conservational work.
Bill did not live to see the establishment of such a facility but, in 1983, The William Holden Wildlife Foundation (WHWF) was established and dedicated to wildlife conservation and environmental studies for local people. Since that time, over 11,000 young Kenyans have benefitted by having first hand experience of their national wildlife legacy and, thanks to the generosity of our global donors, we have established numerous satellite educational facilities in the rural communities that surround Mount Kenya. As an initiative, WHWF has surpassed all expectations.
It has also proved a fitting memorial to the life and work of Bill Holden, whose dearest wish was to provide a sound foundation for the invaluable work he had began in the protection of earth's species for the generations to come.
Stefanie Powers is an American actress best known for her role as Jennifer Hart in the American mystery television series Hart to Hart alongside Robert Wagner, which ran from 1979 to 1984 and was translated into 8 movies in the 1990s. She is a twotime Emmy Award nominee and five-time Golden Globe nominee; the recipient of a Star on the Hollywood Walk of Fame, and the holder of the Sarah Siddons and Steiger Awards. She is the founder and president of the William Holden Wildlife Foundation
Mt. Kenya Wildlife Conservancy

Contacts

Attraction Type: Wildlife
Category: Wildlife Conservancy, Animal Sanctuary
Region: Mt. Kenya
City / Town: Nanyuki
Telephone: 254 20 232 6170
Entrance Fee: Yes
More About Kenya
Kenya is a world unto itself. Kenya is Africa's original safari destination, attracting explorers, adventurers, and travelers for centuries. A safari to Kenya is a trip of a lifetime.
Tourist Attractions in Kenya:
Kenya has one of the world's greatest tourist attractions sites, known for its diversity of landscape, wildlife, and cultures. From sweeping savannahs to tropical beaches and coral reef, dense equatorial forests to mighty snow-capped mountains, and more.
For more information visit: Tourists Attractions in Kenya
Kenya Safari
Kenya is the ultimate safari destination, providing travelers with a window into the heart of Africa. But this is not all that Kenya has to offer. Located near the equator, Kenya´s magic lies in the fact that the country encompasses an astounding variety of landscapes and climates, flora and fauna, as well as communities and cultures, home to water sports, a swim with dolphins and adventure.
For more information visit: Kenya Safari
Hotels and Accommodation in Kenya
Hotels in Kenya vary enormously in price and facilities. Luxury hotels in Kenya offer excellent standards of service and are comparable to the best hotels anywhere in the world. Kenya's abundance of natural produce, combined with the rich variety of cultures and traditions, has created a great culinary nation.
The fertile volcanic soil of the Rift Valley produces a bounty of fresh vegetables, while the coast is a great source of tropical fruit and fresh seafood. The Kenyan coast is also the home of the world-renowned Swahili cuisine, a blend of Middle Eastern and African cooking with a particular coastal twist.
For more information visit: Hotels in Kenya
Towns in Kenya
Apart from the towns of Nairobi , Mombasa, Kisumu and Nakuru, Kenya has other major towns each a unique representation of the country's striking abundance in flora and fauna. Most of these towns are headquarters in their respective counties or major economic bases in their regions. Luxury hotels and lodges located here provide good accommodation and conferencing facilities for guests who dare to try out a taste different from the capital or the coast.
For more information visit: Towns in Kenya
The Kenyan People Culture and Tradition
Kenya's culture blends together diverse tribes, traditions, and religions into one beautiful, well-woven tapestry.  These traditions complement each other while incorporating the modern influences of globalization – resulting in a vibrant cultural spirit that is uniquely Kenyan. Kenya has over 42 different tribes with different languages and several dialects. Kenyan tourism has made the Maasai and Samburu tribes the most famous because of their long preserved culture.
For more information visit: Kenya People and Tribes
---
We endeavor to keep our content True, Accurate, Correct, Original and Up to Date.
If you believe that any information in this article is Incorrect, Incomplete, Plagiarised, violates your Copyright right or you want to propose an update, please send us an email to informationcradle@gmail.com indicating the proposed changes and the content URL. Provide as much information as you can and we promise to take corrective measures to the best of our abilities.
---