A Guide To Nairobi National Museum
Nairobi National Museum is located at the Museum Hill,approximately 10 minutes drive from the Nairobi city centre. It is the flagship museum housing some of the most celebrated collections of history, culture and art from Kenya and East Africa.
The museum aims to interpret heritage of Kenya to stimulate appreciation and learning.Nairobi National Museum is open daily (including public holidays) from 0830hrs – 17300hrs.
Nairobi National Museum History
Nairobi National Museum was initiated in 1910 by the then East Africa and Uganda Natural History Society [currently the East African Natural History Society (EANHS)]. The group consisted mainly of colonial settlers and naturalists who needed a place to keep and preserve their collections of various specimens. Its first site was at the present Nyayo House in the Nairobi city centre. The site soon became small and a larger building was put up in 1922 where the Nairobi Serena Hotel now stands.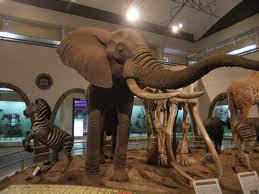 In 1929, the colonial government set aside land at the Museum Hill and construction work started at the current site. It was officially opened in Sept. 22 1930 and named Coryndon Museum in honour of Sir Robert Coryndon, one time Governor of Kenya and a staunch supporter of Uganda Natural History Society. On the attainment of independence in 1963, it was re-named the National Museum of Kenya (NMK).
On October 15th 2005, previous Nairobi Museum closed its doors to the public for an extensive modernization and expansion project that is now complete.  The outcome is impressive; the Nairobi Museum has been transformed into a magnificent piece of architecture that puts it in competition with other world class museums.
The artworks,  the materials used in the fabrication of outdoor sculptures, the landscaping and the botanic gardens, link to the three pillars of Kenya's national heritage i.e. nature, culture and history. A welcoming ambience of harmony between the galleries, the non gallery spaces, the museum landscape and its entrances, make museum visits more exciting.
The galleries have been reorganised to interpret the heritage of Kenya to stimulate appreciation and learning. To capture the feel of diversity and interactivity, there are mixed galleries to show the personality of the new museum. Under the nature pillar, there are 5 exhibitions. These are Human origins, Mammalian Radiation, Ecology of Kenya, Natural Diversity and Geology. Under Culture, the exhibitions include Cycles of Life, Cultural Dynamism and Creativity. The history pillar has two exhibitions: Kenya Before 1850 and History of Kenya.
Nairobi National Museum Contacts
THE NATIONAL MUSEUMS OF KENYA HEADQUARTERS
Address:
Museum Hill
P.O. BOX 40658
Nairobi
Kenya
00100
E-mail: publicrelations@museums.or.ke
Fax: +254 (0)20 3741424
Tel: +254-20-8164134/35/36
+254 20 3742131/4
+254 20 3742741
+254 20 3742161/4
+254721308485
More About Kenya
Kenya is a world unto itself. Kenya is Africa's original safari destination, attracting explorers, adventurers, and travelers for centuries. A safari to Kenya is a trip of a lifetime.
Tourist Attractions in Kenya:
Kenya has one of the world's greatest tourist attractions sites, known for its diversity of landscape, wildlife, and cultures. From sweeping savannahs to tropical beaches and coral reef, dense equatorial forests to mighty snow-capped mountains, and more.
For more information visit: Tourists Attractions in Kenya
Kenya Safari
Kenya is the ultimate safari destination, providing travelers with a window into the heart of Africa. But this is not all that Kenya has to offer. Located near the equator, Kenya´s magic lies in the fact that the country encompasses an astounding variety of landscapes and climates, flora and fauna, as well as communities and cultures, home to water sports, a swim with dolphins and adventure.
For more information visit: Kenya Safari
Hotels and Accommodation in Kenya
Hotels in Kenya vary enormously in price and facilities. Luxury hotels in Kenya offer excellent standards of service and are comparable to the best hotels anywhere in the world. Kenya's abundance of natural produce, combined with the rich variety of cultures and traditions, has created a great culinary nation.
The fertile volcanic soil of the Rift Valley produces a bounty of fresh vegetables, while the coast is a great source of tropical fruit and fresh seafood. The Kenyan coast is also the home of the world-renowned Swahili cuisine, a blend of Middle Eastern and African cooking with a particular coastal twist.
For more information visit: Hotels in Kenya
Towns in Kenya
Apart from the towns of Nairobi , Mombasa, Kisumu and Nakuru, Kenya has other major towns each a unique representation of the country's striking abundance in flora and fauna. Most of these towns are headquarters in their respective counties or major economic bases in their regions. Luxury hotels and lodges located here provide good accommodation and conferencing facilities for guests who dare to try out a taste different from the capital or the coast.
For more information visit: Towns in Kenya
The Kenyan People Culture and Tradition
Kenya's culture blends together diverse tribes, traditions, and religions into one beautiful, well-woven tapestry.  These traditions complement each other while incorporating the modern influences of globalization – resulting in a vibrant cultural spirit that is uniquely Kenyan. Kenya has over 42 different tribes with different languages and several dialects. Kenyan tourism has made the Maasai and Samburu tribes the most famous because of their long preserved culture.
For more information visit: Kenya People and Tribes
Watch a tour video of Nairobi National Museum
---
We endeavor to keep our content True, Accurate, Correct, Original and Up to Date.
If you believe that any information in this article is Incorrect, Incomplete, Plagiarised, violates your Copyright right or you want to propose an update, please send us an email to informationcradle@gmail.com indicating the proposed changes and the content URL. Provide as much information as you can and we promise to take corrective measures to the best of our abilities.
---