A Guide To Nairobi National Park Kenya
Nairobi National Park Kenya is Kenya's oldest National Park and the first to be established in East Africa. It is the crown jewel of Kenya's conservation drive, and is very unique in its offering. No other city in the world can boast of a natural wilderness, teeming with wildlife and home to over 400 species of birds, just ten Kilometers from the city center.
With an oasis of lion-gold plains, acacia-fringed rivers, leopard- stalked cliffs, plunging gorges and murky hippo pools, this versatile park hosts its own wildebeest migration and is the only place on earth where you can find black and white rhinos grazing against the silhouettes of office blocks and skyscrapers.
Facts About Nairobi National Park
Area: 117 sq km
Birds: More than 400 recorded species
Location: Nairobi District, Nairobi Province
Altitude: 1,540 -1,780 meters above sea level
Gazetted: Gazetted in 1945, opened December 1946
Distance from Nairobi City Centre: 8 km from the centre of Nairobi, Kenya's capital city
Climate: January-March, hot and dry. April-June, hot and wet. July-October, very warm and dry. November and
December warm and wet
Vegetation: The Park has three main zones: forest at the western end, riverine forest to the south and grassy plains over
much of the Park
Wildlife: Over 100 recorded species of wildlife biodiversity to include rhino, buffalo, lion, leopard, crocodile and hippo
(no elephant)
Roads: The road network is well maintained, efficiently signed and can be used by 2WD vehicles all year round. Some
sections may require 4WD during the rains
Special features: The Nairobi Safari Walk, The Animal Orphanage, The Kifaru Ark shop and The Wildlife Conservation Education Centre (including a library and museum)
Other Facts Include;
The only Wildlife park in the world that is so close to the city
Black rhinoceros :which is an endangered species
The first park to be gazetted in Kenya on December 16, 1946
Major rhino sanctuary for breeding and restocking other parks
Diverse birdlife:Has over 400 bird species. At least 20 of which are seasonal European migrants.
Home to over 100 mammal species, four of the Big Five (lion, Buffalo, leopard and  rhino)
Has a spectacular wildebeest and zebra migration
Large predators- lion, leopard, hyena and cheetah.
Aggregations of large herbivores- eland, buffalo, zebra and wildebeest
Ivory Burning Site Monument
Walking trails at hippo pools
Nairobi Safari Walk & the Orphanage.
Spacious accommodating picnic sites
What To See At Nairobi National Park
Lion – gold plains, dappled shade and cool valleys
With long, sloping plains of black cotton soil scoured by deep river valleys and gorges, Nairobi National Park is full of unexpected beauty and diverse habitats which include rolling grassy plains, riverine woodland, dense thickets, rocky gorges, dry upland forest and man-made dams & pools.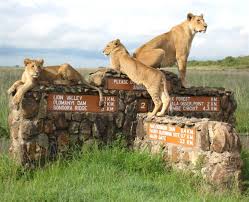 Nairobi National Park Tour – The wildlife watching experience
On the Western end of Nairobi National Park right near the main entrance is where most of the woodland is concentrated making it a good location to spot giraffes and (at dawn) leopards. The various man-made dams and ponds draw concentrations of animals especially during the dry season ranging from Zebra, Maasai giraffe, buffalo, antelope etc. The Nairobi National Park's thriving prides of lions prefer the open country while the Cheetah families can be spotted sunbathing on top of the directional signs. The cheetah can be spotted in the plains with the elusive leopard spotted occasionally at dawn.
Nairobi National Park Tour  – A thriving rhino sanctuary
Nairobi National Park is one of Kenya's most successful rhino sanctuaries and has received wide acclaim all over the world. The park has the highest density of black rhino in the country and is also the home for the white rhino.
Nairobi National Park Tour – An ornithological paradise
Nairobi National Park exceptional birdlife records a remarkable 400 species; their numbers swell up in March-May when a host of European migrants make the park their home. Look out for the marabou storks, vultures and hawk eagles perched high in the acacia trees and on the grasslands for secretary birds, bustard, ostrich and the gorgeous Jackson's widowbird.
What To Do At Nairobi National Park – Pick of the picnic & event sites
An ideal day trip venue or green escape from the city, this versatile park offers the following selection of picnic and event sites.
Impala observation point: High on a hill just minutes from the main gate this site offers a stone-built rondavel with panoramic views and a picnic area (with latrines).
The ivory burning site: Famous as the place where l2 tonnes of ivory were burnt by former President Moi in 1989 to show Kenya's commitment to the conservation of elephants and our emphasis on zero trade in ivory, the site offers a spacious and convenient venue for picnics and bush functions.
Kingfisher picnic site: A green shaded area with picnic tables, ideal for early morning bush breakfasts.
Mokoiyet picnic site: An open cliff top site with shaded tables, latrines and extensive parking. Close by is Leopard cliff observation point, looking down into the Mbagathi river gorge below.
Hippo pools and nature trails: A short self-guided nature trail (Patrolled by KWS rangers) leads out of a shaded picnic area (latrines and running water available) along the Athi River and offers the opportunity of viewing hippo, crocodile, monkey, terrapin and a large variety of birds.
Other attractions outside Nairobi National Park

Nairobi Safari Walk
The Safari Walk (just before and to the right of the main gate) offers the rare chance of viewing different animals behaving as they would in their natural habitat. Transversed by panoramic raised timbered boardwalks it also makes for an informative walk and an enjoyable family outing.
The Animal Orphanage
This small enclosure shelters a shifting population of orphaned, abandoned or wounded animals, most of whom are regaining their strength before being released back into the wild.
Dinning and shopping facilities
Shop for essential items before your game drive or unwind after you experience a drive in the national parks in these cool facilities. Whether you need a souvenir, snack or meal in the breeze, the choice is yours. Take a break in the shops and two restaurants conveniently located within the KWS headquarters. Your visit to Nairobi National Park will not be complete without a visit to these facilities.
Kifaru shop
The shop holds a variety of souvenir items such as maps, postcard, diaries, wildlife DVD's and reference books as well as providing visitors items required during a game drive.
The Club House
Located only lkm from the main park entrance, the facility offers a visitor a serene and quiet environment to unwind after a game drive. Meals and drinks are also available at reasonable prices. Hire of the grounds can be done for social and corporate functions with a capacity of 350 persons.
Rangers' Restaurants
this one ofits kind traditionally built and nestled between Nairobi safari walk. The restaurant overlooks the national park and gives you the feeling of being in the bush away from the hustle and bustle ofthe city centre.
Sebastian cafe
A self service café named after the famous Sebastian chimpanzee, this fabulously shaded restaurant lets you enjoy a meal at a reasonable price against the backdrop of Nairobi safari walk.
Mega gift shop
A shop providing various services including a small café a major gift with various items.
Accommodation And Hotels At Nairobi National Park
Twiga campsite
Located just 500meters off Mombasa Road is the parks Twiga campsite. A camper will find a serene environment with modern facilities including hot water showers and electricity.A modern kitchen area is also provided. Located within the forest area is a special campsite that is fully equipped.
Campsites in Nairobi National Park
Ivory Burning Site
Impala Observation Point
Kingfisher Campsite
Accommodation in Nairobi city
Nairobi city offers an abundance of accommodation options. For Further information please consult your travel agent.
When to visit Nairobi National Park

The park is accessible all year round.
How to get to Nairobi National Park

Open:
Daily 6.00am-7.00pm including public holidays.
Note: no entry is allowed on foot and visitors will not be allowed entry after 6.00 pm.
Current entry charges:
Obtainable via KWS HQ Tel 🙁 Nairobi) +254 (20) 6000800, 6002345.
Email: marketing@kws.go.ke – Website: www.kws.go.ke
'Safari Card' required?
Entry is by Safari Card may be obtained and loaded at the main Gate off Lang'ata Road. A loaded safari card allows access through the parks main entrance, East gate (along Mombasa Road), Maasai gate and Langata gate (along Magadi Road)
What to take with you to Nairobi National Park
Drinking water and picnic items. Also useful are: Camera, binoculars, hat, sunscreen, sunglasses, insect repellent and guidebooks.
Citizen    
Adults KSH: 500
Child KSH: 300
Resident
Adults KSH: 1200
Child KSH: 600
Non – Resident
Adults USD:50
Child USD: 25
Nairobi National Park Contacts
Attraction Type: Wildlife
Category: National Park
Region: Nairobi
City / Town: Nairobi
Road / Street: Langata Road
Telephone: 254 20 242 3423
Email: nnp@kws.go.ke
Entrance Fee: Yes
Nairobi National Park Tour – Video
---
We endeavor to keep our content True, Accurate, Correct, Original and Up to Date.
If you believe that any information in this article is Incorrect, Incomplete, Plagiarised, violates your Copyright right or you want to propose an update, please send us an email to informationcradle@gmail.com indicating the proposed changes and the content URL. Provide as much information as you can and we promise to take corrective measures to the best of our abilities.
---