A Guide To Nyang'oma Kogelo Village
Nyang'oma Kogelo Village is now culturally marked by the local community as the birth place of the father of the 44th President of USA, Barack Obama. It is now a showcase of culture, pride and humility, as depicted from its humble originality and relationship with the worlds greatest political leadership.
Nyang'oma Kogelo, also known as Kogelo, is a village in Siaya County, Kenya. It is located near the equator, 60 kilometres (37 mi) west-northwest of Kisumu, the former Nyanza provincial capital. The population of Nyangoma-Kogelo is 3,648.
Services
Nyang'oma Kogelo is a typical rural Kenyan village with most residents relying on small-scale farming as their main source of income. The village has a commercial centre with various shops and a bar offering shopping and recreation to the populace. The villagers practice different religions and coexist peacefully. However, in 2009, the Nyang'oma Seventh-day Adventist Church was involved in the attempted conversion of Barack Obama's step-grandmother Sarah Obama to Christianity. Following counsel from her family, she opted out of the arranged public conversion and baptism and remained a Muslim.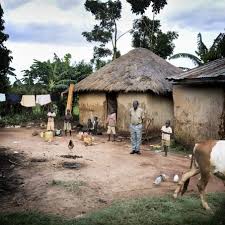 The village has a primary school (Senator Obama Primary School) and a high school (Senator Obama Secondary School). The land for both schools was donated by Barack Obama, Sr., a native of the village, and they were renamed in 2006 after his son Barack — then a United States Senator. There is also a health centre.
Prior to the 2008 US presidential election, the village had no electricity, but was connected to the national grid immediately following Obama's victory, owing to the consequent rise in interest in the village. The village also saw its first Kenya Police post set up in the wake of the election outcome
The village is along the unpaved C28 road between Ng'iya  and Ndori  junctions. Less than 10 kilometres north of Kogelo, Ngiya is located along the Kisumu – Siaya road (C30 road). Few kilometres south of Nyang'oma Kogelo, a bridge built in 1930 crosses the Yala River flowing to Lake Victoria, before the road reaches Ndori along the Kisumu – Bondo road (C27 road).
Administration
Nyang'oma Kogelo is part of South East Alego electoral ward of Siaya County Council and Alego Constituency. Following the 2007 civic elections, the local councillor is Julius Okeyo Omedo of Orange Democratic Movement. South East Alego is also an administrative location in the Karemo division of Siaya district. The location has a population of 17,294. As of 2008, the chief of the location is James Ojwang' Obalo, whose office is located next to the Nyang'oma Kogelo shopping centre
Obama fame
Since 2006, the village has received international attention because it is the hometown of Barack Obama, Sr., the father of current United States President Barack Obama. Barack Obama, Sr. is buried in the village. Some of their family members, including his paternal step-grandmother Sarah Onyango Obama, still live in the village.
Because of its connection with the American president, the village is expected to be visited by many tourists from the US and other countries. The Kenyan government is promoting it as a tourist attraction of western Kenya. An Obama-themed museum was to be built by the Kenyan government and opened in the village in 2009. A Nairobi-based cultural organisation will build the Dero Kogelo Library and Cultural Centre in the village
Nyang'oma Kogelo Village

Contacts

Attraction Type: Culture
Category: Cultural Centre
Region: Western
City / Town: Siaya
Telephone: +254 719 256207, +254 722 788879, +254 720 074965
Entrance Fee: Yes
More About Kenya
Kenya is a world unto itself. Kenya is Africa's original safari destination, attracting explorers, adventurers, and travelers for centuries. A safari to Kenya is a trip of a lifetime.
Tourist Attractions in Kenya:
Kenya has one of the world's greatest tourist attractions sites, known for its diversity of landscape, wildlife, and cultures. From sweeping savannahs to tropical beaches and coral reef, dense equatorial forests to mighty snow-capped mountains, and more.
For more information visit: Tourists Attractions in Kenya
Kenya Safari
Kenya is the ultimate safari destination, providing travelers with a window into the heart of Africa. But this is not all that Kenya has to offer. Located near the equator, Kenya´s magic lies in the fact that the country encompasses an astounding variety of landscapes and climates, flora and fauna, as well as communities and cultures, home to water sports, a swim with dolphins and adventure.
For more information visit: Kenya Safari
Hotels and Accommodation in Kenya
Hotels in Kenya vary enormously in price and facilities. Luxury hotels in Kenya offer excellent standards of service and are comparable to the best hotels anywhere in the world. Kenya's abundance of natural produce, combined with the rich variety of cultures and traditions, has created a great culinary nation.
The fertile volcanic soil of the Rift Valley produces a bounty of fresh vegetables, while the coast is a great source of tropical fruit and fresh seafood. The Kenyan coast is also the home of the world-renowned Swahili cuisine, a blend of Middle Eastern and African cooking with a particular coastal twist.
For more information visit: Hotels in Kenya
Towns in Kenya
Apart from the towns of Nairobi , Mombasa, Kisumu and Nakuru, Kenya has other major towns each a unique representation of the country's striking abundance in flora and fauna. Most of these towns are headquarters in their respective counties or major economic bases in their regions. Luxury hotels and lodges located here provide good accommodation and conferencing facilities for guests who dare to try out a taste different from the capital or the coast.
For more information visit: Towns in Kenya
The Kenyan People Culture and Tradition
Kenya's culture blends together diverse tribes, traditions, and religions into one beautiful, well-woven tapestry.  These traditions complement each other while incorporating the modern influences of globalization – resulting in a vibrant cultural spirit that is uniquely Kenyan. Kenya has over 42 different tribes with different languages and several dialects. Kenyan tourism has made the Maasai and Samburu tribes the most famous because of their long preserved culture.
For more information visit: Kenya People and Tribes
---
We endeavor to keep our content True, Accurate, Correct, Original and Up to Date.
If you believe that any information in this article is Incorrect, Incomplete, Plagiarised, violates your Copyright right or you want to propose an update, please send us an email to informationcradle@gmail.com indicating the proposed changes and the content URL. Provide as much information as you can and we promise to take corrective measures to the best of our abilities.
---