A Guide To Ol Pejeta Conservancy
Ol Pejeta Conservancy is a mosaic of grass plains, wooded grassland, Acacia woodland and evergreen thicket extending for over 90,000-acre (360 km2). It is one of the only wildlife protection areas that's home to very high numbers of endangered species including non-indigenous chimpanzees and the Big Five.

The Ol Pejeta Conservancy is a 90,000-acre (360 km2) not-for-profitwildlife conservancy in Central Kenya's Laikipia County. Ol Pejeta Conservancy, East Africa's Largest Black Rhino Sanctuary, is situated at the foot hills of the Aberdares and the magnificent snow-capped Mount Kenya. The Ol Pejeta Conservancy works to conserve wildlife, provide a sanctuary for great apes and to generate income through wildlife tourism and complementary enterprises for re-investment in conservation and community development.
The Ol Pejeta Conservancy is one of the only wildlife protection areas that's home to very high numbers of endangered species. Aside from the big 5, more than a thousand different mammals and bird species roam the wild. The Conservancy boasts the largest black rhino sanctuary in East Africa, and in 2013 reached a population milestone of 100 black rhino. It also houses the three remaining northern white rhino in the world, who were moved here from Dvůr Králové Zoo in the Czech Republic.
The Sweetwaters Chimpanzee Sanctuary is situated here, and provides a haven for orphaned, abandoned and rescued chimpanzees. It is the only place in Kenya where these great apes can be seen. The Conservancy is host to the "Big five game" among a large selection of other African animals, which makes it a popular safari destination. It also operates a successful livestock program, which serves to benefit local pastoralists and wildlife. Through the conservancy's community development programme, Ol Pejeta provides funding to surrounding communities to aid health, education, water and infrastructure projects. They also support the provision of agriculture and livestock extension services and the development of community-based conservation tourism ventures.
Ol Pejeta boasts an astounding variety of animals including non-indigenous chimpanzees and the Big Five (the endangered black and white rhino, leopard, elephant, buffalo & lion). The combination of amazing wildlife and stunning views across the open plains guarantees an unforgettable safari experience.
Things to see at Ol Pejeta Conservancy
Wildlife
Ol Pejeta Conservancy is home to over 40 chimpanzees, 88 endangered black rhino, 5 endangered white rhinos, elephants, lion, leopard, buffalo, grevy zebra, giraffe, cheetah, thomson's gazelle, black-back jackals, ostrich, grant's gazelle, baboons, waterbuck, oryx, eland and several hundred bird species.
Baraka, a Black Tamed Rhino
Baraka was the first rhino to be born in the wild on Ol Pejeta, aptly named Baraka meaning blessings in Swahili. He is now completely blind due to a fight with another rhino which lost him an eye and then sadly he developed a crystallized cataract in the other which is beyond repair. His disability has meant that he could not be returned to the wild. It is for this reason that the Ol Pejeta Conservancy has created a feeding platform from which visitors can feed Baraka three times a day.
Things to do at Ol Pejeta Conservancy
Game Drives
Ol Pejeta Conservancy offers the unique pleasure of day and night game drives. Night game drives last approximately two hours and are your opportunity to see some nocturnal wildlife on Ol Pejeta. The night game drives are a very enjoyable experience: you will travel in an open game drive vehicle with very knowledgeable guides.
During the drives, your tracker uses a powerful spotlight searching for the nocturnal animals. Expect to see a wide variety of animals not normally seen during the day, including aardvarks, bat-eared fox, porcupines, bushbabies, bushbucks, mongoose, genet cats and a number of nocturnal birds.
Lion Tracking
Guests are offered a unique opportunity to spend a morning with Ol Pejeta Conservancy's predator research team. A few of the lions have been fitted with radio collars, and you can accompany one of our specialised lion trackers as he searches for their signal. When a pride is found, you can help identify individual lions by recording whisker patterns, scars, ear tears and other characteristics. The data you collect goes straight to our ecological monitoring department, and helps us find solutions to the challenges facing Laikipia's lions.
The Cultural Manyatta on Ol Pejeta
Conservancy allows visitors to experience "up close" the daily lives and activities of various nomadic Kenyan tribes. The Manyatta also provides an income opportunity for the community that lives there.
Wildlife and cattle integration is a practice being successfully undertaken on Ol Pejeta Conservancy. Cattle graze in the conservancy in a controlled and well presented manner and are kept at night in predator proof "bomas".
Ol Pejeta Junior Rangers
Children aged between 4 and 12 years can become an Ol Pejeta Junior Ranger for a day by purchasing one of the exciting Junior Ranger Packs. The pack includes an activity booklet, crayons and stickers all contained within a special Ol Pejeta bag. As you journey through the Conservancy, the idea is to work through all of the questions and games in the booklet. At the end of your journey, the Tourism Team at Morani Information Center will be waiting for you and will ask you to repeat the official ranger oath, before presenting you with a ranger hat, a certificate and an honorary pin.
Bush breakfasts & picnics
Visit the Sweetwaters Chimpanzee Sanctuary
Visit the Endangered Species Enclosure
Camel Riding
Ol Pejeta Conservancy Entrance Fee
East African Citizen
Adult Ksh 1,100
Child Ksh 550
Student Groups Ksh 275
East African Resident
Adult Ksh 2,200
Child Ksh 1,100
Student Groups Ksh 550
Non Resident
Adult USD 85
Child USD 42
Student Groups USD 21
How to get to Ol Pejeta Conservancy
Ol Pejeta Conservancy is located 270 kilometers from Nairobi. Ol Pejeta Conservancy's (Sweetwaters Game Reserve) main gate is 14 kilometers from the equator turn off, just before Nanyuki town. Visitors can also enter via Serat Gate on the Rumuruti road.
By road: The drive to Ol Pejeta from Nairobi takes about 3-4 hours. The road from Nairobi to Nanyuki is tarmacked, and the last 13 kilometres to Ol Pejeta is dirt. From Nakuru/ Naivasha; it is best to take the road via Nyahururu and Nyeri to enter Ol Pejeta through Nanyuki. About 6.5km after Nanyuki airstrip, there is a sign to Ol Pejeta on the left, and it is signposted all the way to Rongai Gate. 4×4 vehicles are essential in the rainy season. Note that the road around the west and north of the Conservancy is only practicable with a large 4WD and very difficult in wet conditions.
By air: There are daily scheduled flights from Nairobi Wilson Airport to Nanyuki airstrip, which is a 45 minute drive from Ol Pejeta. Air Kenya and Safarilink both offer services to Nanyuki from Nairobi. All accommodation providers on Ol Pejeta can arrange a transfer to and from the airstrip. It is also possible to charter a flight from any other wildlife conservancy or airstrip, into Ol Pejeta's airstrip (currently only open to charter flights).
A Map to Ol Pejeta Conservancy

Ol Pejeta Conservancy Accommodation
When visiting the Ol Pejeta Conservancy, you will be accommodated in one of our five luxurious facilities.
Sweetwaters Serena Camp
It's location in a private conservancy with a higher wildlife-to-area ratio than any of Kenya's national parks makes Sweetwaters Serena Camp one of the best tented safari camps in Kenya.
A sheltered oasis, clustered around a water hole and set in the pristine calm of the private Ol Pejeta Conservancy Sweetwaters Tented Camp is in a class of its own. Sweetwaters Serena Camp offers a charming blend of under-canvas ambiance and Kenyan safari luxury.
Located on the plains of Mount Kenya, the camp features thirty-nine luxury tents, each with its own private veranda overlooking the water hole. The central Rhino Restaurant is housed in the former manager's house of this once colonial farm, and offers both regional and international cuisine. Also within the house is the Kashoggi Bar and lounge, which centres on a blazing log fire. The Waterhole Bar, built in the style of a game-viewing hide, overlooks the waterhole and offers unrivalled wildlife-watching.
Abounding with wildlife, unfettered by the more rigorous strictures of the Kenyan National Parks and designed to offer a charming blend of under canvas ambiance and uncompromising luxury, Sweetwaters Tented Camp has long been the preferred retreat of wilderness and safari lovers alike.
Facilities
Day and night game drives daily
Luxury tented camp accommodation
Swimming pool and extensive grounds
Central Rhino Restaurant

Colonial-styled lounge and bar
Extensive grounds
Private waterhole and night viewing bar
Conference room
Wedding planning and honeymoon venue
Gift shop, business centre, Wi-Fi
Satellite TV room
Camel treks, guided nature walks, bird spotting
Cultural dance and music
Sweetwaters Serena Camp
Ol Pejeta House
Ol Pejeta House safari lodge is a hidden gem amidst the unspoilt majesty of the Kenyan wilderness. It is a beautiful private house set within the pristine calm of the Ol Pejeta Conservancy. Ol Pejeta House is located a short distance from Sweetwaters Serena Camp.
Accommodation
2 superior guest rooms with ensuite bathrooms and dressing room
2 standard guest rooms with double bed, ensuite with bathroom and terrace
Buffalo Cottage with 2 Deluxe Rooms and a Fireplace
Porini Rhino Camp
Porini Rhino Camp is located within Ol Pejeta Conservancy, in a secluded valley and set amongst shady acacia trees on the banks of a seasonal river. Porini Camps are intimate bush camps that have a low carbon footprint and with a focus on conservation and providing benefits to the local communities while providing guests with an authentic safari experience, away from the crowds.
Accommodation
The camp consists of six spacious guest tents, each comfortably furnished with en suite bathrooms that have flush lavatories and safari showers. The camp is very environmentally-friendly with solar powered lighting and no generator.
Kicheche Camp
Kicheche Camp is a small luxurious tented camp, nestled at the foot of indigenous forest overlooking a waterhole, in the centre of the Ol Pejeta Conservancy. Six sumptuous tented suites provide the ultimate bush experience for a maximum of twelve guests. An intimate and personalized atmosphere prevails in this superbly hosted camp.
Kicheche Laikipia Camp offers a wide range of activities including walking safaris, game viewing (day & night)in a 4WD vehicle, mountain biking safari's, lion tracking, canoeing, and visits to the Wildlife Educatonal centre, Chimpanzee sanctuary and Northern White rhino enclosure.
Kicheche Camp
Olpejeta Bush Camp
Ol Pejeta Bush Camp is located on the banks of the Ewaso Nyiro River in the Ol Pejeta Conservancy in the foothills of the Aberdares with magnificent views of Mount Kenya. The wildlife is never far away from the camp – on the opposite bank of the river is a salt lick, attracting a variety of game throughout the day and night.
This small bush camp offers guests the opportunity for a unique kind of safari experience in Kenya. Their Four-Night Interactive Conservation Safari gives a new insight into modern wildlife conservation. During your days with Alex, you will encounter behind-the-scenes of daily life on this working wildlife conservancy and cattle ranch. Guests are welcome to spend just one or two nights looking at some of these elements – or as long as they want – being as active, interactive, or as relaxed as they like when staying in camp.
Accommodation
Ol Pejeta Bush Camp has 6 tents with twin OR double beds, accommodating a total of 12 guests. There is also 1 family tent taking up to 4 people. The camp can be booked exclusively for a family or group of 4 or more for a small supplement per night. Further temporary tents can be added for larger groups if necessary.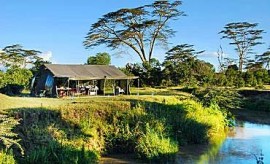 Ol Pejeta Conservancy Contacts
Attraction Type: Wildlife
Category: Wildlife Conservancy, Animal Sanctuary
Region: Mt. Kenya
City / Town: Laikipia
Telephone: 254 20 232 6170
Email: info@olpejetaconservancy.org
Website: http://www.olpejetaconservancy.org
Entrance Fee: Yes
More About Kenya
Kenya is a world unto itself. Kenya is Africa's original safari destination, attracting explorers, adventurers, and travelers for centuries. A safari to Kenya is a trip of a lifetime.
Tourist Attractions in Kenya:
Kenya has one of the world's greatest tourist attractions sites, known for its diversity of landscape, wildlife, and cultures. From sweeping savannahs to tropical beaches and coral reef, dense equatorial forests to mighty snow-capped mountains, and more.
For more information visit: Tourists Attractions in Kenya
Kenya Safari
Kenya is the ultimate safari destination, providing travelers with a window into the heart of Africa. But this is not all that Kenya has to offer. Located near the equator, Kenya´s magic lies in the fact that the country encompasses an astounding variety of landscapes and climates, flora and fauna, as well as communities and cultures, home to water sports, a swim with dolphins and adventure.
For more information visit: Kenya Safari
Hotels and Accommodation in Kenya
Hotels in Kenya vary enormously in price and facilities. Luxury hotels in Kenya offer excellent standards of service and are comparable to the best hotels anywhere in the world. Kenya's abundance of natural produce, combined with the rich variety of cultures and traditions, has created a great culinary nation.
The fertile volcanic soil of the Rift Valley produces a bounty of fresh vegetables, while the coast is a great source of tropical fruit and fresh seafood. The Kenyan coast is also the home of the world-renowned Swahili cuisine, a blend of Middle Eastern and African cooking with a particular coastal twist.
For more information visit: Hotels in Kenya
Towns in Kenya
Apart from the towns of Nairobi , Mombasa, Kisumu and Nakuru, Kenya has other major towns each a unique representation of the country's striking abundance in flora and fauna. Most of these towns are headquarters in their respective counties or major economic bases in their regions. Luxury hotels and lodges located here provide good accommodation and conferencing facilities for guests who dare to try out a taste different from the capital or the coast.
For more information visit: Towns in Kenya
The Kenyan People Culture and Tradition
Kenya's culture blends together diverse tribes, traditions, and religions into one beautiful, well-woven tapestry.  These traditions complement each other while incorporating the modern influences of globalization – resulting in a vibrant cultural spirit that is uniquely Kenyan. Kenya has over 42 different tribes with different languages and several dialects. Kenyan tourism has made the Maasai and Samburu tribes the most famous because of their long preserved culture.
For more information visit: Kenya People and Tribes
Watch a Video of Ol Pejeta Conservancy
---
We endeavor to keep our content True, Accurate, Correct, Original and Up to Date.
If you believe that any information in this article is Incorrect, Incomplete, Plagiarised, violates your Copyright right or you want to propose an update, please send us an email to informationcradle@gmail.com indicating the proposed changes and the content URL. Provide as much information as you can and we promise to take corrective measures to the best of our abilities.
---