Onion Farming in Kenya
Small scale onion farming in Kenya is gaining popularity. It is also becoming popular because it is affordable to start and its returns are high
Onion farming in Kenya can be done in greenhouses and open gardens. The most commonly used onion is the bulb onion. It is locally consumed and available from roadside sellers to supermarkets.
Onion Farming in Kenya – Ecological Requirements
Topology:- The land should be more or less flat and have access to irrigation water.
Soil Type:- The soil should be light and well-draining. It must be free of aggressive weeds like couch grass and should also be in full sun. The soil should be tested to determine soil fertility
Soil pH:- Onions need a pH of 6 to 6.8. If the pH is below 6, apply calcitic lime at the rate recommended by your soil test results.
Seed Rate:- An acre of land will need about 1kg of seeds. Mix them with the same amount of sand. Fill the furrows evenly with the sand-seed mix.

Onion Farming in Kenya – High Yielding Varieties
High yielding varieties in Kenya today include:-
Jambar F1
Red Pinoy F1
Red Comet F1
Red passion F1
Onion Farming in Kenya – Land Preparation
Prepare the land about a month before and incorporate about three tonnes of chicken manure. Loosen the soil deeply and prepare the land to a fine tilth.
Onion Farming in Kenya – Nursery Preparation
Start with a small seedbed, which can either be raised if the water is not a problem or sunk to capture more water. Prepare it 4ft wide with eight rows 10 to 15cm apart. Make 1cm deep furrows along the rows.
Onion Farming in Kenya – Transplanting
Transplant when your seedlings have gained the size of a pencil and show four to five leaves. Prior to transplanting, water the seedbeds heavily until they are saturated to avoid damage to the seedlings. To help your seedlings recover quickly once transplantation, prepare a liquid fertilizer from comfrey leaves, which contain Vitamin B12. Mix it with some soil and fresh manure until it forms a sort of sludge.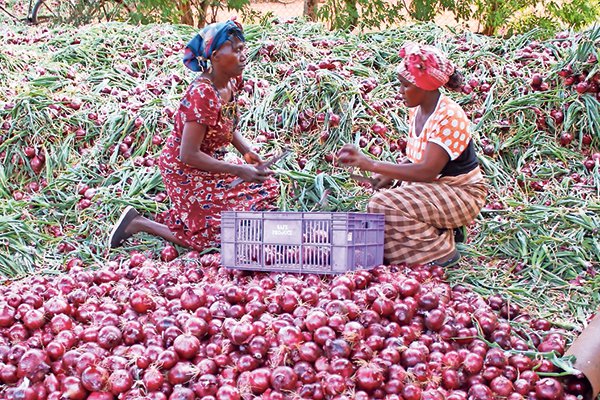 Pull up your seedlings from the wet seedbed carefully or use a trowel. Dip them in the manure-comfrey mix so that the roots are covered in it. Bunch about 50 seedlings together and cut off 50 percent of the green tops. Transport them to the field and transplant as soon as possible.
Onion Farming in Kenya – Planting
You can grow onions using transplants, seeds or sets. Transplants are seedlings that usually are started in the growing season; they usually form good bulbs within a short time 60 days or less. Sets are bulbs that are not yet mature from the previous season. They are very easy to plant, harvest and are quite resistant to diseases. The only downside they have is they may bolt (shoot up a flower stalk prematurely)
If you plant onion sets, the sets may be identified only as white, red, or yellow, rather than by variety name. Most growers prefer white sets for green onions. Growing onions from seed offer one a wide variety of choice. The only disadvantage is that you have to wait up to 5 months for the onions to mature. Irrigate the field well the day before transplanting and plant in rows one foot apart and leave 8cm space between plants within the row. Since planting onions too closely reduces the bulb size.
Onion Farming in Kenya – Watering
In onion farming in Kenya where climatic conditions vary it is important to consider watering. Very dry conditions cause bulbs to split. It is a good practice to water them moderately weekly. Onions do not do well with weeds and it is a good practice to do the weeding. You can use a sprinkler or pipe to water your onions. A good time to water them is early in the morning. If you water them in the heat of the day a lot of water is lost to evaporation. A good practice when watering the onions is to avoid watering them from above in the evening as moisture settling on leaves easily cause diseases.
Onion Farming in Kenya – Weeding
Onions develop slower than other vegetable crops and are more susceptible to weed competition especially during the early growth stages, this can result in yield losses. Weeds can be controlled successfully through either pre- or post-emergence herbicides, use only registered products. Care should be taken to avoid damage to the bulbs when mechanical weed control measures such as hoeing are used.
Onion Farming in Kenya – Pests and Fungal Diseases
Onion thrips are usually common in onions. The leaves will turn silverish and dry. Boil a cup of chopped rhubarb leaves in six cups of water. Leave to cool, add some liquid soap, strain, and spray. But be careful, this concoction is poisonous.
If mildew or other fungal diseases become a problem, spray with copper. On soils with boron deficiency, a foliar feed with 20g boric acid per acre is necessary. Sulfur or calcium deficiencies also need to be addressed if shown by a soil test.
Onion Farming in Kenya – Harvesting
The best time for onion harvesting is during the dry season, farmers should a calendar and record the essential dates to ensure they harvest at the right time. Bulb onions are ready for harvesting once they form a shiny membranous cover around the bulbs or when the foliage withers. Spring onions are ready for harvesting when they are 15 centimeters tall and 1.5 centimeters thick. Harvesting is done by pulling the bulbs and then chopping off the leaves. You then dry the bulbs in the sun before storing the produce.
 Onion Farming in Kenya – Onion Farming in Summary
To get the best results with onions you need to start them in a Nursery. Here is how to do this;
Make a raised nursery bed 1 meter wide and any desired length.
Apply well-decomposed manure at a rate of 15kg per square meter.
Mix and Apply DAP fertilizer at a rate of 20 grams per meter square
Make shallow furrows 15 cm apart. Mix the seeds with dry ash, sand or soil at a ratio of 1:3 to help spread the small seeds.

Plant the seeds and cover lightly with soil and apply mulches ( Grass or Polythene cover spread over the soil on the nursery bed)
After planting irrigate the nursery bed liberally for the first 10 days and continue watering regularly.
Germination of seeds will take about 7-10 days after which the mulches are removed and used to make a shade above the tender plants which have not fully developed.
Transplanting of the seedlings takes place 6 weeks after planting seeds in the nursery. Transplant when the seedlings have a pencil-thick base and a height of approximately 15cm.
Seedlings should have 3 to 5 well-formed leaves at transplanting time. Two weeks before transplanting reduce the shade to improve seedling survival rate in the field.
It takes about 4 months for onions to mature
Onion farming in Kenya can be done in greenhouses and open gardens.
Onion Farming in Kenya – Factors to consider before planting
Market availability,
Price of the onions
variety of the plant.
Frequently Asked Questions About Onion Farming in Kenya
How Much Do I Need To Start Onion Farming In Kenya?
There are two types of onions that deliver high production in Kenya: spring onions and bulb onions. Whichever type a farmer chooses to plan, you can expect your onions to take between 3 and 4 months to reach maturity and become ready for harvesting. For one hectare of onions, you will need around KES 100,000 capital. This money will go to plowing the land, buying bulbs, labor costs, and other expenses.
How Much Can I Make from Onion Farming in Kenya?
Yield and profitability from onion farming in Kenya depend on a number of factors, including variety planted, fertility, geographical location, effects of diseases, and availability of rainfall. On average, one hectare of red Creole onions yield up to 17 tonnes. And because it takes up to 4 months from planting to harvesting, that averages 4 tonnes per month per hectare. The average market price of onions is KES 50 per kg. When you crunch the numbers that mean you can make an average of KES 800,000 per hectare, delivering 800% ROI.
Basic Requirements for Onion Farming in Kenya?
When it comes to temperature, onions perform well in areas with 13-35 degrees-Celsius. That means onions can do well in most parts of Kenya and throughout the year. However, the average rainfall is needed. As such, semi-arid areas like Ukambani, Tana River, and North Eastern might require the use of drip irrigation and greenhouses. You also have to apply appropriate fertilizers to boost production. In that case, 20 grams of DAP fertilizer per 1 square meter or foliar feed application can suffice. When it comes to seedling, you can use 1kg of seeds to plant 1 acre of well-prepared land.
Which Areas Do Onions Do Well?
Again, red Creole onions are quite popular in Kenya. The best-suited areas for onion farming in Kenya include Oloitoktok, Karatina, Email, Kieni, Naivasha, Namanga, Mai Mahiu, and other cool wet areas with well-drained sand loamy soil.
How long do onions take to mature after transplanting?
Twenty to 50 onions can grow in 1 to 1½ square feet of space. But onions are easily grown in odd spaces alongside both slower and faster-growing vegetables. Green onions can be ready in 20 to 30 days after planting. Dry bulb onions can take 100 to 175 days to reach maturity.
How do you know when to harvest onions?
For full-sized bulbs, let onions grow and mature. They are ready to harvest when the bulbs are big and the tops begin to turn yellow and fall over. Pull them up, shake off the soil, and lay them out to cure with the tops still attached.
Onion Farming in Kenya – Video
---
We endeavor to keep our content True, Accurate, Correct, Original and Up to Date.
If you believe that any information in this article is Incorrect, Incomplete, Plagiarised, violates your Copyright right or you want to propose an update, please send us an email to informationcradle@gmail.com indicating the proposed changes and the content URL. Provide as much information as you can and we promise to take corrective measures to the best of our abilities.
---
Crop Farming in Kenya
Livestock Farming in Kenya
---