A Guide To Safari Seven
The Safari Sevens, is an annual rugby sevens tournament held in Kenya. The tournament is run by the Kenya Rugby Football Union. The competition is promoted as being Africa's premier rugby sevens tournament drawing crowds of over 20,000  to the weekend event.
It is unusual amongst modern tournaments in that it is contested by numerous national representative sides from Africa and beyond, by professional sevens outfits, professional and amateur club sides, invitational teams, universities and schools. The competition was originally held at the RFUEA Ground, Ngong Road, Nairobi. At that time the South African company Supersport was broadcasting the tournament live on DSTV.
After 15 years at the RFUEA Ground and growing attendances annually, the tournament was taken to the Nyayo National Stadium for the first time where it run in 2011 and 2012. The rationale for the move was to allow room for more spectators as the RFUEA Grounds had in previous years been packed to the rafters.
In 2013 it was moved to its current home at the 60,000 seater Moi International Sports Centre at Kasarani in Nairobi's northern suburbs.
History
Since the earliest days, rugby in Kenya had relied on a regular influx of foreign touring sides in order to test the mettle of the local teams and to provide opposition for the representative sides such as the Scorpions RFC and East Africa. The coming of professionalism to rugby in the 1990s all but dried up these tours and it was decided that a means had to be found of reinitiating the influx if the quality of rugby in the country was not to stagnate.
The Rugby Patrons Society decided to put in place a seven-a-side tournament and invite a number of foreign national and club teams to participate. Robin Cahill (a founder member of the society and the man whose brainchild the tournament is) led a team of Patrons to run all the early competitions and oversee its integration into the Kenya Rugby Football Union's calendar. The trophy, a bronze of two elephants, is named in his memory.
Safari Sevens Contacts
Attraction Type: Sports
Category: Rugby
Region: Nairobi
City / Town: Nairobi
Telephone: 254 724 256179
254 733 256179
Email: info@kru.co.ke
Website: http://www.kenyarfu.com/
Entrance Fee: Yes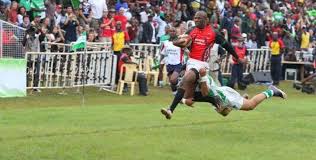 More About Kenya
Kenya is a world unto itself. Kenya is Africa's original safari destination, attracting explorers, adventurers, and travelers for centuries. A safari to Kenya is a trip of a lifetime.
Tourist Attractions in Kenya:
Kenya has one of the world's greatest tourist attractions sites, known for its diversity of landscape, wildlife, and cultures. From sweeping savannahs to tropical beaches and coral reef, dense equatorial forests to mighty snow-capped mountains, and more.
For more information visit: Tourists Attractions in Kenya
Kenya Safari
Kenya is the ultimate safari destination, providing travelers with a window into the heart of Africa. But this is not all that Kenya has to offer. Located near the equator, Kenya´s magic lies in the fact that the country encompasses an astounding variety of landscapes and climates, flora and fauna, as well as communities and cultures, home to water sports, a swim with dolphins and adventure.
For more information visit: Kenya Safari
Hotels and Accommodation in Kenya
Hotels in Kenya vary enormously in price and facilities. Luxury hotels in Kenya offer excellent standards of service and are comparable to the best hotels anywhere in the world. Kenya's abundance of natural produce, combined with the rich variety of cultures and traditions, has created a great culinary nation.
The fertile volcanic soil of the Rift Valley produces a bounty of fresh vegetables, while the coast is a great source of tropical fruit and fresh seafood. The Kenyan coast is also the home of the world-renowned Swahili cuisine, a blend of Middle Eastern and African cooking with a particular coastal twist.
For more information visit: Hotels in Kenya
Towns in Kenya
Apart from the towns of Nairobi , Mombasa, Kisumu and Nakuru, Kenya has other major towns each a unique representation of the country's striking abundance in flora and fauna. Most of these towns are headquarters in their respective counties or major economic bases in their regions. Luxury hotels and lodges located here provide good accommodation and conferencing facilities for guests who dare to try out a taste different from the capital or the coast.
For more information visit: Towns in Kenya
The Kenyan People Culture and Tradition
Kenya's culture blends together diverse tribes, traditions, and religions into one beautiful, well-woven tapestry.  These traditions complement each other while incorporating the modern influences of globalization – resulting in a vibrant cultural spirit that is uniquely Kenyan. Kenya has over 42 different tribes with different languages and several dialects. Kenyan tourism has made the Maasai and Samburu tribes the most famous because of their long preserved culture.
For more information visit: Kenya People and Tribes
---
We endeavor to keep our content True, Accurate, Correct, Original and Up to Date.
If you believe that any information in this article is Incorrect, Incomplete, Plagiarised, violates your Copyright right or you want to propose an update, please send us an email to informationcradle@gmail.com indicating the proposed changes and the content URL. Provide as much information as you can and we promise to take corrective measures to the best of our abilities.
---