A Guide To Tambach Museum
Tambach Museum offers spectacular views of Elgeiyo and Tambach Escarpments, Tugen Hills, and the Kerio River. It depicts the cultural life and political structures of the Kalenjin community. It also reflects the region as home to world famous long-distance runners.
Tambach Museum is located in Tambach Town, Elgeiyo/Marakwet County, approximately 42 kilometres from Eldoret Town.
Tambach lies at an altitude of 6,500 feet at the top of the Elgeiyo Escarpment. It has a spectacular view of the Kerio Valley, the Tugen Hills, and the Kerio River.
HISTORY OF THE MUSEUM
Tambach is one of the oldest towns in Kenya. It was established in 1920s as a British colonial center of administering Elgeiyo and Marakwet people For much of the colonial period, the town grew from a tiny village to a busy urban center.By the end of 1950s, Tambach developed into a very pretty little town.
British colonialists constructed a number of buildings that included; administrative offices, the prestigious Government African School, A church, detention camp and hospital. Today, the historical buildings and the cultural landscape are treasured monuments and form part of the heritage of the Elgeiyo/Marakwet County. Currently, Tambach and Iten form Iten-Tambach Town Council, a local authority in greater Elgeiyo/Marakwet County.
The idea of establishing a museum at Tambach was conceived by the National Museums of Kenya in 2002. The museum was established to safeguard the Tambach heritage site and the culture of the Keiyo and Marakwet people.Tambach has a rich cultural heritage. It is famous for the Sirikwa Holes constructed by the Sirikwa people in the 17th & 18th centuries.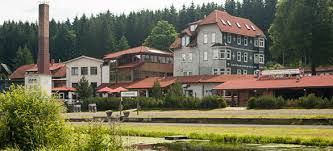 It also has a rich colonial history.In 2003, NMK renovated the former District Commissioner's residence, a seven roomed bungalow to create an exhibition space for ethnographic and archaeological collections of the Elgeiyo/Marakwet County.Tambach Heritage Town Exhibition is the premier exhibition for this Museum and was funded by the Royal Norwegian Embassy in Kenya through the efforts by AFRICOM (International Council of African Museums).
It is the first museum exhibition in the entire county and is anticipated to promote heritage activities and form part of the North Rift Circuit as a major tourist attraction in this area.This exhibition highlights the development of Tambach town during the colonial and independence period and factors which influenced its growth and decline and now renewed growth.The exhibition also explores the culture (past and present) of its inhabitants-the Keiyo and the Marakwet.
It looks at their lifestyle, livelihoods and traditions in the context of the surrounding- the Keiyo Valley.The museum plans to engage in the collection, documentation, research, education and exhibition of the cultural heritage of the local community.The museum was officially opened on 31st March, 2012.
Tambach Museum

Contacts

Attraction Type: Culture
Category: Cultural Museum, Art Gallery, Community Tourism
Region: North Rift
City / Town: Eldoret
Road / Street: Tambach Road
Telephone: +254 20 374 2131, +254 721 308485
Email: tambach@museums.or.ke
Website: http://www.museums.or.ke/content/blogcategory/79/1
Entrance Fee: Yes
More About Kenya
Kenya is a world unto itself. Kenya is Africa's original safari destination, attracting explorers, adventurers, and travelers for centuries. A safari to Kenya is a trip of a lifetime.
Tourist Attractions in Kenya:
Kenya has one of the world's greatest tourist attractions sites, known for its diversity of landscape, wildlife, and cultures. From sweeping savannahs to tropical beaches and coral reef, dense equatorial forests to mighty snow-capped mountains, and more.
For more information visit: Tourists Attractions in Kenya
Kenya Safari
Kenya is the ultimate safari destination, providing travelers with a window into the heart of Africa. But this is not all that Kenya has to offer. Located near the equator, Kenya´s magic lies in the fact that the country encompasses an astounding variety of landscapes and climates, flora and fauna, as well as communities and cultures, home to water sports, a swim with dolphins and adventure.
For more information visit: Kenya Safari
Hotels and Accommodation in Kenya
Hotels in Kenya vary enormously in price and facilities. Luxury hotels in Kenya offer excellent standards of service and are comparable to the best hotels anywhere in the world. Kenya's abundance of natural produce, combined with the rich variety of cultures and traditions, has created a great culinary nation.
The fertile volcanic soil of the Rift Valley produces a bounty of fresh vegetables, while the coast is a great source of tropical fruit and fresh seafood. The Kenyan coast is also the home of the world-renowned Swahili cuisine, a blend of Middle Eastern and African cooking with a particular coastal twist.
For more information visit: Hotels in Kenya
Towns in Kenya
Apart from the towns of Nairobi , Mombasa, Kisumu and Nakuru, Kenya has other major towns each a unique representation of the country's striking abundance in flora and fauna. Most of these towns are headquarters in their respective counties or major economic bases in their regions. Luxury hotels and lodges located here provide good accommodation and conferencing facilities for guests who dare to try out a taste different from the capital or the coast.
For more information visit: Towns in Kenya
The Kenyan People Culture and Tradition
Kenya's culture blends together diverse tribes, traditions, and religions into one beautiful, well-woven tapestry.  These traditions complement each other while incorporating the modern influences of globalization – resulting in a vibrant cultural spirit that is uniquely Kenyan. Kenya has over 42 different tribes with different languages and several dialects. Kenyan tourism has made the Maasai and Samburu tribes the most famous because of their long preserved culture.
For more information visit: Kenya People and Tribes
---
We endeavor to keep our content True, Accurate, Correct, Original and Up to Date.
If you believe that any information in this article is Incorrect, Incomplete, Plagiarised, violates your Copyright right or you want to propose an update, please send us an email to informationcradle@gmail.com indicating the proposed changes and the content URL. Provide as much information as you can and we promise to take corrective measures to the best of our abilities.
---