Thika Town Kenya
Thika Town
Thika Town is a market town in Central Province, Kenya, lying on the A2 road 40 km north east of Nairobi, and on the Thika River. Thika Kenya has a population of 88,265 (1999 census) and is growing rapidly, as is the entire greater Nairobi area. The elevation of Thika Kenya is 1531 meters (5026 feet) in altitude.
Thika Kenya is home to the Chania Falls and the Thika Falls, while Ol Donyo Sabuk National Park lies to its south east. Thika Kenya has a railway station, but there is only limited passenger service. The town is headquarters of the Thika District. The district is the prime pineapple-growing region in Kenya.
Thika is close to "Fourteen Falls" which is a popular picnic site.
Thika Town was formerly a center for light industry, but the focus has shifted to the Athi River. The decline of the textile industry has hit local firms, including Thika Cloth Mills (TCM), which is a cotton to fabric manufacturer that competes against Egyptian & Chinese manufacturers.
Origin of Name Thika
There are two explanations for the name Thika. One has its origin in the Kikuyu word Guthika, meaning to bury. During a great drought, the Maasai ventured outside of their normal territories looking for water for their huge herds of cattle. Two rivers pass through Kikuyu land, River Thika and Chania, both providing sustenance for the agricultural Kikuyu. With this water in contention, and both tribes desperate for survival, they fought a bloody battle that left few survivors. A mound near Blue Posts Hotel supposedly is where the dead warriors were buried.
The other explanation come from the Maasai word Sika meaning rubbing something off an edge.
In addition, the area was originally inhabited by the Akamba tribe.
Thika Town Climate
Thika Kenya is located on a gentle plain before the ascent into the central highlands. Small valleys are on the western and northern edges following the Chania and Thika Rivers that have waterfalls and meet on the northwestern edge of Thika.
Thika has a subtropical highland climate with sunshine most of the year round and an average annual temperature of 19.8 °C, with the hottest period in March and April leading to the long rains and the coldest in July. The "long rains" season lasts from March/April to May/June. The "short rains" season is from October to November/December.
For more information click here
Thika Town History
Towards the end of the 19th century, outsiders began to settle in this outpost, a convenient resting spot between Nairobi and upcountry for British settlers. Europeans and Asians began to stop and remain at Thika, the former setting up farms, and the latter setting up shops. A monument in the shape of a pillar was erected by the British in the early 1900s in the central business district of Thika, it commemorates the founding of Thika as a town. Thika town was given its status by the government gazette in 1924. Thereafter it was elevated to a second class municipality when Kenya gained independence in 1963, and the first Mayor was enthroned in 1968.
Thika Kenya has historical sites like the Mugumo Gardens which is named for the giant fig tree where the ancient legendary seer "Mugo wa Kibiro" prophesied. Believers claim that all of his prophesies have come to pass. According to legend, the fall of the tree would symbolise the fall of British rule in Kenya. The British Government re-inforced the tree to prevent it from falling, but it split into two parts and fell in two stages in 1963.
Economic Activities in Thika Kenya
Thika town is externally serviced by a dual carriage way to Nairobi, a highway to Garissa town and also a railway line. Internally, the town has a well-maintained road network. The economic activities of the town include agriculture, particularly in the horticulture (exports mainly to Europe) and coffee industry (exports mainly to the USA and Europe).
Other industries include textile (cotton), food processing (pineapples, macadamia nuts, wheat), tannery, motor vehicle assemblies and cigarette manufacturing. About one hundred small scale industries and about twenty major factories exist in and around the town.
Top Companies in Thika Town
Delmonte Kenya Ltd
Bidco Oil Refineries
Thika Coffee Mills
Broadway Bakeries
Kenblest Ltd
Metal Box
Chania Food Mills
Equity Bank

Muramati Sacco
Kakuzi
Tuskys
Nakumatt
United Textile Industries
Tamatanga
Optica
Klub Liquid Cash
Baba McCurdy
Pizza Inn
Ding Dong Enterprises
 Auto Express
 Monalisa Hotel Thika
Family Bank Limited
Places to Visit and Things to do in Thika Town
Blue Posts Hotel
Blue Posts Hotel
One of its main attractions is the Blue Posts Hotel. Built by colonialists in 1908, Blue Posts is between rivers Chania and Thika which draw their waters from the Aberdares.
Their natural waterfalls are Thika's main attractions. Blue Posts was started as a roadside motel to serve the settlers heading into the central highlands region. Now it is said to be owned by the Kenyatta family and is a firm favourite of Thika residents for its beautiful lawns and enjoyable meals.
Chania Waterfall
Chania Waterfall
In Thika itself is the scenic Chania waterfall, a star tourist attraction. There is also the smaller and less talked about Thika Falls.
Mugumo Gardens
Mugumo Gardens
There are several historical sites in Thika like the Mugumo Gardens, derived from the giant fig tree where the legendary seer, Mugo wa Kibiro, made prophesies of colonisation.
Legend had it that the fall of the tree would symbolise the fall of British rule in Kenya. The British Government therefore tried to prevent it from falling by encircling it with a fence but in 1963, the tree split into two, and British rule ended.
Thika World War Memorial Park
Thika World War Memorial Park
There is also the Thika World War Memorial Park, a place where African soldiers are immortalised.
Fourteen Falls
Fourteen Falls
Thika Town is also home to Kenya's magical and breathtaking Fourteen Falls which is located 65 kilometres North East of Nairobi off the Thika-Garissa Road. The Fourteen Falls consist of 14 distinct waterfalls on the broad section of the famous Athi River.
Ndakaini Dam

Ndakaini Dam is famous to most of the people in Kenya. This fame is mostly attributed to the Ndakaini marathon races held in Kenya annually. Ndakaini dam was set up in 1988 so as to supply water to the Nairobi City residents.
Ndakaini dam in has a capacity of close to 70 million cubic meters of water. Ndakaini dam is located 80 kilometers north of Nairobi and 40 kilometers west of Thika town in Kenya.
Delmonte Pineapple Farm
Delmonte Pineapple Farm
One of these is the Delmonte Pineapple farm which stands out for its natural beauty and stretches as far as the eye can see.
Stop at the plantation's road side kiosk and stock up on the fruit and its juice.
Hotels in Thika Town
Eton Hotel
Eton Hotel
The best and finest luxury hotel in Thika town, off the Thika superhighway.
Eton Hotel is ideally located in the heart of the shopping and business area of the town, in close proximity to Government offices and only 40 minutes drive from Jomo Kenyatta International Airport and less than 30 minutes from Nairobi, the capital city.
The Coconut Grill Hotel
The Coconut Grill Hotel
The Coconut Grill facility strives to be a one-stop shop, having a restaurant, conference halls, accommodation, discotheque and casino under the same roof . This means that our customers can reap the benefits of a "Stay and Play".
To cater for those wishing to spend a night with us we have
74 Standard rooms,
9 superior twin rooms,

5 double superior rooms
2 executive rooms
All rooms are equipped with instant hot water showers and flat screen TV. 24/7
Security Services and Panic Buttons in all the rooms, ample parking and car wash services.
Contacts
KENYATTA HIGHWAY, OFF GARISSA ROAD | P.O. BOX 1684 – 01000, THIKA
TEL: 0700 521192 | 0736 276701 | 0731 676202 | 0719 791862
EMAIL: info@thecoconutgrillthika.co.ke
The Luke Hotel
The Luke Hotel
The Luke Hotel – Roasters – 40 – restaurant
Indulge in great service, generous portions, quality dishes and generous prices at one of our two cozy and elegant with great aromas and tasty foods. Start your day with our healthy complimentary continental breakfast. Sample some juicy nyama choma (barbecue) available. The poolside bar is perfect spot to meet and have a drink with your buddies or sit at the main bar and sip away the evening with our refreshing beverages of local and international brands.
Thika Family Gardens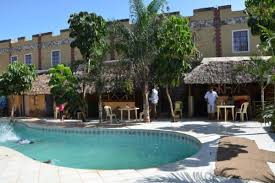 An entertainment center that also offers local and international foods, there is an ample parking fully guarded by their security team. there is also a children play ground fully equipped with bouncing countless, tripling,and a swimming pool.
Monalisa Hotel Thika
Monalisa Hotel Thika
Boasting a shared lounge, Monalisa Hotel Thika is set in Thika and also provides a bar and on-site dining. Around 1.3 km from Tuskeys Super Market, the property is also 21 km away from Ol Donyo Sabuk National Park and offers free WiFi. Guests can enjoy garden views.
Guest rooms in the hotel are equipped with a flat-screen TV. Certain rooms include a kitchen with a microwave and a toaster. The rooms have a desk.
A Full English/Irish breakfast is served daily at the property.
The 24-hour front desk can offer helpful tips for getting around the area.
Jomo Kenyatta International Airport is 36 km away.
Thika Dreams Motel
Thika Dreams Motel
Each room has a fan, an ensuite bathroom, beds draped with mosquito nets and a TV .Guests can enjoy meals at the onsite restaurants.
The premises are guarded round the clock and onsite parking is also available.It is in close proximity to Thika-Garissa Highway and the National Cereals and Produce Board.
Night Clubs and Nightlife in Thika Town
Thika town has a bustling nightlife, ultra-modern recreational centers . Anyone visiting the town old or young, will definitely like the place as there exists various night joints that are tailor made for different clientele. This night clubs include:
Club Porkies
Klub Image
Club Zinc
Brown Bottle
Sky Motel
Brilliant
Sunset
Rwambogo
Fulilia
Thika Arcardes
Educational Institutions in Thika Town
Secondary Schools in Thika Town
Bambini School
Chania Boys High School
Chania Girls High School
Gatumaini Primary School
Gatanga CCM Secondary School
Gatanga Girls High School
Gatuanyaga Primary School
General Kago Primary School
Imani School (Kindergarten – Form IV)
Jamhuri Primary School
Joytown primary school
Kilimambogo Primary School
Kianjahi Primary School
Kiunyu High School
Moi Academy Thika
Mugumoini Primary School
Muthiga High School
St David's Primary School
St Patrick's Primary School
Thika High School
Thika Primary School
Thika High School for the Blind
Thika Memorial Church School
Trikha Girls Secondary School
Thika Complex Primary School
Queen of Holy Rosary Primary School
Colleges in Thika Kenya
Amboseli Institute
International Centre of Technology
St John Kilimambogo Teachers Training College.
Thika Institute of Science and Technology
Thika Technical Training Institute
Thika College of Banking
Thika Institute of Technology
Universities in Thika Town
Mount Kenya University
How to get to Thika Town
Driving to Thika town from Nairobi has become exciting. It takes just 45 minutes on the Super Highway to reach this town whose history stretches back to colonial times.
To get to Thika town from Nairobi town, you board a matatu along Ronald Ngala Street next to Turskys Magic in Nairobi.
Thika town also has a railway station, but there is only limited passenger service.
Thika Kenya Video
---
We endeavor to keep our content True, Accurate, Correct, Original and Up to Date.
If you believe that any information in this article is Incorrect, Incomplete, Plagiarised, violates your Copyright right or you want to propose an update, please send us an email to informationcradle@gmail.com indicating the proposed changes and the content URL. Provide as much information as you can and we promise to take corrective measures to the best of our abilities.
---