A Guide To Tsavo West National Park Kenya
The joint mass of Tsavo East and Tsavo West National Park Kenya forms one of the largest National Parks in the world and covers a massive 4% of Kenya's total land area. Tsavo West National Park, the more famous of the two, lies to the west of the Nairobi – Mombasa road, equidistant between Nairobi and Mombasa, and is painted on a sprawling canvas of endless skies, emerald hills, liquid lava flows, palm fringed rivers, teeming wildlife and sparkling oasis set against the unforgettable backdrop of mile upon mile of cloud shadowed African savannah.
From the sight of fifty million gallons of crystal clear water gushing out of from the under parched lava rock that is the Mzima Springs to the Shetani lava flows, Tsavo West is a beautiful, rugged wilderness. The savannah ecosystem comprises of open grasslands, scrublands, and Acacia woodlands, belts of riverine vegetation and rocky ridges including the Poacher's Lookout where visitors can see the teeming herds in the plains below. Tsavo West offers some of the most magnificent game viewing in the world and attractions include elephant, rhino, Hippos, lions, cheetah, leopards, Buffalos, diverse plant and bird species including the threatened corncrake and near threatened Basra Reed Warbler.
Facts About Tsavo National Park
Altitude: 180-1,000 metres above sea level.
Area: 7,065 sq. km.
Location: South-west Kenya, inland from the coast.
Distance from Nairobi: 232 km (Mtito Andei Gate).
Gazetted: 1948
Vegetation: The Park features over 1000 plant species and a mixed habitat of bush, grasslands and acacia woodlands dotted with baobab, ivory palm, saltbush, doum palm, tamarind and fig trees.
Climate: The Park has a typical savannah climate.
Fauna: Includes: lion, leopard, cheetah, buffalo, giraffe, rhino, elephant, hippo, baboon, waterbuck, Coke's hartebeest, gerenuk, gazelle, zebra, crocodile, mongoose, hyrax, dik dik, porcupine, lesser kudu and oryx.
Birds: The prolific bird life features 600 recorded species.
Roads: The roads are well graded, maintained and signposted.
When to go: The Park is open all year round.
Visitor Centre: A retail centre, wildlife display, visitor information centre and picnic area is situated by the main, Mtito Andei, gate
What to see at Tsavo West National Park Kenya

The spectacle Mzima Springs is the sight of fifty million gallons of crystal clear water gushing out of from the  under parched lava rocks, forming the most welcoming and lovely scene in Africa
Ancient lands of Lions, in 1898 the Uganda railway construction was abruptly halted by the two of the most voracious and insatiable man-eating lions appeared upon the scene, and for over nine month waged intermittent warfare against the railway and all those connected with it in the vicinity of Tsavo.
A vibrant volcanic arena; molten lava that form Shetani lava spewed from the earth just about 200 years ago and its fiery fury was thought by locals to be work of the Devil.
Poacher's Lookout and roaring rocks; the Park abound the panoramic vintage point from which to view the movement of the herds.
Glorious game drives; Tsavo west offers some of the most magnificent game viewing in the world
Ngulia Sanctuary; this is where the growing population of highly endangered black rhino are inching from chasm of extinction forced upon them by rampant poaching in the 1960s.
Lake Jipe, lies astride Kenya and Tanzania boarder and is teeming with aquatic life, Bird watching I also major activity around the lake.
First World War Site-East African Campaign, Perhaps the most bizarre campaign of the world war was fought in the "Bundu" (Bush) – the barely explored wilderness of thorny scrub and dense forest of Tsavo west. This last 'gentleman war' was waged under the code of honor-sometimes; or under guerilla tactics adopted from African tribal fighters. The Guided tours of the Crater, Kichwa Tembo and Mzima fort will enable you trail the real footsteps of the world war veterans.
The Magic Mzima Springs
The lush, hippo – heaving pools of Mzima Springs, fed daily by 250 million litres of water gushing from the lava flows of the Chyulu Hills provide an oasis of green, an underwater hippo viewing chamber, two nature trails and some unique picnic spots.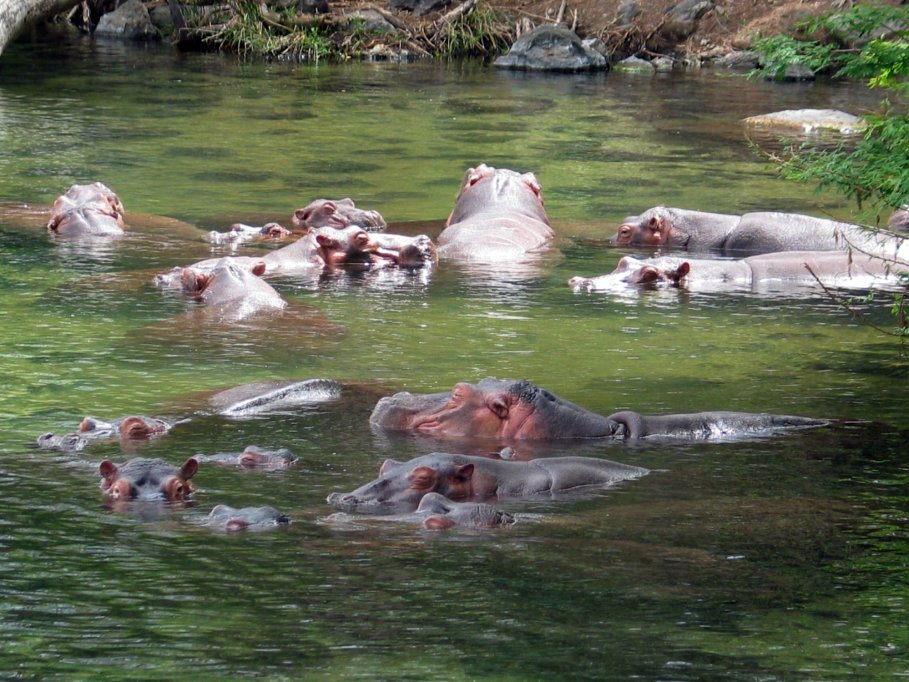 Ancient Lands Of Lions And Lava
Tsavo West National Park Kenya achieved notoriety in 1898 when "the man-eaters of Tsavo,  a pair of rogue man-eating lions, preyed gruesomely on the builders of the Uganda Railway. Today the Park is more famous for the numerous prides of maneless lions that patrol the plains and police the herbivore herds.
A Vibrant Volcanic Arena:
The molten lava that forms the Shetani Lava Flow spewed from the earth just 200 years ago and its fiery fury was thought by the local people to be the work of the Devil, hence its name which means 'Devil' in Swahili. The Chaimu Crater is an alternative volcanic arena (which can be climbed by those who feel fit enough), as are the imposing Ngulia Hills and the enchanting Chyulu Hills.
Finally, the eerie 'Roaring Rocks' are named after the buzz of the cicadas that Inhabit them and the howl of the wind as it rushes past the sheer face of the scarp.
Poacher's Lookout:
Tsavo West National Park Kenya abounds in panoramic vantage points from which to monitor the movement of the herds. The finest is Poacher's Lookout, a rush- roofed hut, high on a hill with views to eternity.
Glorious Game Drives:
Tsavo West National Park offers some of the most magnificent game viewing in the world – vast herds of dust-red elephant, fat pods of hippo, giant crocodile, teeming herds of plains game, a fantasia of bird life and some magical flora. You could also take in a visit to the Nguila Rhino Sanctuary where Tsavo's growing population of endangered black rhino are inching their way back from the chasm of extinction that was forced upon them by rampant poaching in the 1960's. Alternatively you could explore beautiful Lake Jipe, which lies astride the Kenya -Tanzania border and is teeming with aquatic life. (Boat hire is available). Bird watching is also a major activity in the park.

What To Do At Tsavo West National Park
Climbing and trekking in the Ngulia Hills
There are some good technical climbing routes around the Ngulia Hills, the most popular of which is Kichwa Tembo (the elephant's head). Some rewarding trekking can also be arranged.
Note: Permission to climb, walk or trek within the park is required from the Warden and you will also require the escort of a KWS ranger.
Take your pick of the picnic sites
Tsavo abounds in panoramic picnic spots, many of which offer seating areas, thatched-roof shade and small nature trails. Choose from:
Mzima Springs
A sparkling oasis offering a number of picnic areas, a nature trail, parking area and washrooms.
Poachers Lookout
A thatch-roofed lookout high on a hill with 360-degree views.
Chaimu Crater
Chaimu Crater offers a spacious parking area and an exciting scramble up this volcanic cinder cone to the crater's rim.
Roaring Rocks
Roaring Rocks offer a parking area and a winding nature trail leading to the top of this lofty outcrop of craggy volcanic rocks where the raptors glide past at eye level. There are two view points offering magnificent vistas to the east and west of the Park and two picnic sites equipped with both shade and seating. Not surprisingly Roaring Rocks is a popular wedding venue.
Around and about
The Park is ideally situated for visits to the massive expanses of sister park, Tsavo East whilst the verdant Taita Hills and the volcanic eruptions of the Chyulu Hills are close by. World-renowned Amboseli National Park is also within easy reach.
Accommodation And Hotels At Tsavo West National Park
Finch Hatton's Tented Lodge.
P.0. Box 24423,
Nairobi.
Tel: (Nairobi) +254(20)310335/6 ~
Email: finchhattons@iconnect.co.ke
Voyager Safari Camp.
Heritage Hotels,
P.0. Box 74888,
Nairobi.
Tel: +254(20)4446651, 4447929 –
Email: info@heritagehotels.co.ke
Kitani Severin Safari Camp.
Severin Kenya,
P.0. Box 82169,
Mombasa.
Tel: +254(4l)48S00l/5 –
Email: severin@severin-sea-lodge.com
Ngulia Safari Lodge.
Kenya Safari Lodges and Hotels,
P.0. Box 42,
Mtito Andei.
Tel: +254 (43) 30091, 30000, 30140
Email: nguIialodge@kenya-safari.co.ke
Kilaguni Safari Serena Lodge.
Serena Hotels,
P.O. Box 48690,
Nairobi.
Tel: +254(20)711077, 710511 –
Email: mktg@serena.co.ke
Self catering accommodation at Tsavo West National Park Kenya
Kamboyo Guest House:
Formerly the Park Warden's house, consisting of 4 bedrooms, 2 bathrooms; and a caretaker. Reservations are made through the warden or KWS HQ, Nairobi.
Rhino Valley:
6 self catering 'Bandas'or simple cottages.
Tsavo Park Hotel,
P.0. Box 244
Voi, Kenya.
Tel: + 254(147)30285
E-Mail: info@tsavoparkhotel.com
Kitani Safari Lodge:
8 newly renovated self-catering bandas. Severin Kenya,
P.0. Box 82169
Mombasa,
Tel: +254(41)485001/5
Email: severin@severinsealodge.com
Lake Jipe Bandas:
(on the shores of Lake Jipe). 3 Self – Catering bandas. Reservations through KWS HQ or the warden.
Camping at Tsavo West National Park Kenya
There are three public campsites (offering water and latrines only) as follows:
Kamboyo campsite (8km from Mtito Andei Gate) and Lake Jipe campsite (on the Lake Shore) and Chyulu campsite (1 km from Chyulu Gate). A wide selection of 'special'or private campsites (no facilities) also exist, and these must be booked in advance on an exclusive use basis. (Reservations through Warden or KWS HQ Nairobi.)
How to get to Tsavo West National Park

By Road:
The Park (Mtito Andei Gate) is 232 km south of Nairobi and 250 km north of Mombasa on the main Nairobi – Mombasa Road.
Gates: The following entry gates exist: Tsavo, Lake Jipe, Mtito Andei (Kamboyo HQ), Chyulu, Maktau and Ziwani.
By Air:
There are 3 airstrips in the Park.
A Map of Tsavo West National Park
When to visit Tsavo West National Park

Tsavo West National Park is accessible by 2WD vehicle and also by air, all year round
What to take with you to Tsavo West National Park
Drinking water, picnic items and camping equipment if you intend to stay overnight. Also useful are: binoculars, camera, hat, sunscreen, sunglasses and guidebooks.
Tsavo West National Park Kenya – Please respect the wildlife code
Respect the privacy ofthe wildlife, this is their habitat.
Beware ofthe animals, they are wild and can be unpredictable.
Don't crowd the animals or make sudden noises or movements.
Don't feed the animals, it upsets their diet and leads to human dependence.
Keep quiet, noise disturbs the wildlife and may antagonize your fellow visitors.
Stay in your vehicle at all times, except at designated picnic or walking areas.
Keep below the maximum speed limit (40 kph/25 mph).
Never drive off-road, this severely damages the habitat.

When viewing wildlife keep to a minimum distance of 20 meters and pull to the side of the road so as to allow others to pass.
Leave no litter and never leave fires unattended or discard burning objects.
Respect the cultural heritage of Kenya, never take pictures of the local people or their habitat without asking their permission, respect the cultural traditions of Kenya and always dress with decorum.
Stay over or leave before dusk, visitors must vacate the Park between 7.00pm – 6.00am unless they are camping overnight. Night game driving is not allowed.
Open:
Daily 6.00am – 7.00pm. Note: No entry is allowed on foot, and visitors will not be allowed into the Park after 6.15pm.
Tsavo West National Park Charges
Obtainable via KWS HQ: Tel: +254(20)6000800, 6002345 Fax: +254(20)6007024
Email: marketing@kws.go.ke – website: www.kws.go.ke
'Safari Card' required?
Entry is by SafariCard only. SafariCards may be loaded (but not obtained) at Mtito Andei Gate.
Tsavo West National Park Entrace Fees and Charges
Citizen  
Adults KSH: 600
Child KSH: 250
Resident
Adults KSH: 1200
Child KSH: 600
Non – Resident
Adults USD: 75
Child USD: 40
Tsavo West National Park Contacts
Attraction Type: Wildlife
Category: National Park, Birding Site
Region: Coast
City / Town: Mtito Andei
Road / Street: Nairobi – Mombasa Road
Telephone: 254 724 954745
Email: tsavowestnp@kws.go.ke
Entrance Fee:    Yes 
---
We endeavor to keep our content True, Accurate, Correct, Original and Up to Date.
If you believe that any information in this article is Incorrect, Incomplete, Plagiarised, violates your Copyright right or you want to propose an update, please send us an email to informationcradle@gmail.com indicating the proposed changes and the content URL. Provide as much information as you can and we promise to take corrective measures to the best of our abilities.
---