U & I  Microfinance Bank is a unique and the fast-growing microfinance institution was established in 2007. the initiative to establish the microfinance institution was taken in response to vision 2030 objective of facilitating economic growth through community financial inclusion.
U&I Microfinance Bank Products
Biashara Saver Account
While saving for further business needs your savings can be an investment.
With Biashara Saver Account you are guaranteed interest earnings for as low as Kshs. 5,000 of your savings.
Pamoja Chama Account
In Pamoja Chama Account members in a group (Chamas) or merry go round get an opportunity to pool together their savings and earn interest to achieve on their set goals.
Jipange Saver Account
The product is designed for persons in employment or self-employed who would like to save to start up a business or for future investment.
Nyota Account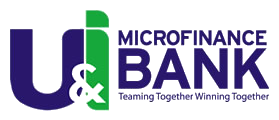 Nyota Account allows individual members to save while earning interest in Trust of their Children and secure their future needs.
Msingi Fixed Deposit Account
Msingi Fixed Deposit Account provides an opportunity for individual members, Groups and Institutions to maximize wealth from our attractive rates by fixing any amount of your savings from as low as Khs.30,000 for 3, 6, 9 or 12 months. You can also acquire a loan facility of up to 70% of the fixed deposit without additional security.
U&I Microfinance Bank Loans
ASSET FINANCING
The loan is meant to assist U & I existing clients to acquire business assets.
FEATURES
Loan Balance 5,000 – 100,000
Loan Term Maximum 1 Year
Repayment frequency: Weekly/Bi-Weekly/Monthly
JIJENGE LOAN (Group scheme Loan)
Targets small scale entrepreneurs for working capital, business improvements, etc. members taking the loan to be from the same locality.
FEATURES
Loan Amounts 5000 – 150,000 (First loan up to 30,000)
Repayment Frequency: Weekly/Bi-weekly/Monthly
Loan Period: 6 – 12 Months
NGAZI LOAN (Group scheme loan)
This is a loan that is meant to develop our clients and grow their business. The product is an entry-level and is meant for new customers with medium size enterprises.
TARGET MARKET
Targets middle-level entrepreneurs. These are clients who require higher loan amounts for their enterprises.
PRODUCT FEATURES
Minimum Kshs 100,000
Maximum Kshs 500,000
The client must be a member of U&I for 2 months.
Business assessment to ascertain the cash flow.
Business to be registered.
Business license.
Bank statement for the last 6 months.
Business records for the last 6 months.

Group to co-guarantee the loan fully.
The loan should be fully covered by business and household assets
Tangible collateral for big loans i.e motor vehicle.
SCHOOL FEES LOAN (Group Scheme Loan)
Targets U & I existing clients with school going children or dependents to enable them to cater for their school fees needs
FEATURES
Loan amount 5000 – 50,000
Loan Term Maximum 9 Months
Repayment Frequency Weekly/Bi-weekly/Monthly
BIASHARA MWAMBA LOAN PRODUCT
This is a loan for micro-entrepreneurs operating in U&I operational areas whose financial requirements may not be effectively guaranteed through the group lending methodology due to large amounts required or their nature of business deters them from engaging actively in solidarity group activities.
This aims at assisting micro entrepreneurs in accessing working capital or capital expenditure for their businesses.
FEATURES
The initial loan shall be a minimum of Ksh.100, 000 – 500,000.
Loan repaid within a maximum of 12 months for 1st loans and a maximum of 24 months for second and subsequent loans. Loans should be paid monthly.
PLANNER LOAN
This is a product aimed primarily at individual and small businesses who would like to expand existing businesses. The purpose of the loans will range from working capital to short term business expansion.
The product is available to customers of U & I who have been operating a business or been in employment for a minimum of 12 months prior to taking the loan.
FEATURES
Loan amount Kshs 5,000 – Kshs 750,000.
Loan term 12 months
Repayment frequency: Monthly
Securities: Motor vehicle, NSE listed shares
IMARISHA LOAN
Targets medium entrepreneurs to assist them in accessing working capital or capital expenditure for their business
1st Loan Kshs.150,000
Repayment period maximum of 24 months.
Fasta Fasta Loan
Targets importers who have a high stock turnover to assist importers to clear their stock from the port.
Loan amount Kshs. Min 500,000 Max: 2,000,000
Repayment period 1 month to 6 months.
U&I Microfinance Bank Contacts
U&I Microfinance Bank Ltd
Postal Address: P.O. Box 15825 – 00100, Nairobi
Telephone: (254) 020 2367288, 0713 112 791
Fax: (254) 2210430
Email:  info@uni-microfinance.co.ke
Website: http://uni-microfinance.co.ke/uni-microfinance/
Physical Address: Asili Complex Building 1st Floor, River Road
---
We endeavor to keep our content True, Accurate, Correct, Original and Up to Date.
If you believe that any information in this article is Incorrect, Incomplete, Plagiarised, violates your Copyright right or you want to propose an update, please send us an email to informationcradle@gmail.com indicating the proposed changes and the content URL. Provide as much information as you can and we promise to take corrective measures to the best of our abilities.
---