A Guide To Vasco Da Gama Pillar
Vasco Da Gama Pillar bell shaped architecture stands majestically on a cliff and is one of the oldest European monuments built at the East African coast in 1498 amidst Muslim resistance. It was built by the Portuguese to give direction for those who were following the sea route to India.
This is not the only pillar that Vasco da Gama had built in the Kenyan Coast.  Apparently he had put up another pillar at the Sultan's palace in Malindi.  At the time Vasco da Gama were having a dispute with the Sultan of Mombasa.  However the pillar was demolished by the predominately Islamic community located within the towns that were resistant of Christians. Incidentally the pillar had a cross at the top and was seen to be endorsing Christianity.  Following the demolition of the first pillar, Vasco da Gama had to explain to the sultan on the importance of the pillar and finally the pillar was built at its present location in Malindi.
The location :Vasco Da Gama Pillar
The surrounding is very windy and is located 120 kms from Mombasa city.  The pillar is visited by both local and international tourist.  Managed by the National Museums of Kenya, the pillar is today visited as a monument.  Our guide informs us that it was built to give the Portuguese sailing directions to India.  The traders who were Portuguese could see it from a far.  India is on the east while Malindi is on the west of the pillar.  It looks like a control tower only that it does not have any lights in it.  The Portuguese would see the tower / pillar from far using binoculars as they neared the sea.
During the evening you will find people winding the evening away as they feel the sea breeze warmth.  While here a photo as part of your memoirs is a must have.  Photographers have pitched camp here and earn a living from taking instant photos of both locals and foreign tourist.  Others use the spot as a fishing spot for sports and relaxation.  The monument is also a major attraction to schools and students from across the country make trips to learn more about the pillar's history.  Visitors are warned not to climb the pillar or the Mnara as is referred to in Swahili language.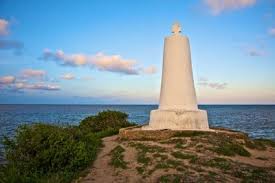 We continue discovering and learn that the pillar is actually older than the Fort Jesus, one of Kenya World Heritage sites.  We complete our visit to the Vasco da Gama Pillar having been well educated on the historic facts of the monument and promise to revisit the location.
Vasco Da Gama Pillar

Contacts

Attraction Type: Historic Sites
Category: Monument
Region: Coast
City / Town: Malindi
Road / Street: Off Silversand Road
Telephone: 254 41 222 5428
254 722 475796
Entrance Fee: No
More About Kenya
Kenya is a world unto itself. Kenya is Africa's original safari destination, attracting explorers, adventurers, and travelers for centuries. A safari to Kenya is a trip of a lifetime.
Tourist Attractions in Kenya:
Kenya has one of the world's greatest tourist attractions sites, known for its diversity of landscape, wildlife, and cultures. From sweeping savannahs to tropical beaches and coral reef, dense equatorial forests to mighty snow-capped mountains, and more.
For more information visit: Tourists Attractions in Kenya
Kenya Safari
Kenya is the ultimate safari destination, providing travelers with a window into the heart of Africa. But this is not all that Kenya has to offer. Located near the equator, Kenya´s magic lies in the fact that the country encompasses an astounding variety of landscapes and climates, flora and fauna, as well as communities and cultures, home to water sports, a swim with dolphins and adventure.
For more information visit: Kenya Safari
Hotels and Accommodation in Kenya
Hotels in Kenya vary enormously in price and facilities. Luxury hotels in Kenya offer excellent standards of service and are comparable to the best hotels anywhere in the world. Kenya's abundance of natural produce, combined with the rich variety of cultures and traditions, has created a great culinary nation.
The fertile volcanic soil of the Rift Valley produces a bounty of fresh vegetables, while the coast is a great source of tropical fruit and fresh seafood. The Kenyan coast is also the home of the world-renowned Swahili cuisine, a blend of Middle Eastern and African cooking with a particular coastal twist.
For more information visit: Hotels in Kenya
Towns in Kenya
Apart from the towns of Nairobi , Mombasa, Kisumu and Nakuru, Kenya has other major towns each a unique representation of the country's striking abundance in flora and fauna. Most of these towns are headquarters in their respective counties or major economic bases in their regions. Luxury hotels and lodges located here provide good accommodation and conferencing facilities for guests who dare to try out a taste different from the capital or the coast.
For more information visit: Towns in Kenya
The Kenyan People Culture and Tradition
Kenya's culture blends together diverse tribes, traditions, and religions into one beautiful, well-woven tapestry.  These traditions complement each other while incorporating the modern influences of globalization – resulting in a vibrant cultural spirit that is uniquely Kenyan. Kenya has over 42 different tribes with different languages and several dialects. Kenyan tourism has made the Maasai and Samburu tribes the most famous because of their long preserved culture.
For more information visit: Kenya People and Tribes
---
We endeavor to keep our content True, Accurate, Correct, Original and Up to Date.
If you believe that any information in this article is Incorrect, Incomplete, Plagiarised, violates your Copyright right or you want to propose an update, please send us an email to informationcradle@gmail.com indicating the proposed changes and the content URL. Provide as much information as you can and we promise to take corrective measures to the best of our abilities.
---