Vihiga County whose headquarters is in Mbale is Located in the Western Region of Kenya. It boarders Nandi to the East, Kisumu County to the South, Siaya County to the West and KAKAMEGA County to the North. It is one of the four Counties in the former Western Province. Vihiga County has five Constituencies; Luanda, Emuhaya, Hamisi, Sabatia and Vihiga. The County's population stands at 612,000. With an annual population growth rate of 2.51%, the population is projected to be 688,778 by the year 2017. It has an annual fertility rate of 5.1% which explains the high population rise. However, the age distribution is given as 0-14 years (45%), 15-64 years (49%), 65 years and above (6%) with the youth representing 25% of the population.
Urbanization in Vihiga County
The County urbanization rate is 31% with the Major Towns being; Luanda, Maseno, Chavakali, Mudete, Malengo, Mbale, Serem, Jeptulu, Jebrock and Kilingili. The poverty level is 62% with a dependency ratio of 100:90. The major activities for the people fall within the Agriculture department with 87.2% of the households engaging in crop farming.
Resources Vihiga County
The major resources for the County are; Forests, Rocks, Gold Mines, Rivers and the high precipitation experienced for most part of the year. The Rural household access to piped water is 3.2%, with the same for access to electricity being 5.3%. The urban House hold access to electricity is 10.8% with access to piped water standing at 7.2%. The financial institutions that are located in the urban areas are 7 with the same number representing the number of Micro-Credit institutions. The major Economic Activities that drive Vihiga Economy are; Cottage Industries, Subsistence Farming, Tea Farming, Horticulture, Livestock Farming, Wholesale and Retail Trade, Quarrying and Mining. So far, contributions from the diaspora have not been captured to reflect external economy assistance.
Social Amenities in Vihiga County
The Judicial System is supported by two Courts (one in Vihiga and another in Hamisi) with one prison facility in Vihiga. The County has 754 ECD Schools, 392 Primary Schools, 115 Secondary Schools, 107 Adult Literacy Classes and 5 constituent Universities. The County has 5 Public Hospitals[1], 16 Health centers and 35 Dispensaries. Doctor to Population ratio is 1: 34,000, infant mortality rate at 46/1,000, Maternal Mortality rates of 330/100,000, with Under Five Mortality rates of 121/1,000. Prevalent diseases include; Malaria, Upper Respiratory Transmitted Infections, Diarrrhea, HI/AIDS and related diseases.
The Short-Term Budget Strategy Paper (STBSP) is meant to guide the Fiscal Policy for FY 2013/14. It draws its advice from the County Government's Vision: To create a free, secure, just and prosperous County with a strong and highly skilled Human Resource that will spur industrial growth for economic empowerment. This is strengthened by the Mission statement: To enhance productivity and empowerment in order to achieve Self-sustenance and respect for the people of Vihiga County.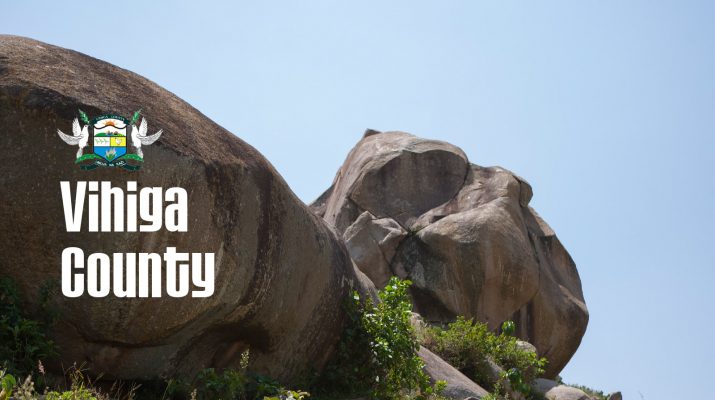 Facts about Vihiga County
Vihiga County borders Kakamega County to the North, Nandi county to the East, Kisumu county to the South, and Siaya county to the West.
Area (Km 2): 530.9 Km 2
Climate/Weather: Has an annual average rainfall of between 1,800mm and 2,000 mm with an average temperature of 24 0C.
 Road Network: Bitumen Surface (135 Km), Gravel Surface (212.3 Km), Earth Surface (315 Km)
 Key National Monument(s): None
Polulation of Vihiga County
 Population: 554,622 (Male – 47 %, Female – 53 %)
 Population Density: 1,045 people per Km 2
National Percentage:  1.44 %
 Annual Growth Rate: 3.3 %
 Age Distribution: 0-14 years (44.2 %), 15-64 years (49.4 %), 65+ years (6.1 %)
 Number of Households: 123,347
County Government of Vihiga County
 County Capital:  Mbale Town (Proposed)
 Number of Constituencies (2010): 4 (Emuhaya, Hamisi, Sabatia and Vihiga)
 Registered Voters: 134,172
 National percentage: 1.2 %
 Number of Districts (2009): 4 (Emuhaya. Hamisi, Sabatia, and Vihiga)
 Number of Local Authorities (2010): 3 (Vihiga Municipal Council, Vihiga County Council, and Luanda Town Council)
Economy, Business and Investment Opportunities in Vihiga County
Vihiga County has hilly terrain. It also has a good amount of forest cover such as Kibiri forest, which is an extension of Kakamega forest. Agriculture is the main economic activity. Crops planted include tea, maize, millet, bananas, avocado, papaya, sweet potatoes and cassava. Livestock rearing is also practiced in the county
Economy of Vihiga County
 Poverty Level: 62 % (Rural & Urban)
 Age Dependency Ratio: 100:102
 Resources:  Forests, Rivers, Stone Quarry
Tourist Attractions: "Hill of Vision"
 Financial Services: 4 Commercial Banks, 1 Micro-Finance Institutions,
 Main Economic Activities/industries: Tea, Maize, Dairy Farming, Millet, Cassava
Education in Vihiga County
Vihiga County Map
 Number of Institutions (2007): Primary (396), Secondary (117)
 Primary: Enrolment (180,112)
 Teacher to Pupil Ratio: 1:45 (Public Schools)
 Secondary: Enrolment (36,413)
 Teacher to Pupil Ratio: 1:31 (Public Schools)
 Tertiary: More than 10.
 Adult Literacy Classes: Not available.
Health in Vihiga County
 Health Facilities: District Hospital (1), Sub-District Hospitals (None), Dispensaries (30), Health Centres (22), Medical Clinics (19), Nursing Homes (2), Others (4)
 Doctor to Population Ratio: 1:50,000
 Infant Mortality Rates: 100/1,000
Under Five Mortality Rates: 120/1,000
 Prevalent Diseases: Malaria, Respiratory Tract Infections, Pneumonia
 Notable Hospitals: Vihiga District Hospital, Emuhaya and Hamisi Health Centres.
Tourism and Tourists Attractions in Vihiga County
The only attraction in the County is the "Hill of Vision".
Contact Vihiga County
Tel: (254) 725518424
Fax: (254)
E-mail: communications@vihiga.go.ke
E-mail: info@vihiga.go.ke
Website: www.vihiga.go.ke
---
We endeavor to keep our content True, Accurate, Correct, Original and Up to Date.
If you believe that any information in this article is Incorrect, Incomplete, Plagiarised, violates your Copyright right or you want to propose an update, please send us an email to informationcradle@gmail.com indicating the proposed changes and the content URL. Provide as much information as you can and we promise to take corrective measures to the best of our abilities.
---
List of 47 Counties in Kenya
---