Wasini Island

Description

Wasini Island is a very sparsely populated and underdeveloped Island and is only 10 kilometers from Kisite Mpunguti Marine national Park. Wasini is a coral island that is traditionally inhabited by the Vumba people, an indigenous group of coastal bantu speaking community with a very rich culture and history.

We welcome you to Charlie Claw's on Wasini Island – a great escape and getaway located in the heart of "real" Africa on the very edge of Kenya's exciting Swahili coastal strip. A true pearl!

Our happy guests can testify that we offer a wide variety of exciting activities, including: Snorkeling, Scuba Diving,Dhow Sailing, Dolphin Spotting, Sunset Cruise ( new!) andexquisite seafood dining at the famous Charlie Claw's Restaurant.

In addition, we offer tailor made services that are uniquely designed for families, friends & that romantic moment. Share intimate moments at the headland hideaway or have fun as a group or the challenge of a team building day too!
Wasini Island is known by many people as "paradise on earth". At first, this might sound like another inane slogan but Lamu's little sister truly is a unique haven of peace and tranquility. The hustle and bustle of Kenya's coastal beaches seem a 1000 miles away. Unpleasant companions such as beach boys and pickpockets are left behind on the mainland.
Wasini Island is an outcrop of fossilized corals, it lacks both fresh ground water and a connection to the main power grid, and has only patches of sandy beach. The above named circumstances make the island unattractive for mass tourism and remained untouched by the big foreign investment spree which changed the face of so many areas on the Kenyan coast forever.
If you are looking for an authentic place, and are willing to go some time without conventional luxury, then you might have found your dream island. No cars, no roads but a lot of wild nature and traditional Swahili culture.
The clock seems to tick at a different rate here. People have time; time to chat, time to relax, time to interact.
On Wasini, there are a million things to do and many different but good ways of doing things on this island
Facts About Wasini Island
Area: 600 ha.
Location: Southern end of Kenya's coast.
Climate: Cool and Wet
Vegetation: The vegetation of this outdoor wilderness varies between acacia woodland, bushland and scrubland and narrow riverine woodlands.
Wildlife Includes: Dolphins
Wasini Island weather and climate
Orientated west to east, Wasini lies about 500 km. south of the equator in the Indian Ocean and is every year blasted by the vigour of the northeast monsoon Kaskazi, which brings the long rains. In the other half of the year the southwest monsoon Kusi brings the short rains. Both monsoons were in the history propelling the trade sailing boats, the dhows from the direction of the Persian Gulf and India, and from the southern parts of East-Africa, and in the other half of the year propelling them back home.
How to get to Wasini Island
The coastal highway (A 14) connecting Dar-Es-Salaam, Tanga, Ukunda (Diani Beach) and Mombasa passes in a distance of 15 km.
By Car: coming from south approx. 10 km after the border crossing, or coming from north shortly after the town of Ramisi, take the D543 to Shimoni. After 15 km you will reach the small town of Shimoni at the end of the Shimoni Peninsula. Turn right at the T-junction and you will find the boat jetty including a guarded car park at your left hand side. There, you will be picked up to cross over to Wasini Island (10 min, 250 KSH pp during day time, to be booked in advance).
By Bus: any overland bus traveling the highway A 14 in either direction will drop you at the Shimoni junction on request. From there, Matatus (public minibus) or Pikipikis (small motorbike taxis) are regularly going back and forth on the D543 to Shimoni, a small settlement at the end of the Shimoni Peninsula (approx. 15 km). You will be welcomed at the bus stop and ferried over to Wasini Island (10 min, 250 KSH pp during day time, to be booked in advance).
From Mombasa/Diani Beach – by Matatu: cross Mombasa's Likoni Ferry on foot to reach the Likoni Matatu station. There, just ask for the minibus or bus to Shimoni. It will only cost approx. KSH 250, but traveling time is approx. 3 hours. From Diani Beach or Ukunda, catch the DIRECT Shimoni minibus/bus at the Matatu stop near Ukunda Post Office (approx. KSH 200 and 2 h traveling time). At Shimoni's bus stop, you will be welcomed by your host and ferried over to Wasini Island (10 min, 250 KSH pp during day time, to be booked in advance).
From Mombasa/Diani Beach – by Taxi: taxi rides from the Mombasa bus stops (Nairobi/Malinidi buses) or Moi International Airport take 2 – 3 hours. We can arrange transfers (from KSH 5500). From Diani Beach, the rates are from Ksh 4000. If you arrange your own taxi, please instruct your driver to drop you at Shimoni's old boat jetty where you will be welcomed by your host and ferried over to Wasini Island (10 min, 250 KSH pp during day time, to be booked in advance).
Distance to nearby cities (in km):
Mombasa (74), Ukunda / Diani Beach (43), Shimoni (2), Lunga Lunga – Border Tanzania (10), Tanga – Tanzania (55)
Geographic Coordinates: S 4° 40′, E 39° 22′
A Map of Wasini Island
What to see and what to do in Wasini Island
Attractions on Wasini Island
Humpback whales and dolphins can be spotted near this island. Beautiful coral fauna and flora can be seen when snorkeling near the Kenyan Marine jetty.
The northern part of the Kenyan Marine Jetty is also a good spot for swimming because of the cool clear seawater there. You can also go diving at the Kisite Mpunguti Marine Park.
There are beautiful coral gardens on the Western end of the island, and women groups have set up a nature trail.
The closest attraction to the island is Kisite Mpunguti Marine National Park. It is a great destination for snorkeling and diving adventures.
Beach walks, cultural tours are some of the exceptional activities on the island.
What To Do At Wasini Island
Visit Kisite Marine National Park
Off the south coast of Wasini Island, this gorgeous marine park, which also incorporates the Mpunguti Marine National Reserve and the two tiny Penguti islands, is one of the best in Kenya. The Kisite Marine Park covers 28 sq km of pristine coral reefs and offers colorful diving and snorkeling, with frequent dolphin and turtle sightings. The marine park is accessible by dhow tour from Diani Beach or via a private boat hired in Wasini (per person rates range from KSh2500 to KSh3000).
Cruises, Sailing & Water Tours Activity
Wasini Island Full Day Dhow Sailing Tour from Mombasa with being from $120(120 Dollars)
Learn More
The best time to dive and snorkel in Wasini Island is between October and March. Diving and snorkeling in June, July and August can mean poorer visibility and rougher seas, though the weather is can change. During the monsoon season you can snorkel over the coral gardens.
Visit Mkwiro Village
Mkwiro is a small village on the rarely visited eastern end of The Wasini Island. The gorgeous hour long walk from Wasini village, through woodlands, past tiny hamlets and along the edge of mangrove forests, is more than a reason enough to visit this place. There are some wonderful, calm swimming spots around the village. Local children are sure to take you by the hand and show you the best swimming places and enjoy yourself.
The Mkwiro Youth Group can help you dig a little deeper into village life by organizing village tours and cooking classes. It's all a little vague and prices are highly flexible, but the man you need to speak to about organizing these is Shafii Vuyaa.
Day Tour To The Marine National Park & Wasini
Including snorkeling equipment & guiding on the vessel and in the National Park, mineral water on board, delicious Swahili seafood or vegan lunch , village tour, visit of the "Coral Gardens" (optional extra), transfers from/to MBA/Diani (optional extra)
We sail from Shimoni peer to Kisite Mpunguti Marine National Park in a Dhow – a traditional wooden Arab sailing boat. On our journey, we search for one of the many pods of resident dolphins to enjoy the company of these beautiful mammals in their natural habitat.
Then we head to the coral reefs of the Marine National Park where we have the possibility to go swimming/snorkeling in the crystal clear waters of the Indian Ocean (assistance for non-swimmers provided), and/or relax on the boat or a sandbank at low tide.
Afterwards, we continue our journey to Wasini Island where we will enjoy our delicious Swahili lunch in one of Wasini's famous sea-side restaurants. In the afternoon, a guided visit to the island's main village with an optional visit of Wasini's community conservation project "Coral Garden" and its boardwalk is closing up your day on Wasini island.
Take A Private Dhow Tours With Wasini's Blue Whale Boat Operators
Wasini's Blue Whale Boat Operators are specialized in private cruises to Kisite Mpunguti Marine National Park & Wasini Island.Private cruises come along with an exclusive service, attentive crew, and experienced snorkeling guides/trained rescue swimmers.
On board, complimentary mineral water and fruits are offered. The cruise itself is up to 6 hours and itinerary at sea and on land are completely at the guests' discretion.Usually there is a Swahili seafood lunch at one of Wasini's seaside restaurants and a short visit of its main village round off a day tour. Transfers from/to Mombasa/South Coast can be arranged.
Take Wasini Island Boat Tours And Land Excursions
If you are in the mood to do something else than just enjoy Wasini island life or relax in your lodge watching the wonders of nature unfold around you, then one of the tours listed below could be the right choice for you .
Wasini Village Tour including a visit to the Coral Garden and its boardwalk , the local football club, communal cisterns, mosque, dispensary, primary school and the madrassa. (1/2-day tour)
Dhow sailing tour in the vicinity of Wasini Island (tours from 1.5 hrs and KSH 1,800 pp) with the possibility of snorkeling in Wasini's Marine Conservation Area .
Trekking tour across the island to its southern coast, past palm plantations and the tiny fishermen's village "Nymamaji". Great views of the open sea and Mpunguti Islands. (1/2-day tour)
Trekking tour to the larger fishermen village "Mkwiro" on the east coast of the island . Dhow sailing tour from Wasini to Vanga near the Tanzanian border. Boat tour from Wasini to Funzi Island . Fishing trip near Wasini: bottom-fishing & inshore-trawling – fun for everyone. Two fishermen will teach you the ropes. (from KSH 2900 pp for a 1/2 day tour)
Deep sea fishing / trophy fishing in the Pemba Channel with experts from a well-renowned fishing club ($ 600 for 6 hours all inclusive).
Visit of the Slave Cave in Shimoni and an instructive nature walk through the indigenous forest where you also have good chances to spot troops of the endangered Angolan black and white colobus monkey. (1/2 day tour)
Rates Guide:
Local guide (English/Swahili): ½ day 850 KSH / Full day 1,600 KSH
Local guide (French/German/Italian/Arabic/Dutch/Polish): ½ day 1,300 KSH / Full day 2,500 KSH
Prices Meals:
Homemade Swahili lunch 460 KSH per person / packed lunch 320 KSH pp / buffet lunch 950 KSH pp
Go See Wasini's Dolphin & Whale Species
On boat tours in the vicinity of Wasini Island, you can spot three species of marine mammals namely:
 Bottlenose dolphin
 Humpback dolphin
 Humpback whale (seasonal)
Bottlenose dolphins
Bottlenose dolphins, the genus Tursiops, are the most common and well known members of the family Delphinidae, the family of oceanic dolphin. Recent molecular studies show the genus contains two species, the common bottlenose dolphin (Tursiops truncatus) and the Indo-Pacific bottlenose dolphin (Tursiops aduncus), instead of one. Research in 2011 revealed a third species, the Burrunan dolphin (Tursiops australis). Bottlenose dolphins inhabit warm and temperate seas worldwide.
Bottlenose dolphins live in groups typically of 10–30 members, called pods, but group size varies from single individuals up to more than 1,000. Their diets consist mainly of forage fish. Dolphins often work as a team to harvest fish schools, but they also hunt individually. Dolphins search for prey primarily using echolocation, which is similar to sonar. They emit clicking sounds and listen for the return echos to determine the location and shape of nearby items, including potential prey. Bottlenose dolphins also use sound for communication, including squeaks and whistles emitted from the blowhole and sounds emitted through body language, such as leaping from the water and slapping their tails on the water surface.
Conservation– bottlenose dolphins are not endangered. Their future is stable because of their abundance and adaptability. However, specific populations are threatened due to various environmental changes.
Humpback dolphins
Humpback dolphins are members of the genus Sousa. These dolphins are characterized by the conspicuous humps and elongated dorsal fins found on the backs of adults of the species. They are found close to shore along the coast of West Africa (Atlantic species/variety) and right along the coast of the Indian Ocean from South Africa to Australia (Indo-Pacific species/varieties).
The dorsal fin of the humpback dolphin is to some degree falcate . The pectoral fins are considerably small and the tail flukes have a well-defined median notch. On each side of the jaw there are 30 to 34 small coned-shaped teeth. Newborn calves are a cream or pearl shade of white, much like that of an adult beluga whale, whereas the adults have a more dull off-white coloring from the tail to the snout. Their flanks are somewhat of a dark grey, and their stomachs are a lighter shade of grey. Adults can reach from 1.8 to 2.6 meters (5 ft 11 in to 8 ft 6 in) and weigh in the range of 100 to 139 kilograms (220 to 310 lb).
Conservation ; the species is listed in the Convention on the Conservation of Migratory Species of Wild Animals (CMS) and has been categorized as being in danger of extinction throughout all or a significant proportion of its range and Conservation of Migratory Species Parties strive towards strictly protecting these animals, conserving or restoring the places where they live, mitigating obstacles to migration and controlling other factors that might endanger them.
Humpback whales
The humpback whale (Megaptera novaeangliae) is a species of baleen whale. One of the larger rorqual species, adults range in length from 12–16 metres (39–52 ft) and weigh approximately 36,000 kilograms (79,000 lb). The humpback has a distinctive body shape, with unusually long pectoral fins and a knobbly head. It is an acrobatic animal known for breaching and slapping the water with its tail and pectorals.
Males produce a complex song lasting 10 to 20 minutes, which they repeat for hours at a time. Its purpose is not clear, though it may have a role in mating.
Found in oceans and seas around the world, humpback whales typically migrate up to 25,000 kilometres (16,000 mi) each year. Humpbacks feed only in summer, in polar waters, and migrate to tropical or subtropical waters to breed and give birth in the winter. During the winter, humpbacks fast and live off their fat reserves. Their diet consists mostly of krill and small fish. Humpbacks have a diverse repertoire of feeding methods, including the bubble net feeding technique.
Conservation;  like other large whales, the humpback was and is a target for the whaling industry. Once hunted to the brink of extinction, its population fell by an estimated 90% before a moratorium was introduced in 1966. While stocks have since partially recovered, entanglement in fishing gear, collisions with ships, and noise pollution continue to impact the 80,000 humpbacks worldwide.
Threats for Local Marine Mammals:
Entanglements in fishing nets/lines, by-catch, vessel strikes and activity, habitat degradation (caused by a number of human activities), depletion of fish stocks through fishery industry, pollution, climate change.
Wasini Island As A Dive Base
There are more than 10 amazing dive sites ranging from 5 to 30 m in the close vicinity of Wasini Island both inside and outside Kisite Mpunguti National Marine Park. This Marine Park is unquestionably the most beautiful of all parks along the Kenyan Coast and diving is a great activity all year round.
There are two dive centers based on Wasini Island and there are several independent dive instructors operating from the main village of Wasini . Dive equipment can be rented at reasonable rates.
Depending on your dive experience and your special requirements, you can referred to the best operator for your needs or assist you in booking your complete dive package holiday and no matter which accommodation on the island you choose, a certified dive instructor will collect you for your dives right at your doorstep.
Book to get the best dive rates for Kisite Mpunguti Marine National Park, currently Ksh 6,900 ($ 69) for a single dive and from Ksh 10,000 ($ 100) for a double dive.
Accommodation And Hotels In Wasini Island
Blue Monkey Beach Cottages Wasini
Seasonal Closure: 12.04.-15.06.2018
Several handmade cottages are dispersed in a wild garden along Wasini's coast line. Special care has been taken to leave the environment as untouched as possible and the bush stretches right into the rocky compound situated beyond the outskirts of the main village.
The owners' love for nature clearly shows in the eco-conscious construction of the cottages. Mainly local material from the island has been used; rough stones and shells make up the walls and the mangrove roof constructions are covered with palm shingles.
A solar installation caters for lighting. Phones and cameras can be charged but high-energy consuming devices such as laptops or electric cooler boxes exceed its capacity.
Since there is no ground water on the island and its inhabitants have to entirely rely on rainwater collected in communal cisterns, the cottages are equipped with water saving bucket showers and eco-urine-toilets. In addition, each cottage has its private conventional flush toilet (using sea water) in a nearby bathhouse.
Each cottage is set apart and has great views of the sea.
They are equipped with a king-size double bed and an additional single bed (incl. mosquito nets).
Blue Monkey Beach Cottages also have a sitting area as well as a spacious terrace including cooking area for those who prefer self-catering (on request).
Delicious Swahili seafood dishes, vegan meals as well as lunch raw food platters are served on a treetop terrace with great views of the sea.
Blue Monkey Beach Cottages have a private sand beach on the cliff, a tidal pool & wooden jetty .
A smaller Arab Dhow is available for private sailing trips.
Private Blue Monkey Beach
Private Blue Monkey Beach
Egrets, herons, sea eagles, storks and other sea birds are feeding in the swash zone and can be watched from the comfort of chairs set beneath a baobab tree.
You should not be surprised to encounter a lot of blue monkeys, cats, chameleons, monitor lizards, tortoises and a variety of birds.
Price per Cottage:
3 persons: 1400 KSH per person
2 persons: 1750 KSH per person
1 person: 2600 KSH per person
For a group of 4 – 6 persons, our Banda Mlimani might also be an interesting option.
Extra charge per person and entire stay:
Contribution of Ksh 150 to the "Wasini Youth Nature Club",
an environmental education & conservation project .
Discounts granted upon booking*:
Stay 5 nights but only pay for 4, stay 7 nights only pay 5.
On request, volunteers & larger groups are granted a discount.
*: discounts are not cumulative. They are not applicable for 1-night or weekend stays, in the months of July/Aug/Dec/Jan, & in periods including a secular or religious holiday.
Deposits are non-refundable and payable on our Mpesa mobile account only (by e.g. Mpesa/Azimo.com/TransferWise.com). For cancellations made after 72 hours before the stay date, a 100% cancellation fee will be liable.
Price Meals:
Breakfast: 220/380 KSH (small/full)
Main Dishes: 580/780 KSH (vegan/seafood, ordered by 10.30)
Light Lunches: 420/460 KSH (ordered by 10.30 am) Extras: lobster & mangrove crab billed per weight
Cooled soft drinks and mineral water are available. In accordance with local traditions, no alcoholic drinks are served on the premises or sold in any island shop. You are welcome to bring your own.
Payment by cash only – BOOKING REQUESTED – NO WALK-INS!
Check in: from 12.00 pm till 06.30 pm
Check out: from 05.30 am till 10.00 am
Self-catering charge – subject to prior request&booking*: KSH 150 per day x days booked = due amount
*: gas burner/dish soap/towel/cooking tools/tableware
Banda Mlimani
Seasonal Closure: 12.04.-15.06.2018
Banda Mlimani Wasini is as special as specialty lodging can get! An abode made for the seeker of pure adventure and true experience of the African nature.
In Banda Mlimani you dwell just some sticks and a net away from the buzzing nature and the crashing Indian Ocean waves. Don't expect brick walls or glass windows – there are none around here!
The beach hut is located on a small hill just a few meters away from the cliffs. It is surrounded by wild indigenous bush vegetation as well as flame trees, frangipani, bougainvillea, and banana trees.
Prepare yourself to meet land crabs, blue monkeys, cats, monitor lizards, all kind of birds incl. sea eagles, chicken, great hornbills, and ibises- and if you are very lucky, you might even spot one of the shy local antelopes called duikers!
Banda Mlimani is equipped with a hand carved Swahili queen size double bed and four single beds (including mosquito nets)
Right adjacent is a spacious private furnished outside area with a great sea view. There is a local kitchen including gas cooker (on request).
Attached to the beach hut is a small bathroom with an eco-urine-toilet and a shower (fresh water bucket shower). In a distance, there is a separate bathhouse with a private conventional flush toilet (sea water) and an additional eco-shower. The island has no fresh ground water and relies entirely on rain water collected in cisterns. Consequently, fresh water is a scarce commodity and has to be used in moderation.
Wasini is not connected to the national power grid. Banda Mlimani is equipped with a small solar installation. Besides lighting, it provides energy 24/7 for your small electronic devices such as phones and cameras – high energy consuming equipment such as laptops or e-cooler boxes exceed its capacity.
The beach hut shares a large compound, a treetop restaurant, a private sand beach on the cliff, a wooden boat jetty, and a tidal pool with Blue Monkey Beach Cottages. A maximum of 7 other guests guarantees peace and privacy for everyone.
Rate Banda Mlimani per night (up to 5 persons): Ksh 4600 additional person: Ksh 600
Extra charge per person and entire stay:
Contribution of Ksh 150 to the "Wasini Youth Nature Club",
an environmental education & conservation project .
Discounts granted upon booking
Stay 5 nights but only pay for 4, stay 7 nights only pay 5. On request, volunteers & larger groups are granted a discount.
*: discounts are not cumulative. They are neither applicable for 1 night or weekend stays, nor in the months of July/Aug/Dec/Jan, nor in periods which include a secular or religious holiday.
Deposits are non-refundable and payable on our Mpesa mobile account only (by e.g. Mpesa/Azimo.com/TransferWise.com). For cancellations made after 72 hours before the stay date, a 100% cancellation fee will be liable.
Price Meals:
Breakfast: 220/380 KSH (small/full)
Main Dishes: 580/780 KSH (vegan/seafood, ordered by 10.30)
Light Lunches: 420/460 KSH (ordered by 10.30 am) Extras: lobster & mangrove crab billed per weight
Cooled soft drinks and mineral water are available. In accordance with local traditions, no alcoholic drinks are served on the premises or sold in any island shop.
Payment by cash only – BOOKING REQUESTED – NO WALK-INS!
Check in: 12.00 pm – 06.30 pm
Check out: 05.30 am – 10.00 am
Banda Mlimani
Sunrise Guesthouse
Sunrise Guesthouse has opened its new doors just over a year ago and is composed of three modern buildings in the vicinity of the sea front with nearby access to the sea.
The main house has three large en-suite bedrooms, one bedroom with separate shower/WC, a big lounge and a spacious kitchen. According to availability, this villa is rented out whole, or per room. A chef can be provided on request.
The adjacent buildings contain either units comprising a bed- and bathroom, or are suits, i.e. bedroom, lounge area, and bathroom.
Each bedroom accommodates up to 3 persons. All rooms and suits are equipped with modern bathrooms and a terrace.
Electricity is provided by a solar installation and a backup generator.
Price Accommodation Villa:
Per person: 1200 KSH
Price Accommodation Suites:
Per person: 1650 KSH
Price Meals:
Breakfast 350 KSH
Lunch 700 KSH
Dinner: 800 KSH
Mpunguti Lodge
Mpunguti Lodge & Restaurant started off with just a restaurant in the 1970s when the Marine National Park was gazetted and the first tourists arrived in larger numbers on the island. Shortly afterwards, the first lodging house was built and several more were added over the years.
Today, the lodge comprises:
10 self-contained rooms. 3 of them have a big point of view of the sea and Wasini bay!
18 rooms with shared external toilets/showers
1 sea-front restaurant (more than 100 people capacity)
1 conference hall for meetings (we already welcomed groups from German universities…)
1 souvenir shop

3 umbrellas to have a drink
Please note that :
 Wasini Island is not connected to the power grid. In the evening, a generator provides electricity.
 There is no running water. Fresh water comes from water tanks
Price Accommodation:
Room self contained per person per night meals excluded: on request
Room with common bathroom plus toilet per person per night meals excluded
Bookings for Mpunguti Lodge are only handled by the lodge's management: wasinimpungutioriginal@yahoo.com.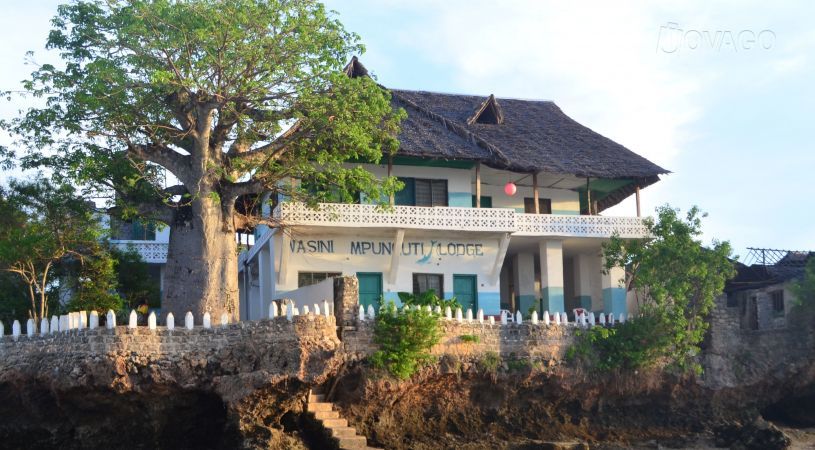 Why Visit Wasini Island
10 Good Reasons Why You Should Stay on Wasini Island
Because it is an island
In general, every island has some great advantages for the intrepid traveler. One of them once put it like this: "being out at sea away from the mainland seems to magnify everything the drama of the weather, the wildlife and even the colors," or "the opportunity for absolute privacy. Nobody can get to you. There are no cars, just the gentle sound of water rippling all around."
Because it is not connected to the power grid, has no fresh groundwater, and there are no cars
This seems like a disadvantage at first sight actually turns into an advantage for a traveler. The lack of conventional luxury keeps partying crowds and annoying tourists away. This leads to a very healthy ratio inhabitants/travelers which is keeping Wasini Island astonishingly authentic, welcoming, and very peaceful.
Because it is budget-friendly
In Wasini you find accommodations right at the seafront starting from Ksh 900, a healthy vegan meal for less than Ksh 600, a delicious seafood dish including freshest mangrove crabs for Ksh 1000, a half-day boat cruise to a marine park for around Ksh 2000.
Because it is surrounded by reefs
Coral reefs are the rainforests of the sea. Nowhere else such a variety of beautiful colorful fish species can be spotted. This ranges from single coral formations in front of your cottage, to a medium-sized reef in the protected Wasini channel, up to the immense reef in Kisite Mpunguti Marine National Park located off the southern shores of the island.
Because it is a dolphin and turtle territory
There are several resident schools of dolphins and chances to meet them in the vicinity of the island are extremely favorable. The green turtle is also frequently spotted by snorkelers in Kisite Mpunguti Marine National Park. Although turtles do not hatch in the Marine Park, it is one of their favorite feeding grounds in the area. The experience of swimming with these graceful sea reptiles is captivating.
Because it has a 'Coral Garden'
A 'Coral Garden' is a unique community conservation project supported by the European Union and the Kenyan Government. Mesmerizing fossilized coral structures, up to about 3 meters high, are dispersed in a creek, where also sea purslane and mangroves grow. A boardwalk allows an easy access even when the area is flooded at high tide. This is one of the most sought after photo shooting locations while the setting sun is bathing the rock formations in orange light.
Because the local chefs prepare the most amazing Swahili dishes
Wasini's chefs prepare such tasty Swahili dishes that their services are even requested for events outside the island. Their delicious seafood dishes, accompanied by Wasini's famous sea pruslane, are simply delicious.
Because of its untamed nature
Exploring the island is a special experience. The coastal forest and bush vegetation is home to a wide range of birds, chameleons, tortoises, monitor lizards, blue monkeys and the lucky ones may even spot one of the elusive duikers, a small horned antelope. Walks in the inter-tidal zone along its northern cliff shore offer amazing sights of dense, impenetrable jungle and baobab forests.
Because you can get in direct contact with the local population and traditions
Wasini is inhabited by the Wavumba, very good-hearted and welcoming people. Overnight guest numbers are low and every traveler is treated like a guest. People have time for a chat and are more than happy to share local knowledge and anecdotes.
Because it is totally safe
With its modest size of approximately 6 x 1.5 km and about 3000 inhabitants in two main villages and one hamlet, the island population is tightly knit. People are either related or, at least, know each other well. On Wasini, one can peacefully walk anywhere, at any time you like.
Sustainable Tourism On Wasini
Sustainable tourism is attempting to make as low of an impact on the environment and local culture as possible, while helping to generate future employment for local people.
The aim of this program is to ensure that development brings a positive experience for local people, tourism companies and the tourists also.Sustainable Tourism is based on the premise that the people living next to a resource are the ones best suited to protecting it. This means that the tourism activities and businesses are developed and operated by local community people, and certainly with their knowledge and support.
It typically involves the conservation of resources that are capitalized upon for tourism purposes. Locals run the businesses and are responsible for promoting the conservation messages to protect their environment.
Wasini Island

Contacts

Attraction Type:    Beach & Marine, Culture
Category:    Coral Reef, Beach, Community Tourism
Region:     Coast
City / Town:    Shimoni
Road / Street:    Shimoni Road
Telephone:     254 41 222 5428  254 722 475796
Entrance Fee:    None
More About Kenya
Kenya is a world unto itself. Kenya is Africa's original safari destination, attracting explorers, adventurers, and travelers for centuries. A safari to Kenya is a trip of a lifetime.
Tourist Attractions in Kenya:
Kenya has one of the world's greatest tourist attractions sites, known for its diversity of landscape, wildlife, and cultures. From sweeping savannahs to tropical beaches and coral reef, dense equatorial forests to mighty snow-capped mountains, and more.
For more information visit: Tourists Attractions in Kenya
Kenya Safari
Kenya is the ultimate safari destination, providing travelers with a window into the heart of Africa. But this is not all that Kenya has to offer. Located near the equator, Kenya´s magic lies in the fact that the country encompasses an astounding variety of landscapes and climates, flora and fauna, as well as communities and cultures, home to water sports, a swim with dolphins and adventure.
For more information visit: Kenya Safari
Hotels and Accommodation in Kenya
Hotels in Kenya vary enormously in price and facilities. Luxury hotels in Kenya offer excellent standards of service and are comparable to the best hotels anywhere in the world. Kenya's abundance of natural produce, combined with the rich variety of cultures and traditions, has created a great culinary nation.
The fertile volcanic soil of the Rift Valley produces a bounty of fresh vegetables, while the coast is a great source of tropical fruit and fresh seafood. The Kenyan coast is also the home of the world-renowned Swahili cuisine, a blend of Middle Eastern and African cooking with a particular coastal twist.
For more information visit: Hotels in Kenya
Towns in Kenya
Apart from the towns of Nairobi , Mombasa, Kisumu and Nakuru, Kenya has other major towns each a unique representation of the country's striking abundance in flora and fauna. Most of these towns are headquarters in their respective counties or major economic bases in their regions. Luxury hotels and lodges located here provide good accommodation and conferencing facilities for guests who dare to try out a taste different from the capital or the coast.
For more information visit: Towns in Kenya
The Kenyan People Culture and Tradition
Kenya's culture blends together diverse tribes, traditions, and religions into one beautiful, well-woven tapestry.  These traditions complement each other while incorporating the modern influences of globalization – resulting in a vibrant cultural spirit that is uniquely Kenyan. Kenya has over 42 different tribes with different languages and several dialects. Kenyan tourism has made the Maasai and Samburu tribes the most famous because of their long preserved culture.
For more information visit: Kenya People and Tribes
---
We endeavor to keep our content True, Accurate, Correct, Original and Up to Date.
If you believe that any information in this article is Incorrect, Incomplete, Plagiarised, violates your Copyright right or you want to propose an update, please send us an email to informationcradle@gmail.com indicating the proposed changes and the content URL. Provide as much information as you can and we promise to take corrective measures to the best of our abilities.
---